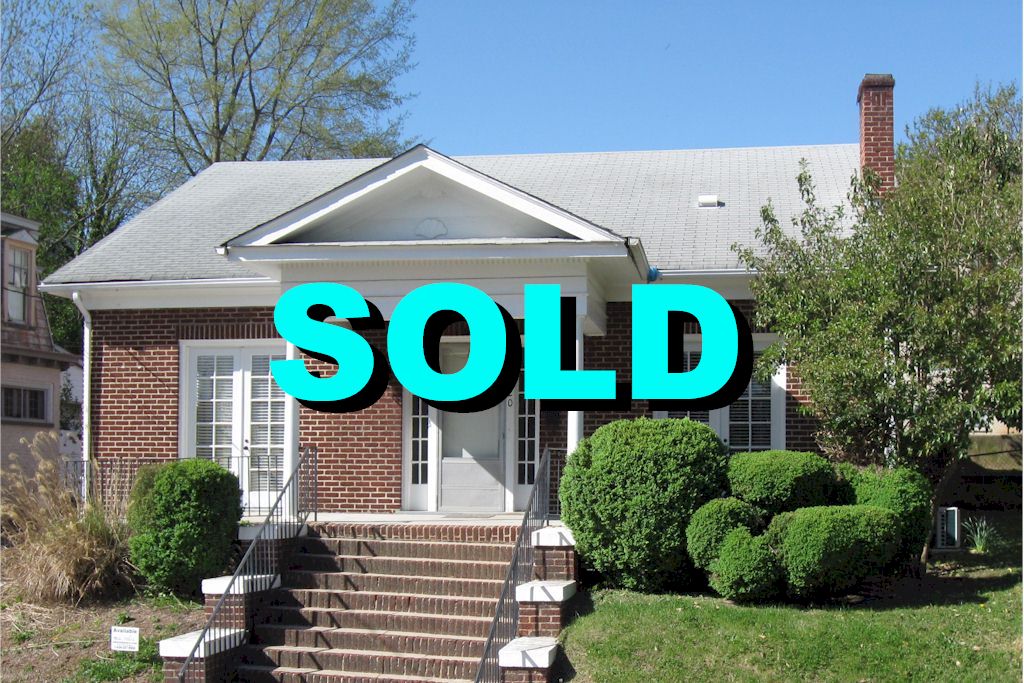 120 Chestnut Street
Square Feet: 2,146   Lot: 3,360   SOLD
Constructed in 1925, this home was owned by Dr. Samuel A. Shadrach, a dentist and a veteran of the Spanish-American war of 1898. "Remember the Maine!" This brick Colonial Revival bungalow with a side gable roof is an unusual example of this style in the Old West End Historic District. The structure boasts an open terrace that extends on either side of the front porch roof that is supported by Tuscan columns. An entry door flanked by multi-light sidelights welcomes you into the home.
---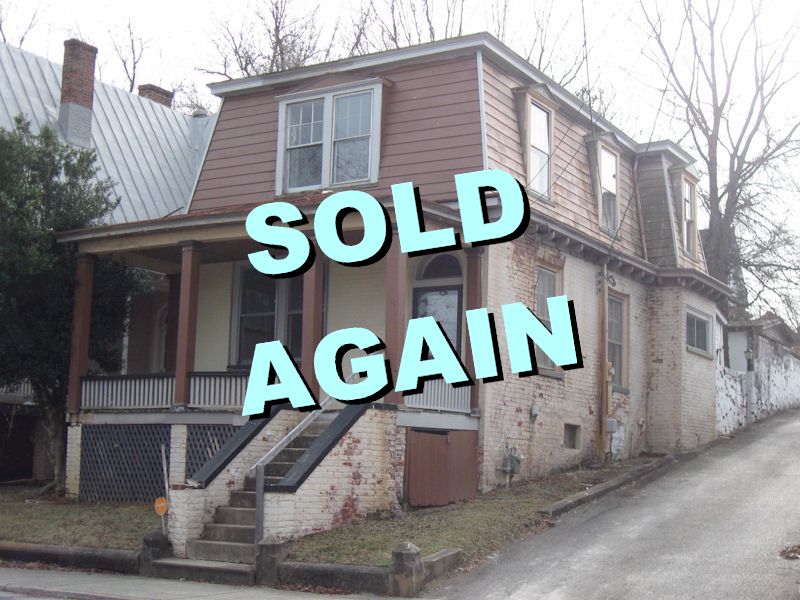 122 Chestnut Street
Square Feet: 12,048    SOLD
Early records show this house as the property of H. Burns Trundle, a newspaperman. In the 1960s and 1970s, it was the display home for interior decorator Eleanor Guerrant. According to a 1931 auction sale, the house is of brick veneer with a metal mansard roof, seven rooms with hardwood and heart pine flooring.
---
---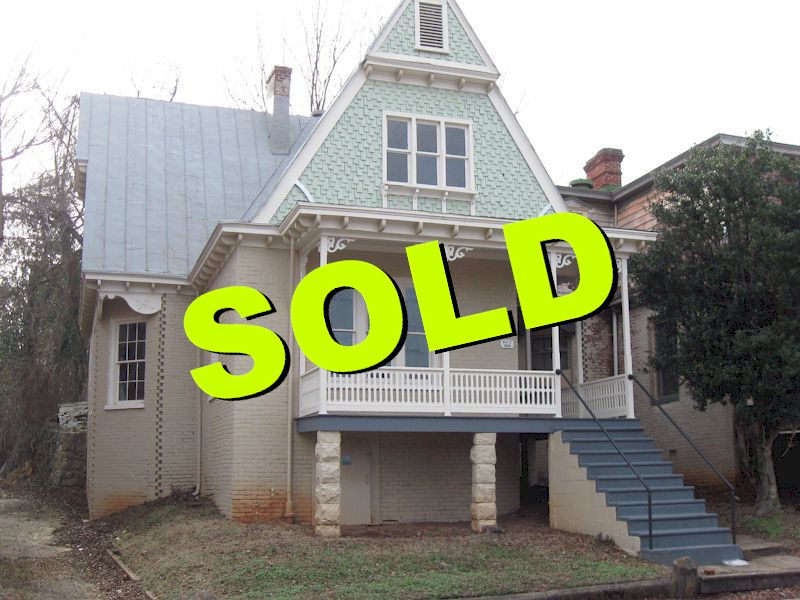 The Chaney House
124 Chestnut Street
Square Feet: 1,287   Lot: 4,800    SOLD
This smaller home incorporates many Queen Anne details.  The running-bond brick walls are topped by an unusual curved bracket cornice with an inset gutter.  The unusually steep gable roof is covered with standing-seam metal. The house has one-over-one windows with splayed jack arches and an arched main doorway.  A gabled section containing a wide triple window projects to the front, giving variety to the form of the building.  Beginning in 1908, this home was occupied by the Fred W. Chaney family.  Fred passed in 1935.  His widow Stephie Lee stayed on until her eviction by a new owner in 1946. The exterior of the house was recently painted.  Substantial repairs needed to roof and rear addition.
---
---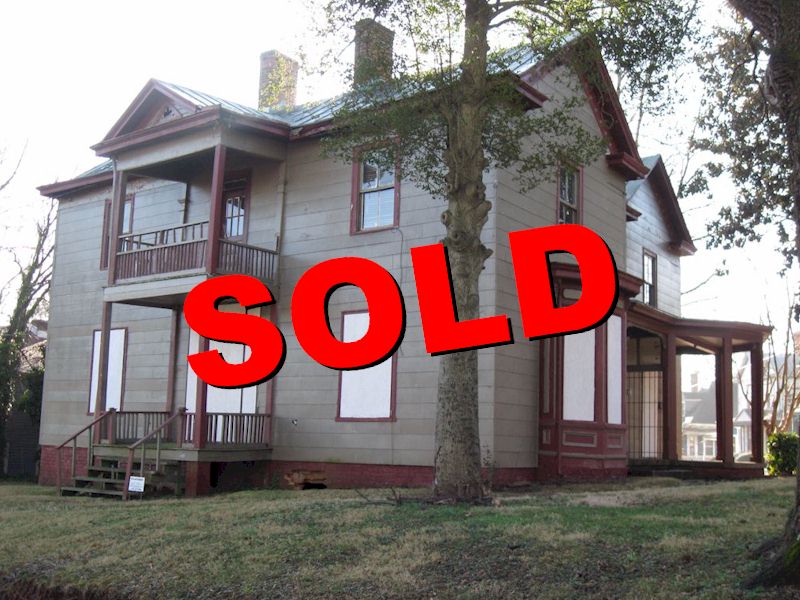 ---
The Watson House
125 Chestnut Street
Square Feet: 4,030   Lot: 9,100     SOLD
The house is set on an unusual triangular lot at the intersection of Chestnut and Pine streets. The earlier part of 125 Chestnut Street was built c. 1860 with a large addition in the third quarter of the nineteenth century. It began as a two-story center-passage-plan house facing Pine Street. That façade features a central, two-story, one-bay porch with a pediment roof and slender, chamfered square post/columns with molded capitals. The original rooms in this section have molded trim, tall square baseboards, and (on the main floor) slate mantels with ornamental veining and incused decoration. The Chestnut Street façade displays several additions made after 1900.
---
---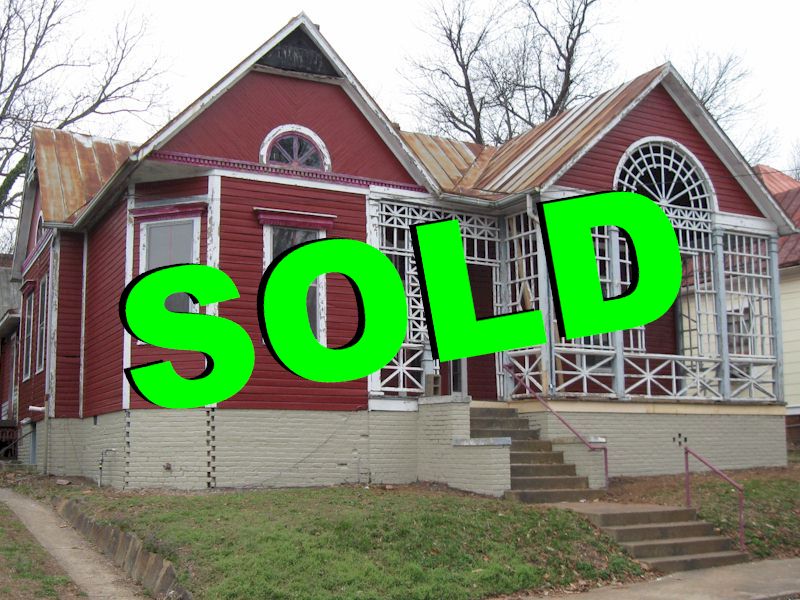 The Boatwright House
136 Chestnut Street
Square Feet: 2,221   Lot: 6,250    SOLD
Exterior painting and repairs are already underway on this unique Queen Anne style cottage.  Built in 1891, the cottage was updated in the 1920s adding the porch lattice and a rear addition for a "modern" kitchen.
---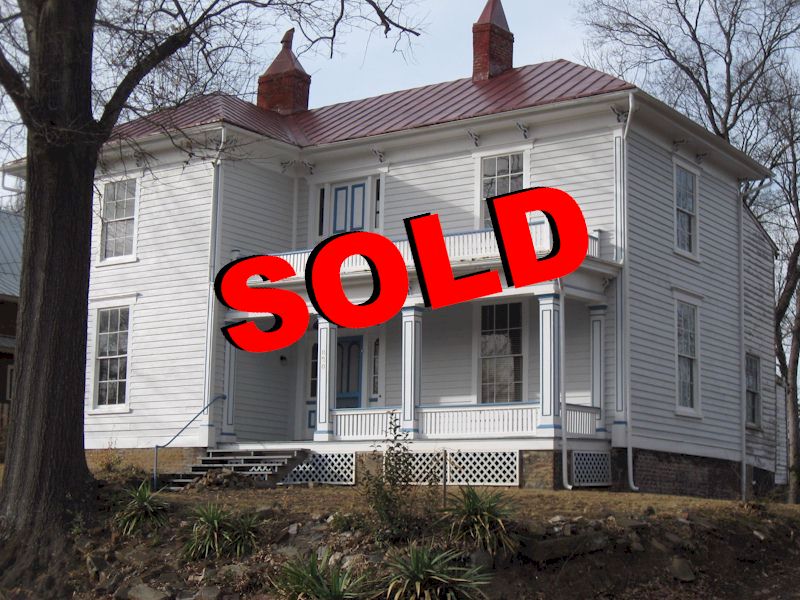 The Tredway House
820 Green Street
Square Feet: 2,560   Lot: 19,350      SOLD
The original 1874 house was situated for the best view of the then-newly-created Green Street Park. All rooms are of large size, each with a fireplace, and most with closets. Most original features remain including heart pine floors, mantels, and door latches. From the restored porch, the front door with transom and sidelights opens to a center hall with elegant curved staircase. Upstairs, an additional doorway leads to the roof of the front porch.
---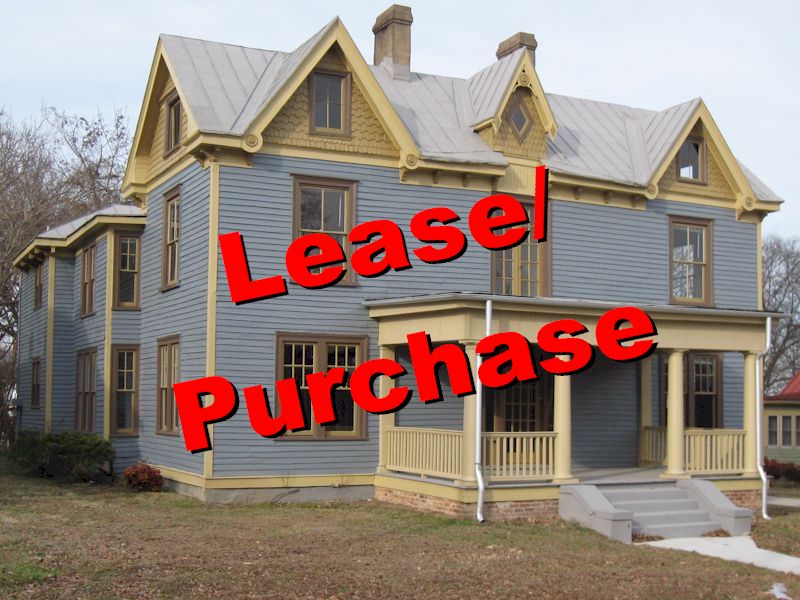 The Crumpton House
838 Green Street
Square Feet: 3,706   Lot: 6,250
Constructed before 1888, the house began its life with a center hall plan. A dining room and kitchen were added almost immediately. A two story ell with lower roofline was added later, probably in the 1920s or 1930s, with the house divided into upper and lower flats. The home is ideally located immediately across from Doyle Thomas / Green Street Park.
---
---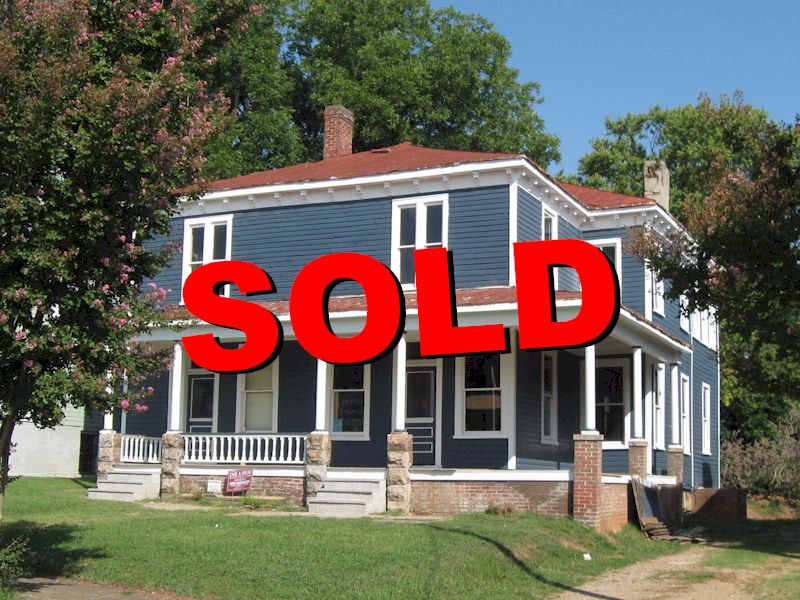 862-866 Green Street
Square Feet: 4,502   Lot: 15,512    SOLD
Initially constructed before 1877, the house began life as a smaller single-family home. Italianate in appearance with bracketed cornice and low hip roof. While once configured as a triplex, the additional exterior door leading to the second floor was recently removed to support use as a duplex with one small and one large unit. Draft architectural plans call for two townhouse-type units. The left unit could be made habitable fairly quickly while rehabbing the right unit as your dream townhouse.  The first floor of the right unit has been stripped to the studs. The home is located just a few steps from Doyle Thomas / Green Street Park. Exterior stabilization completed. Rehab and occupancy covenants required.  Brokers protected.
---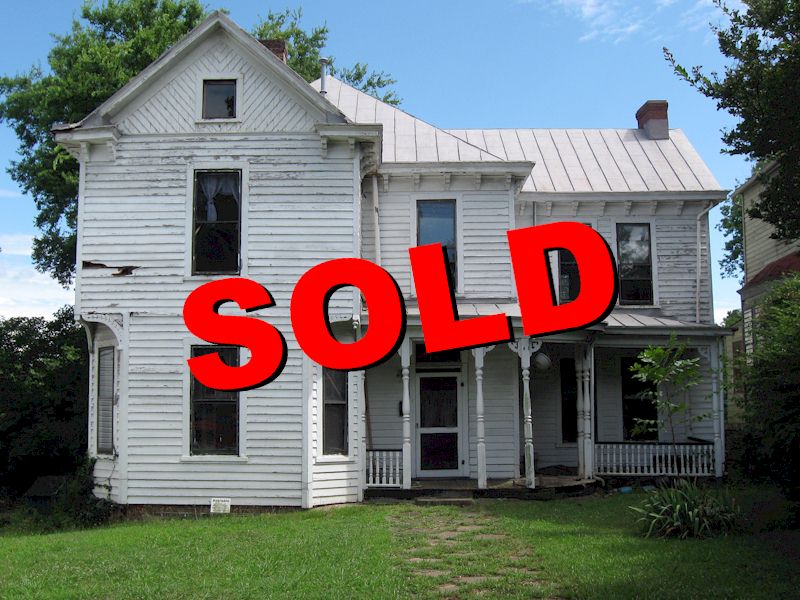 The Green-Griggs House
875 Green Street
Square Feet: 2,977   Lot: 9,400      SOLD
A rare survivor, this late-antebellum era house was built on the property of Dr. N. T. Green, one of Danville's early physicians for whom the street was named. It was later owned by the Griggs family for 65 years. Even with a two-story addition in 1900, much of the early core on the right remains visible. The rear of the home has reminders of its early origins, especially its large teardrop-shaped brackets still hanging from the deep eaves.
---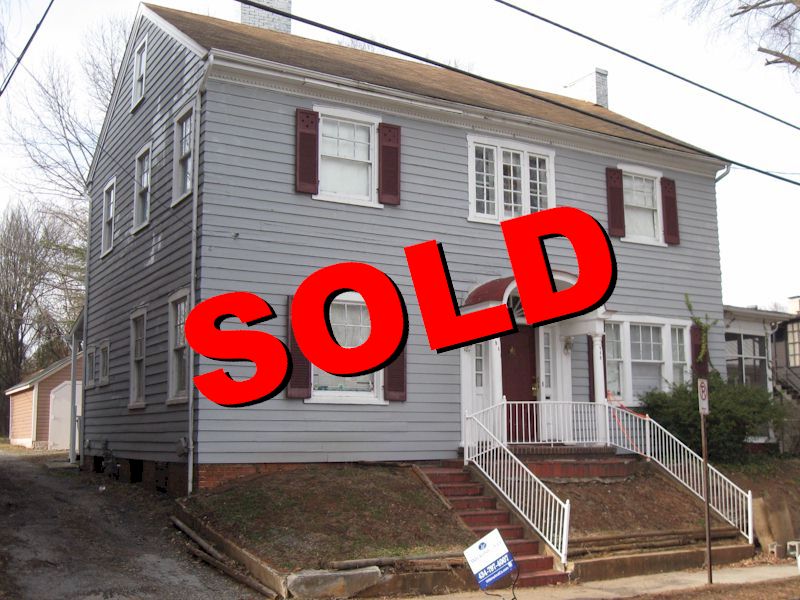 The Carrington-Patrick House
940 Green Street
Square Feet: 2,137   Lot: 3,312
Well-kept rental in Old West End National Historic District. Convenient to hospital, Averett University, and the River District. 3 Bedrooms, 1.5 baths.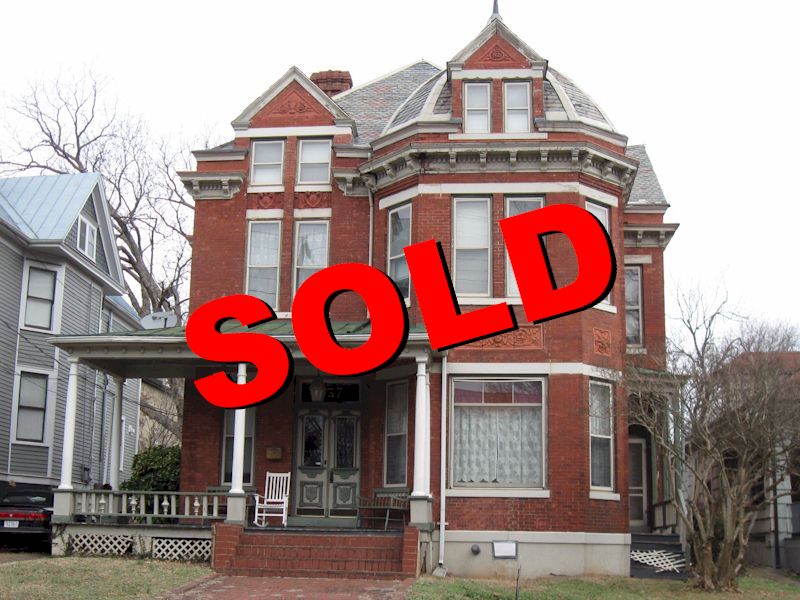 The Elbert Williamson House
137 Holbrook Avenue
Square Feet: 4,376   Lot: 10,175    SOLD
The first floor of this magnificent brick Victorian offers a fabulous entry area w/fireplace, an elegant main parlor, large dining room, music room, butler's pantry, huge kitchen, master bedroom w/bath and powder room. The second floor offers three large bedrooms and two baths plus a laundry room. Third floor used as a bedroom, office and movie room. 7 bedrooms, 4.5 baths. Fire and burglar system has been installed.
---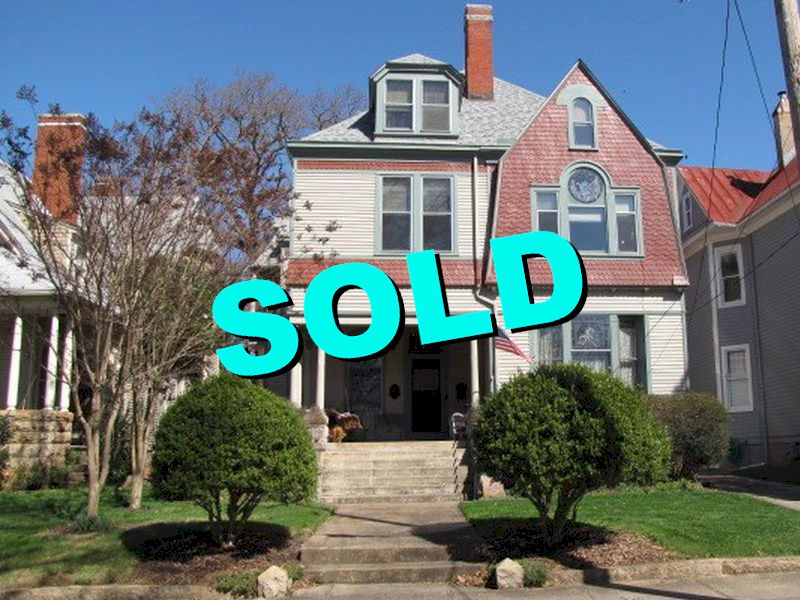 The Judkins House
161 Holbrook Avenue
Square Feet: 5,297   Lot: 9,250    SOLD
Impeccably restored/renovated home featured in book, Victorian Danville. Twelve original, gorgeous stained glass windows & parquet floors.  Original / period light fixtures, window & door hardware throughout.  New roof and paint in 2016.
---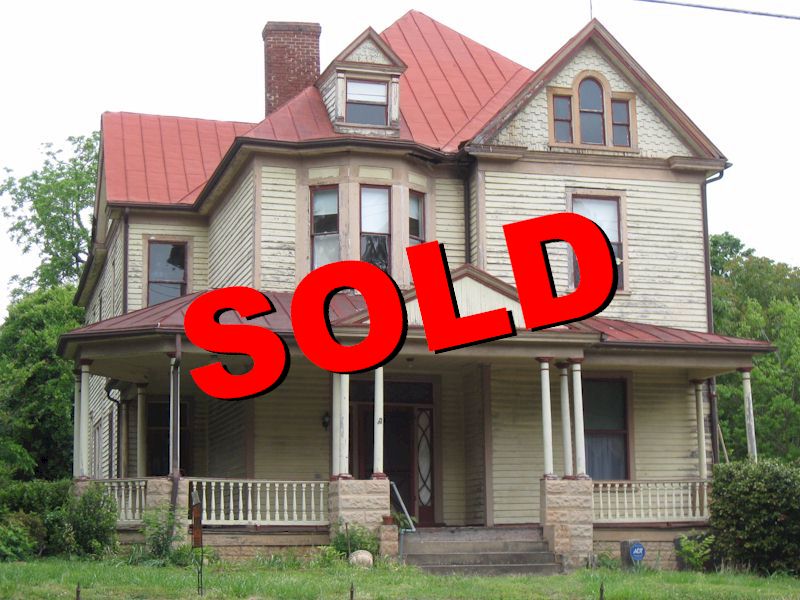 The Dr. Harrison House
507 Holbrook Avenue
Square Feet: 3,832   Lot: 9,000      SOLD
Situated at the corner of Holbrook Avenue and Colquhoun Street, this home was built for Dr. Isaac Carrington Harrison. Its location was no doubt selected for its proximity to his cousins, A.B. Carrington at 622 Holbrook Avenue and Mrs. William (Louise Cabell Carrington) Leigh at 614 Holbrook Avenue.  Occupied by members of the Gravely family since 1973, this home is now in need of repair.
---
---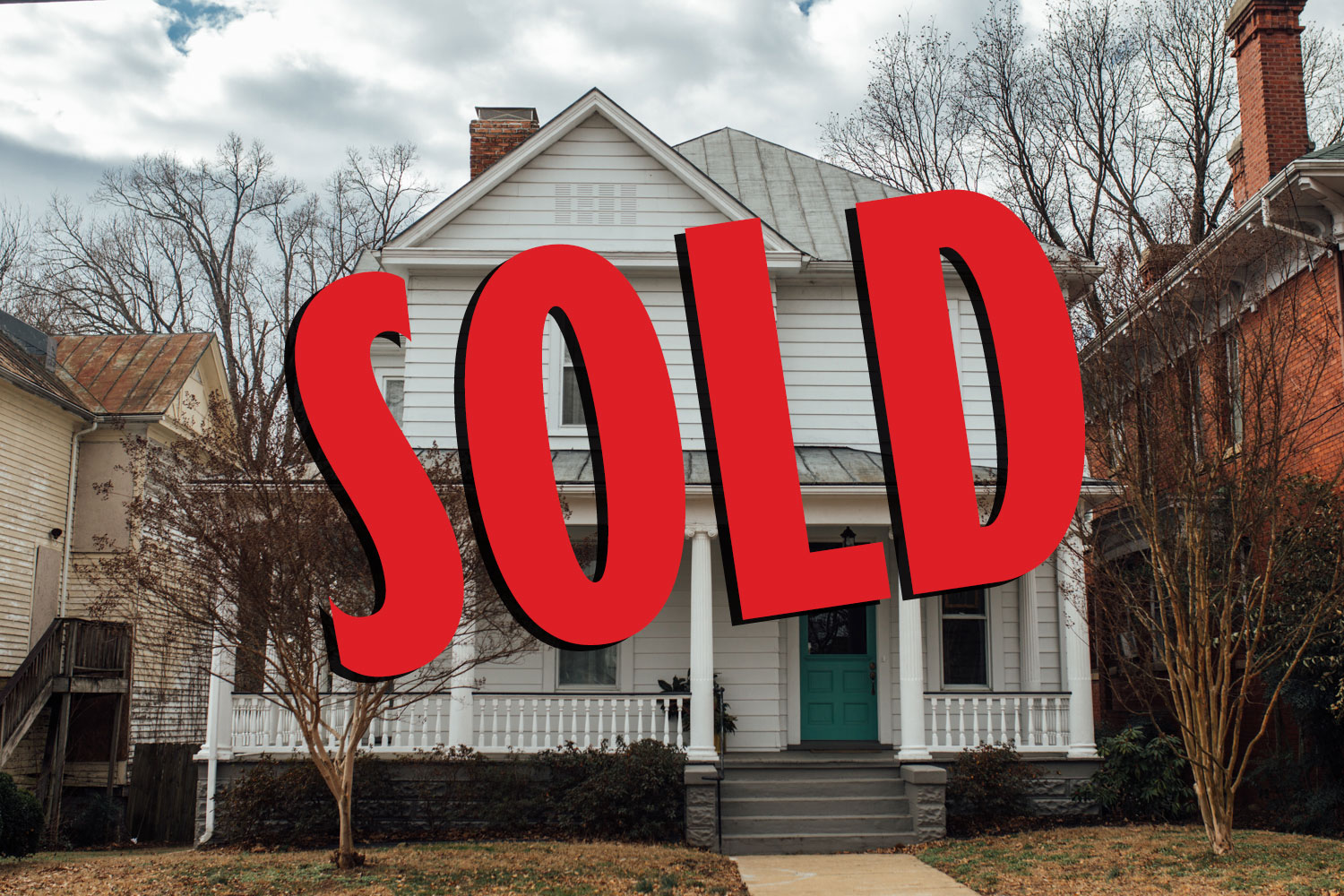 608 Holbrook Avenue
Square Feet: 3,406 Lot: 8,750     SOLD $210,000
Welcome to this charming, light-filled home, fully renovated to preserve the beauty of the historic structure, while providing for the needs of today. The gracious proportions of the home, with its wrap-around porch, 11 ft ceilings and tall windows, reveal the craftsmanship and beauty of its 1909 construction. Six unique fireplaces, heart pine and oak flooring, wide moldings and pocket doors are all original to the 5-bedroom, 3-bath home. Total Reno 2017: New: Open-plan kitchen with stainless, granite, butcher-block, French-door fridge. Spacious spa-like master bath. 1st-floor laundry. New: electrical, plumbing, heating & air, security system. 2nd & 3rd baths remodeled. Refinished floors & new paint throughout.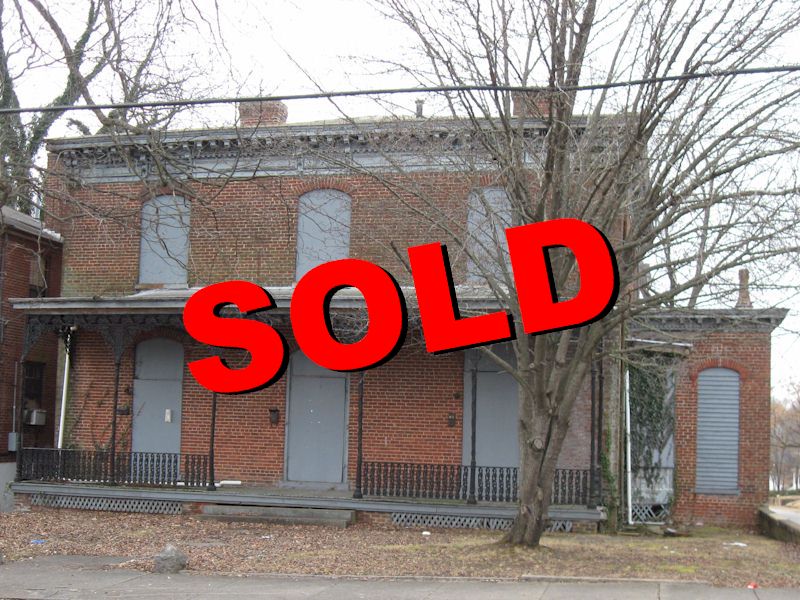 The Venable – Carrington House 622 Holbrook Avenue
Square Feet: 4,148   Lot: 7,236 Carriage House: 752     SOLD
Featuring a cast iron porch unique for Danville, this home was erected about 1880. The first owner, Paul Venable, was in the leaf tobacco business. After residing there until 1898, he sold the house to his nephew, Col. A.B. Carrington – perhaps its best-known owner. Carrington's title came from his service on the staff of governor Andrew Jackson Montague, the only Virginia governor to
---
---
---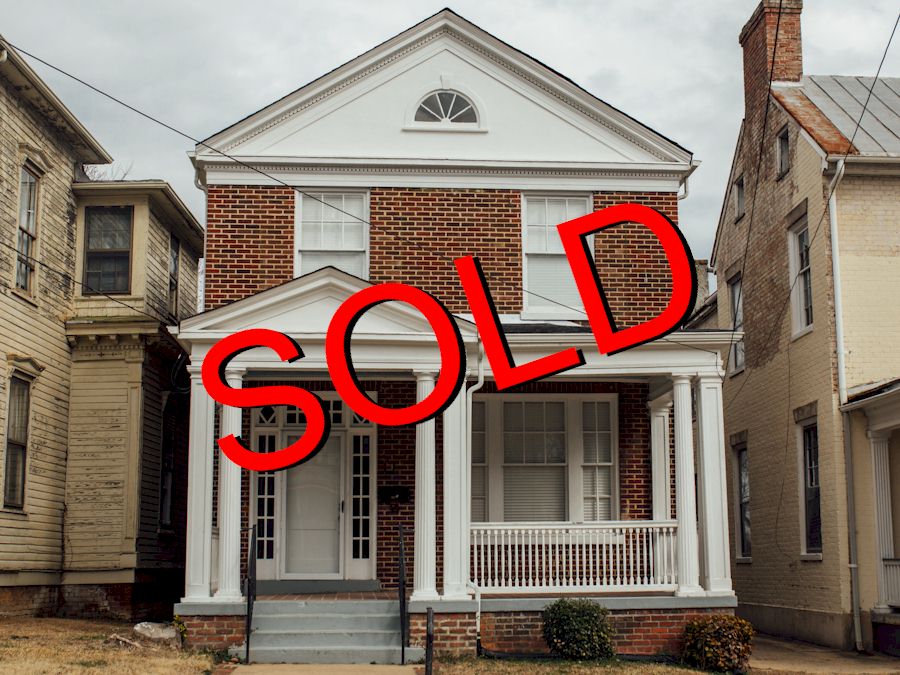 221 Jefferson Avenue
Square Feet: 2,208   Lot: 4,800 Asking: $110,400      SOLD
This home, vacant since 2007, was acquired by the Land Bank in May of 2014. A two-story classic revival brick structure, it was designed by local architect J. Bryant Heard with incredible detail on the exterior and interior. Restoration of this home has been assisted in part of by a Certified Local Government Grant from the Department of Historic Resources. The home is now a 2,200 square foot three (3) bedroom, two and half (2 ½) bath home with a convenient floor plan. The home possesses a large master suite on the upper floor, and a magnificent kitchen and laundry at the rear of the house on the first floor.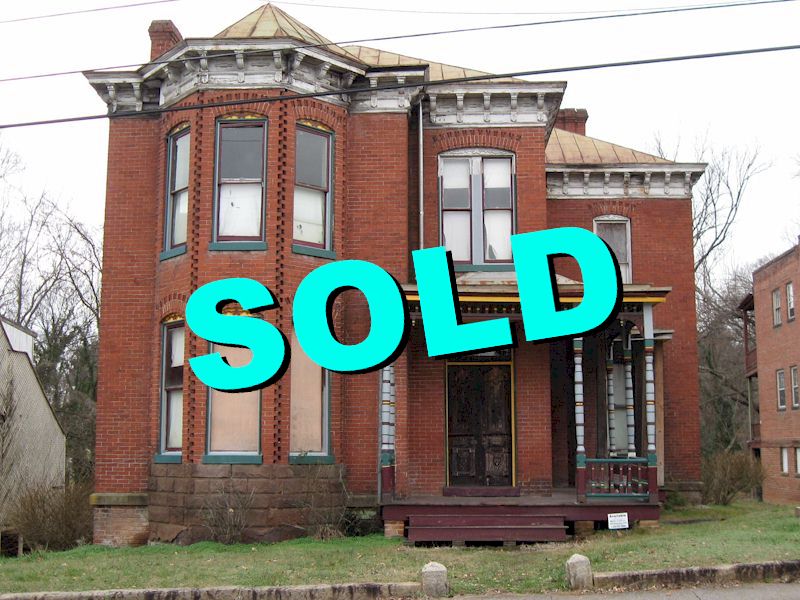 ---
The Clarke House
218 Jefferson Avenue
Square Feet: 4,632   Lot: 9,700 +/-     SOLD
For the millionaire who has everything except a grand brick Victorian mansion.  While in desperate need of roof repairs, this home has never been remuddled and has all of its original features.  Grand entrance doors, huge plaster medallions, pocket doors, fireplace surrounds and overmantles, large rooms and plenty of them.  This one is for the experienced rehabber who wants the best Victorian in the Old West End.
---
---
---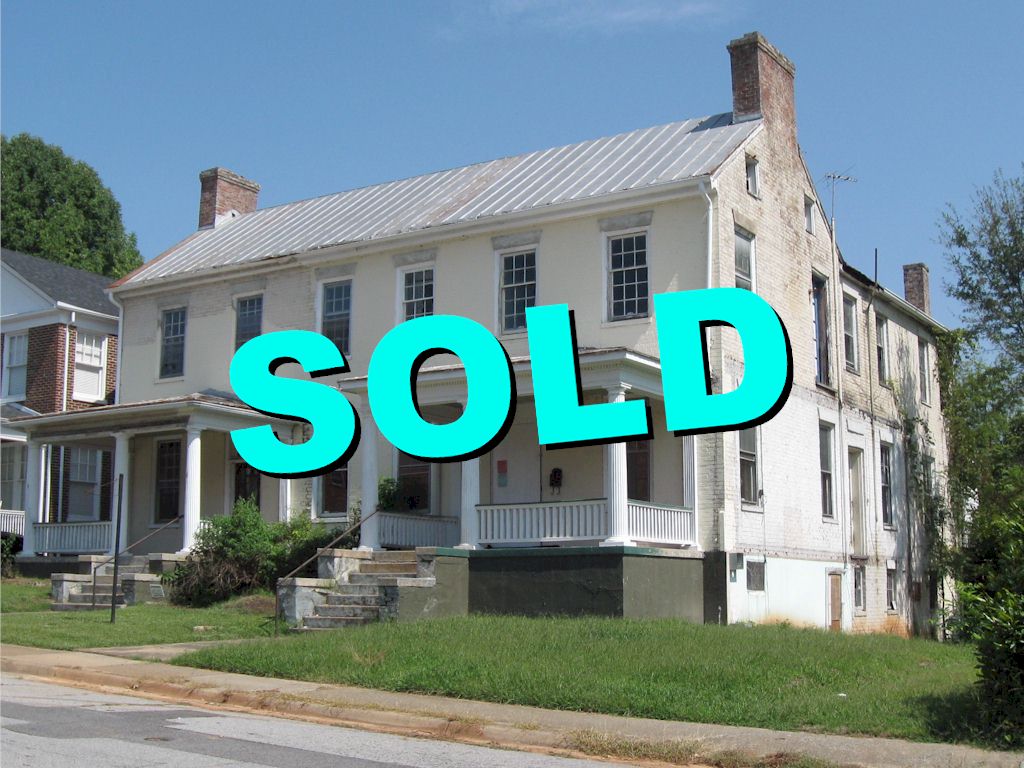 The Robert Ross House
225 Jefferson Avenue
Square Feet:  5,828      SOLD
This antebellum Federal-style building is known historically as the Robert Ross House.  It was built as a single-family home about 1840 and later expanded to a duplex.  It became an elegant single-family home with Georgian Revival interiors in the teens or 1920s.  There are ten rooms and two full baths downstairs along with eight bedrooms and two full baths upstairs.  There is also a separate rear building with bedroom and bath.
---
---
---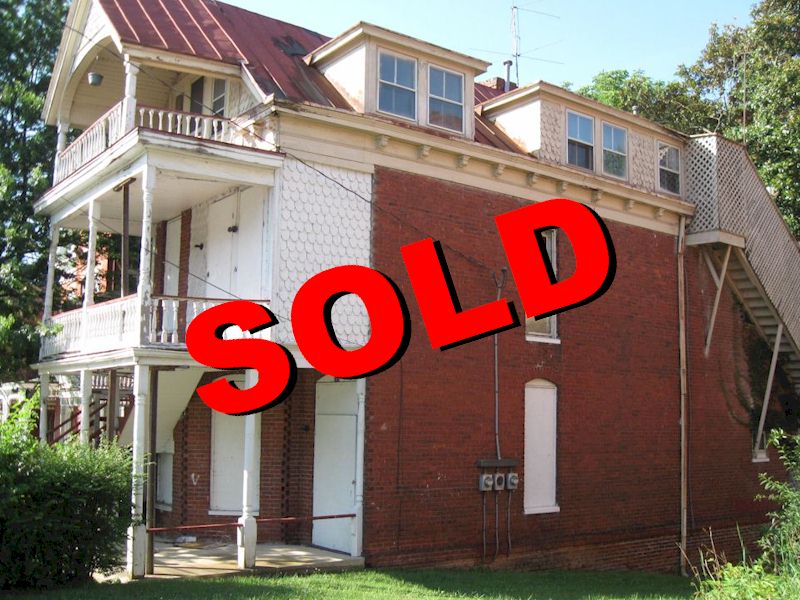 226 Jefferson Avenue
Square Feet: 2,732   Lot: 8,096    SOLD
Underneath the façade alterations made to convert this building to a triplex is a beautiful single-family two-bay brick home. Built more-than-likely as a rental for Danville's upper middle class, it once resembled its brick neighbors.
---
---
---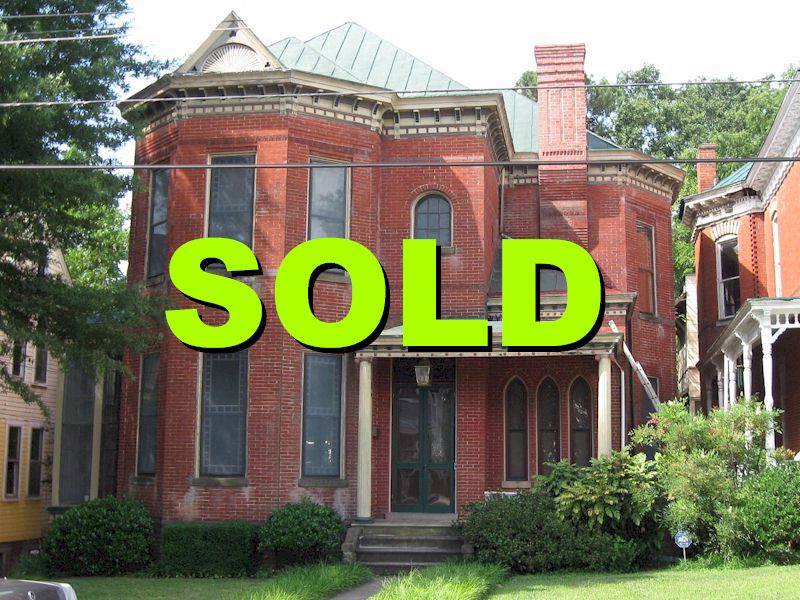 The Albert Gerst House
234 Jefferson Avenue
Square Feet: 3,226   Lot: 8,109    SOLD
One in a row of similar "townhouses" dating from the 1880s, 234 Jefferson Avenue exhibits details typical of Queen Anne style — complex massing enriched by architectural terra-cotta and stained-and-leaded-glass windows. Whether one looks down at the encaustic tiled porch, or up to intricate ceiling medallions inside, the structure is an eclectic mix of color and pattern. It was constructed in 1885 for Albert and Sabina Gerst, among the first persons of German Jewish descent to settle in Danville.
---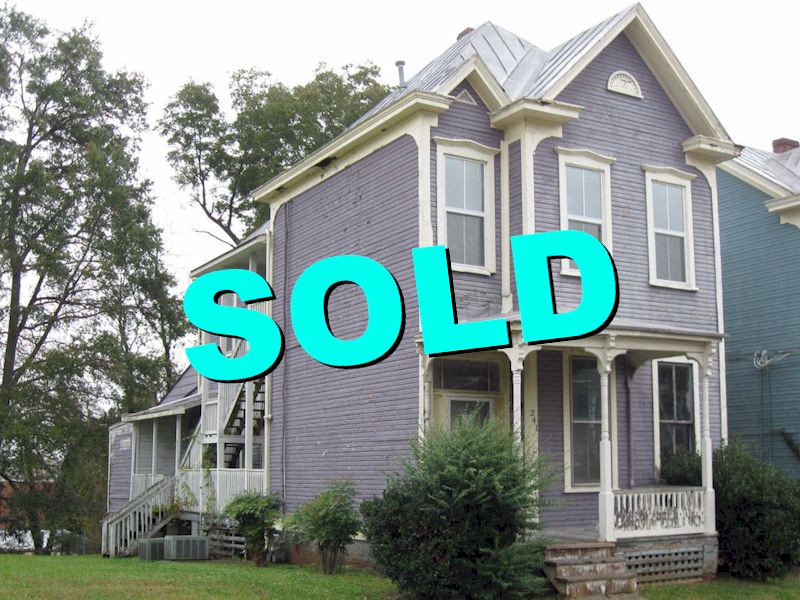 241 Jefferson Avenue
Square Feet:  2,204     SOLD
One of a picturesque row of similar structures, this home has been divided into up and down duplex apartments. Dating from the early to mid-1890s, this home was built on a portion of the homestead of Mr. W.S. Patton.  Presumably this home and its neighbors to the south were built as income property for Drs. Sumter and Franklin George. Both men were esteemed local physicians.
---
---
---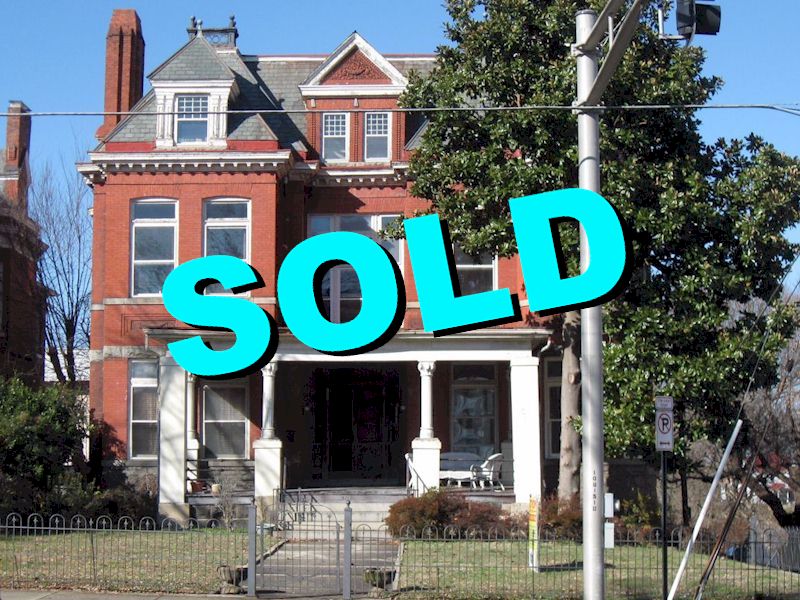 Col. James Mastin Neal House
802 Main Street
Square Feet:  8,000+      Lot: 12,000    SOLD
Built in 1890, this bold, beautiful, sophisticated, 3-1/2 story brick mansion with outline inspired by French Renaissance chateau. Five full baths and 2 half baths, crystal chandeliers, massive pocket doors and more.  It Boasts Belcher Mosaic Co. windows (circa 1850-1890), gorgeous leaded side lights, and slate shingles.  James Mastin Neal was the son of Thomas D. Neal, who revolutionized the sale of loose tobacco when he began "The Danville System" auction method in 1858 that became known worldwide.
---
---
---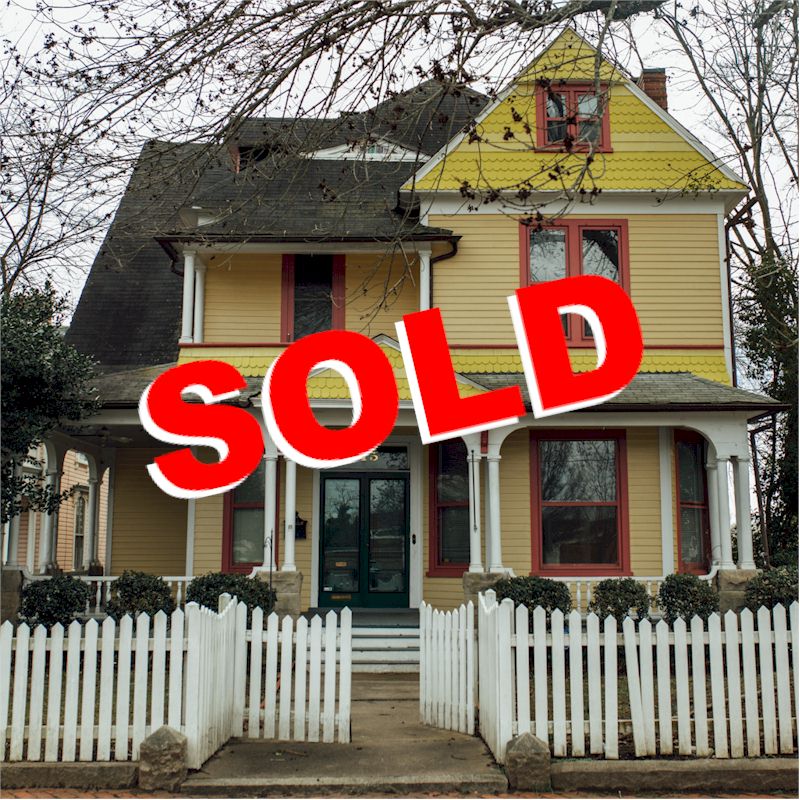 The Paxton-Grant House
815 Main Street
Square Feet: 5,085   Lot: 12,644        SOLD
Endless architectural features including stained glass, wainscoting, interesting fireplaces and mantels, original pocket doors. Very good example of Queen Anne Victorian.  Boiler heat, window units A/C on 1st floor, central A/C on 2nd floor, wall heat & A/C unit for sun porches, updated electric and insulation, renovated bath and kitchen (w/granite & AGA Stove). Exterior painted in November 2013. Walk-up, expandable attic.
---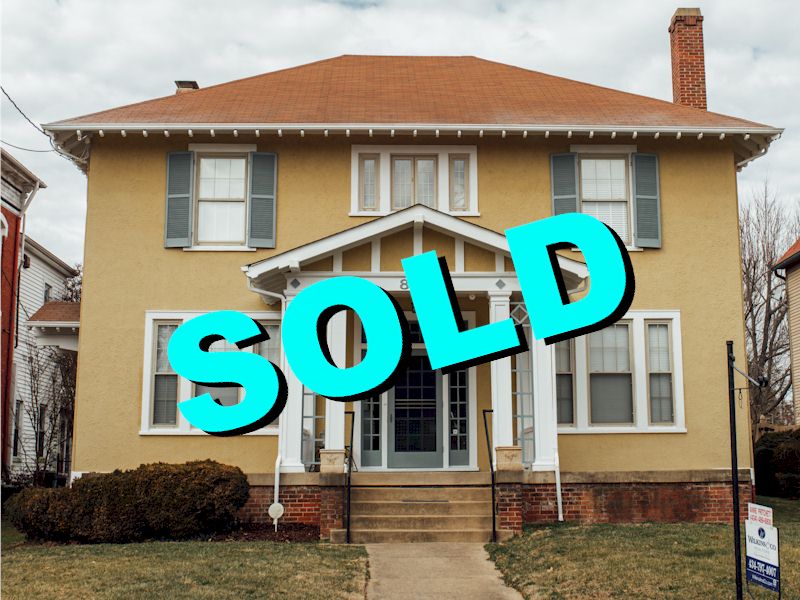 842 Main Street
Square Feet: 3,184   Lot: 27,206   SOLD
A 1917 architectural J Bryant Heard home and former home of the Red Cross of Danville, situated on a nearly 2/3 acre lot, in the Historic District on Millionaires' Row. This home is ready to move into w/refinished hardwood flooring, replacement windows & updated baths/kitchen. The master bedroom suite includes a huge modern tile bath w/walk-in closet. 4 bedrooms. The exterior painting was completed late 2017.
---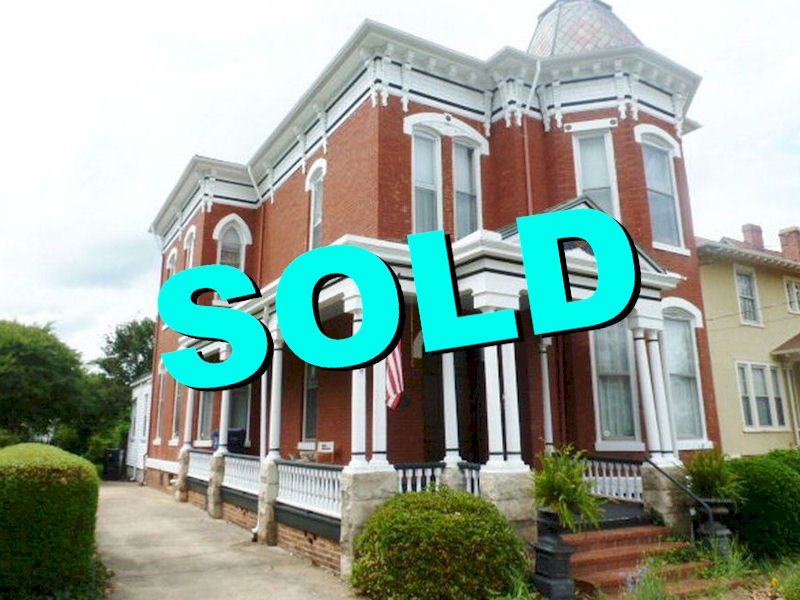 The W. H. Lipscomb House
854 Main Street
Square Feet: 3,224   Lot: 12,520    SOLD
This dwelling is the survivor of two mirror-image homes built by the Lipscomb brothers in 1884. Fully restored and carefully maintained, it also includes modern amenities such as a whirlpool tub in the master bath, walk-in closets, and a kitchen with custom cabinetry and granite counter-tops. This beautiful Millionaires' Row home has everything a buyer could want.
---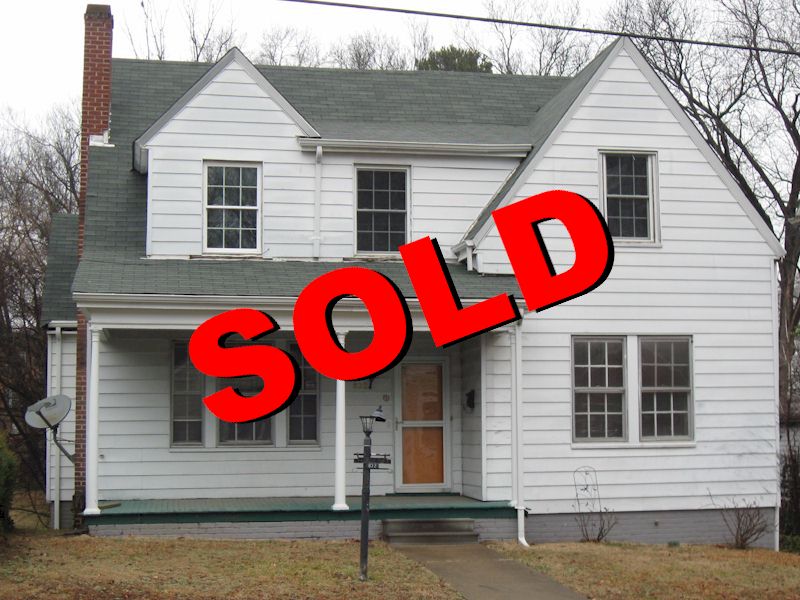 The Jones – Thompson House
832 Pine Street
Square Feet: 2,264   Lot: 10,000     SOLD
Built in 1920, this 4 bedroom home was first occupied by James William Jones, a railroad man. On his death in 1931, he left an estate valued at $18,095. His widow continued in the home into the 1950s. Nice size parlor and study adjacent to front entry. French doors to dining room adjacent to updated kitchen with newer appliances. Full bath downstairs. Family bath has whirlpool tub.
---
---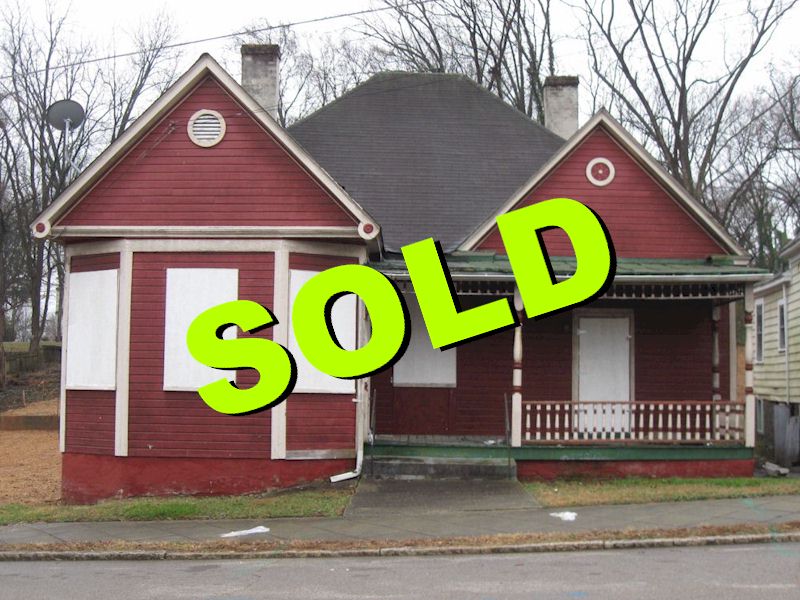 The Goodwin-Speer House
835 Pine Street
Square Feet: 1,544   Lot: 7,875    SOLD
As with other cottages on Pine Street, this home is a wood clad example of the Folk Victorian style. Its front porch features turned columns. While addition have been made to the rear, the house retains its central corridor with four main rooms.  the rear porch will require replacement due to failed joists. In 1900, this home was occupied by Edwin A. Goodwin, a ticket agent for the Southern Railway.  In 1904, John J. Speer, a jeweler, lived here.
---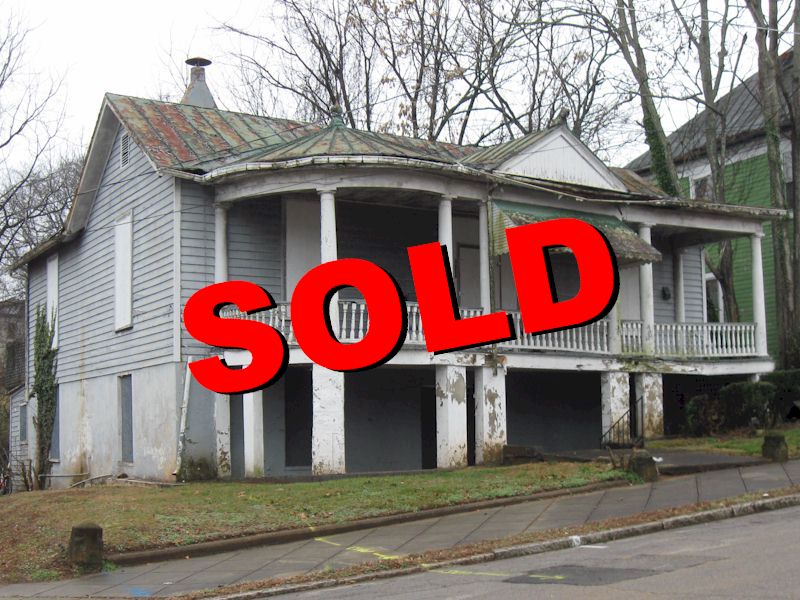 The Lumpkin House
855 Pine Street
Square Feet: 1,750   Lot: 12,750    SOLD
This raised Folk Victorian cottage is replete with Queen Anne-inspired details. This is especially evident on the front porch with its turned balusters, Tuscan columns, and side turret. Another notable feature is the front door with sidelights and a front-facing gable with copper finial. Inside, the house retains its historic plan, hardwood floors, decorative plaster cornices in the entrance hall, and two intact fireplace mantels. This home was in the Prescott family from 1906 into the 1990s.  At one time, the Prescotts rented potions of the house to three other families. Rehab and occupancy covenants required. Brokers protected.
---
---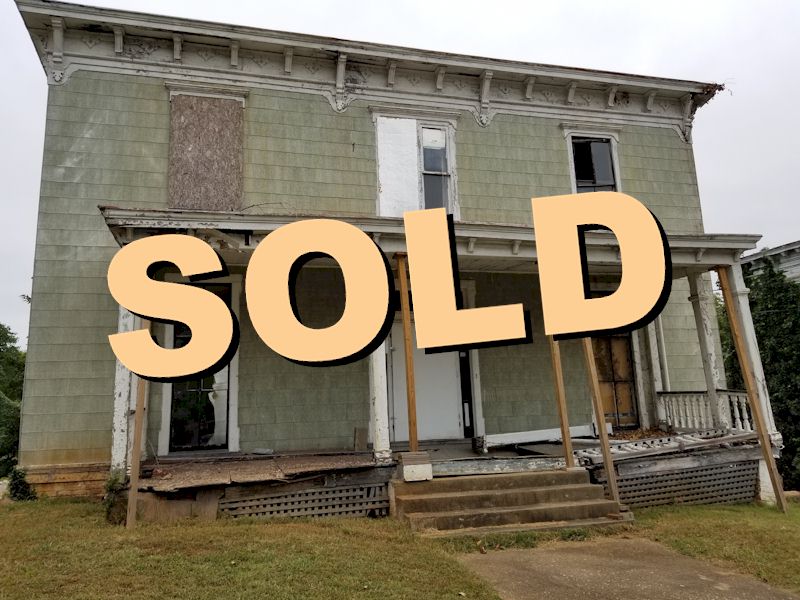 The Hughes House
858 Pine Street
Square Feet: 2,954   Lot: 13,000    SOLD
Of Italianate style, this two-story dwelling was built around 1880. It was most recently used as a multi-unit dwelling, but its return to a single-family residence is recommended.
---
---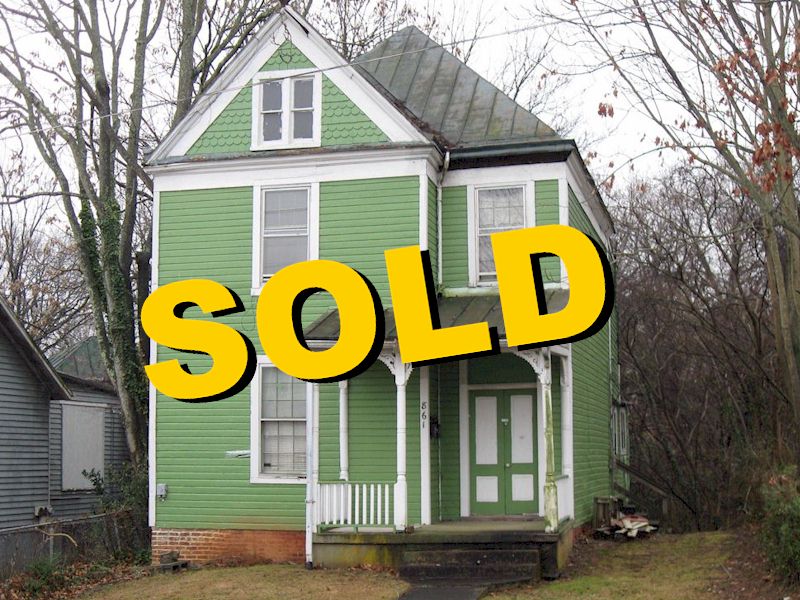 Another Worsham House
861 Pine Street
Square Feet: 2,011   Lot: 10,545    SOLD
This two-story wood clad single-family residence is an example of the Folk Victorian style. The building features a front porch supported by turned columns. The original structure consists of a stair corridor along the right side of the building with 4 main rooms adjacent to the corridor. The rear addition currently consists of a bathroom, kitchen, and a bedroom on the first floor and a bathroom, kitchen, and balcony on the second floor of the house.  The second floor bath is structurally unstable and must be removed.  The home's return from a duplex to a single-family residence strongly recommended.
---
---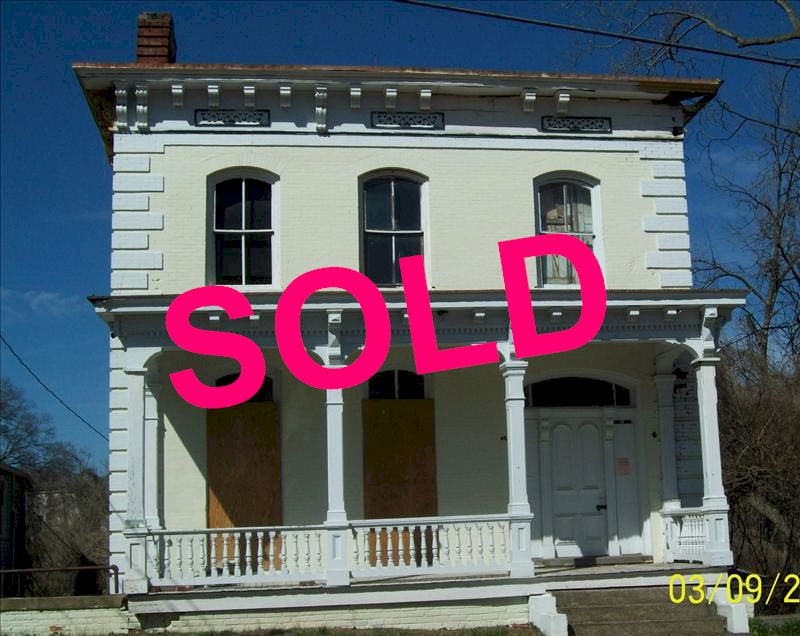 864 Pine Street
Square Feet: 1,960   Lot: 13,000    SOLD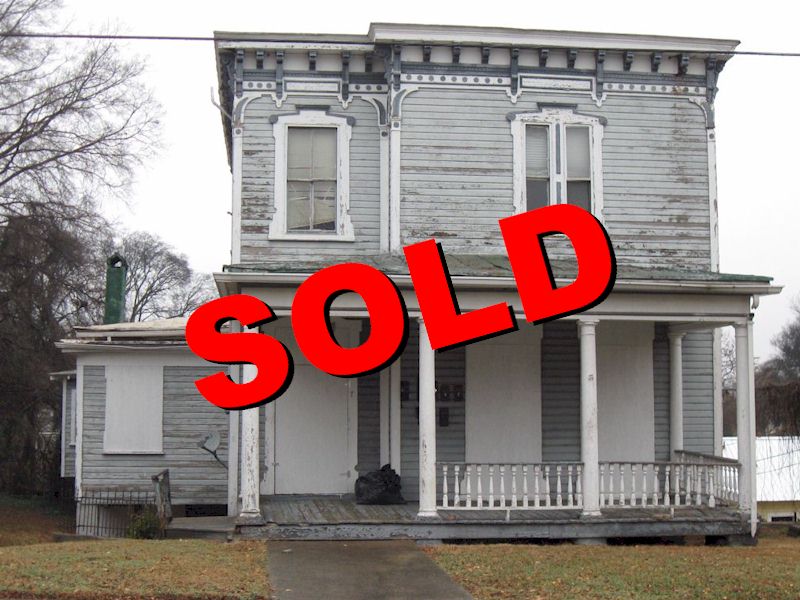 ---
The Carter House
870 Pine Street
Square Feet: 3,404   Lot: 12,400
A fine example of the Italianate style, the cornice of this home is especially ornate with a frieze featuring sawn panels and sunflower motifs. The corner boards curve into large brackets. The exterior also includes a double-leaf entry with a transom and decorative sawn surround as well as its two-over-four full-length windows on the porch. Built for John W. Carter, Sr., between 1883 and 1888.  His heirs sold the house to James A. Stone in October 1920.
---
---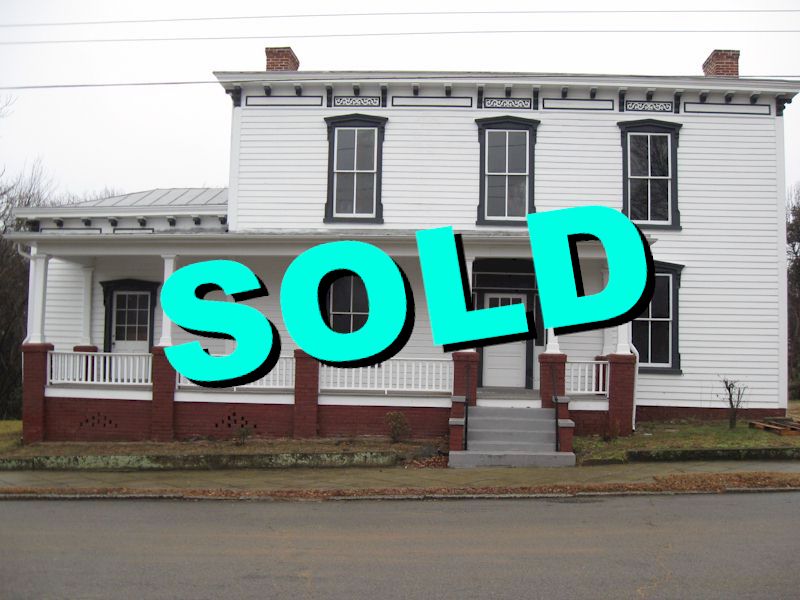 The Worsham House
871 Pine Street
Square Feet: 2,240   Lot: 22,890     SOLD
Exterior renovations on this two-story ca. 1870 Italianate were completed in 2017. Those renovations include roof, hidden gutters, weatherboard siding, and window repairs, fresh coats of primer and paint, and repointed brick chimneys and foundation. The two-room guesthouse and wood-frame garage on the property have had similar treatment. Inside, the home has been stripped to the studs and is ready for new building systems.
---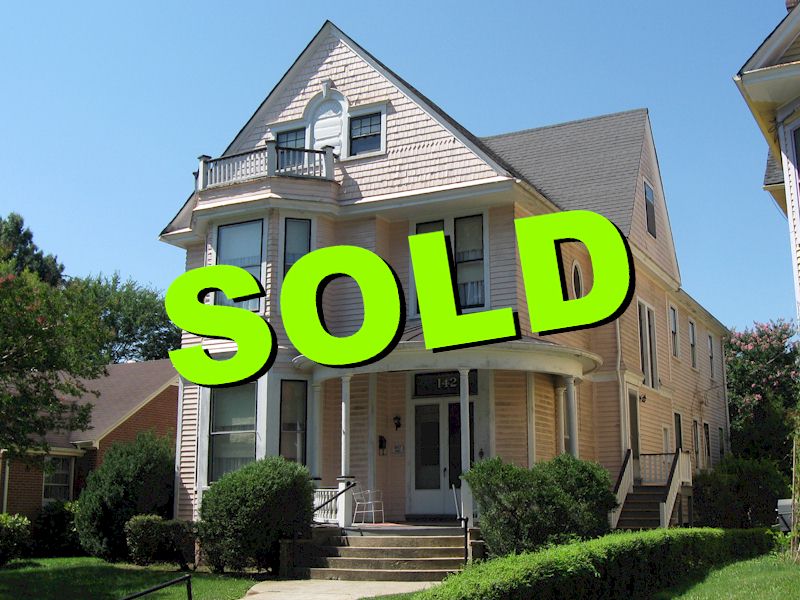 The Boatwright-Moore House
142 Sutherlin Avenue
Square Feet: 3,230   Lot: 8,900    SOLD
This spacious home was built between 1885 and 1889 by William Penick Boatwright. He founded the Boatwright Brothers Company selling books, stationery, and printing before 1890. He married in 1893 In 1902, he was able to set himself up in the furniture business, opening a showroom on Main Street and a factory south of the railroad tracks. William and Frances Moore most recently occupied the home and raised their family there.  Mrs. Moore survived her husband, recently passing at the age of 101.
---
---
---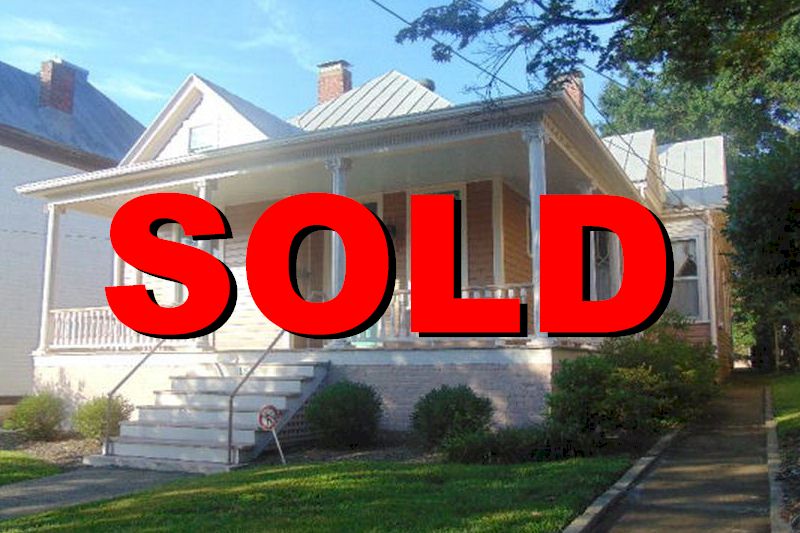 154 Sutherlin Avenue
Square Feet: 2,222   Lot: 8,950   SOLD
This gorgeous one level bungalow home located in the Historical District features beautiful original hardwood floors, stately foyer columns, tastefully updated kitchen and baths, original fireplaces and a large walk-in pantry.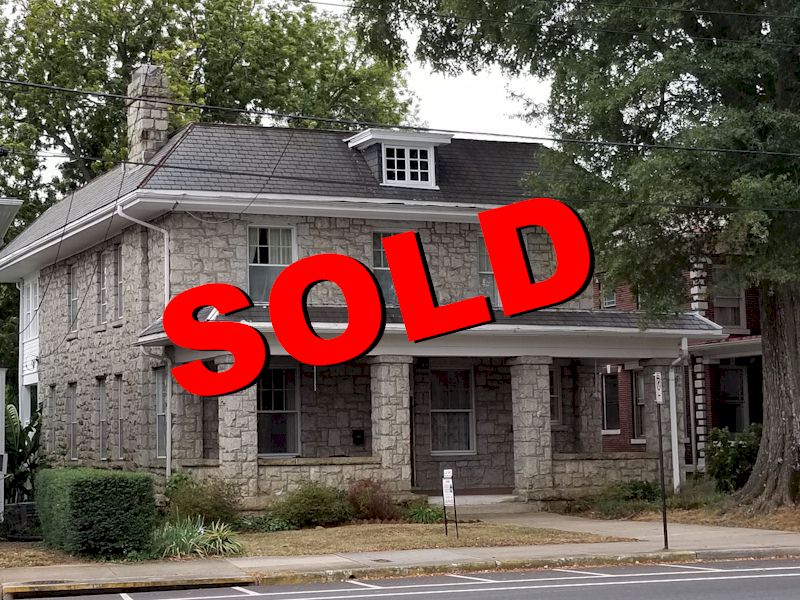 233 West Main Street
Square Feet: 3,460   Lot: 10,547
Beautifully Restored Historic Home Built in 1904. This home has the charm of yesterday with today's modern conveniences. The present owners added 3 heat pumps, insulation in walls and ceilings, and new storm windows to make this large home energy efficient. The moldings and hardwood floors are works of art. The chandeliers are original. It is truly spacious and gracious. This solid stone home has a beautiful front porch, grand foyer, living room, dining room, second living room, kitchen updated with granite and stainless, a large butler's pantry and pantry, wide hallways, possibly 5 bedrooms, 2.5 baths, walk-up attic, a basement like no other older home, shared driveway, detached garage, beautiful garden area in back with stamped concrete patio.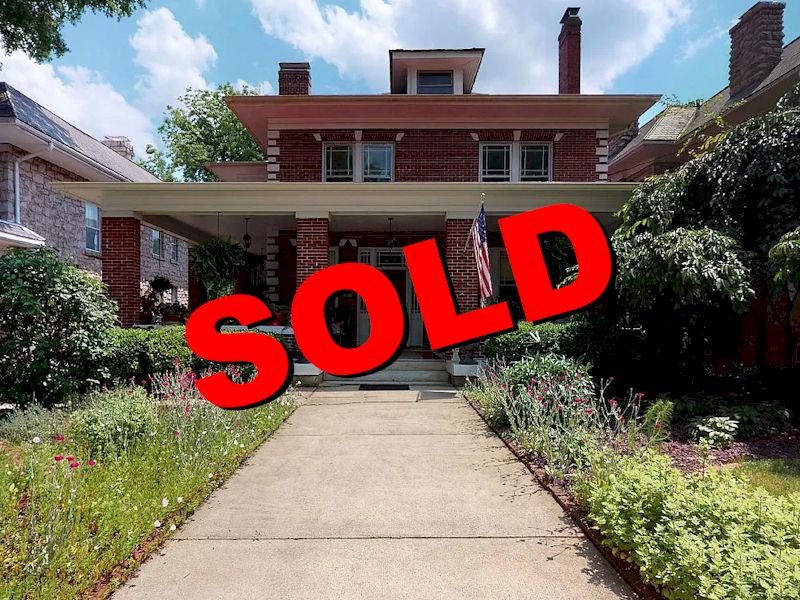 ---
The J.R. Muse House
235 West Main Street
Square Feet:  3,825     Lot: 17,400
When you view this stately Georgian 1908 home in the Old West End Historic District, you might think the inside will be formal and filled with dark wood antique furniture. Nothing could be farther from that impression. This warm and welcoming home is filled with light and energy. The owners collect art and the house abounds with color. Also, enjoying entertaining, the kitchen is a chef's delight and the spacious wrap around front porch and covered back terrace allow for a great flow and privacy.
---