Built in 1880, the house at 622 Holbrook Avenue (at the corner with Gray Street) was constructed for Paul C. Venable, a prominent Danville tobacco leaf dealer.  The Venable family lived in the house until it was sold to Venable's nephew, Alexander Berkeley Carrington, in 1898.
The house is a superior example of Italianate architecture.  Brick, with a low-pitched, hipped roof supported by decorative corbels and floor-level windows, the façade is further enhanced by a uniquely ornate cast-iron veranda.  Behind the house stands a brick garage where Carrington kept his automobile and where his chauffeur lived.  Both contribute architecturally and historically to the Old West End National Historic District and surrounding area.
A. B. Carrington lived in the house until his death in 1936.  His wife continued there until she died in 1944.  It was sold to the trustees of Lee Street Baptist Church in 1944.  Five years later, Albert P. Maurakis purchased the house and converted it into the Terry Apartments.  It remains in that configuration today, though much in need of repairs.  Available for purchase, see the listing here.
Maurakis also built a brick apartment building on the adjoining lot.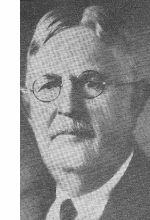 As significant as this house is architecturally, it may be better known for its second owner.  A. B. Carrington, as he was called, came to Danville in 1878 at the age of 16 to work for his uncle at P. C. Venable and Son.  Mr. Carrington later became a partner with Dibrell Brothers, eventually serving as president of the company.  Under his guidance, Dibrell Brothers became one of the most important independent leaf tobacco dealers in the world.  During that time, Carrington also served as president of the Tobacco Association of the United States.
In addition to Carrington's accomplishments in the tobacco industry, he was also a member of City Council, a chairman of the Danville School Board, a member of the Board of Directors of the Virginia State Chamber of Commerce, and president of Danville Chamber of Commerce.  He served as a director and chairman of the First National Bank of Danville.  He was also president of the Masonic Building Corporation from the time of its founding until his death.  It was during his tenure in that position that that Danville's skyscraper, the eleven-story Masonic Temple at the corner of Main and South Union Streets, was built.
For three years, he was president of the Y.M.C.A. and for twenty years or more was one of its directors, giving generously of his time and means to its work.  His charitable work also included service as Chairman of the Boards of Memorial Hospital and Hughes Memorial Home.  It was under Carrington's direction that Memorial Hospital (now SOVAH Health) was constructed on South Main Street.
A member of the First Presbyterian Church, he was the first citizen to receive the Kiwanis Citizenship Award given each year to the citizen chosen as Danville's outstanding community servant.  The Carrington Pavilion on the riverfront is named after Carrington and his extended family, who donated generously to Danville, helping to keep the city alive during the Great Depression.