John Paxton came to Danville from Rockbridge County in 1812.  He was a renowned silversmith and clockmaker who operated a shop in a one-story wood frame building near the corner of Main and North Market.  He also acquired a two-acre plot of land on the southeast side of Main Street on what was then the outskirts of town.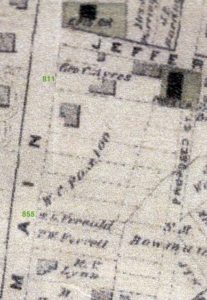 By 1877, John's son William Coalter (W.C.) Paxton had acquired that land from his father.  Later, that land was laid off in lots numbered 815 through 847. Today, we would say that W.C. Paxton owned everything between Elm Court at 811 and the Fernald House at 855.
In 1852, W.C. Paxton married Harriet H. Ware Burton, a widow who had a son from a previous marriage – one F.X. Burton. On the parcel of land from his father John, W.C. built a home at the location of the present Episcopal parking lot. Together, W.C. and Harriet had five children including Walter Thomas Paxton.
As an adult, Walter Thomas Paxton worked for half-brother F.X. Burton in his tobacco company. Later he worked with J.A. Cradock, an independent leaf dealer, and then with Dibrell Brothers.  In 1890 he married Elizabeth H. Williams. The couple had three children, Sue (who they called Dabney), Walter Thomas Jr. and William.
On another portion of the Paxton land, Walter Thomas Paxton, commissioned a house at what is now known as 815 Main Street.  It was completed in 1895.  His builder is thought to have been John Boswell.
After Walter Thomas Paxton's death in 1916, widow Elizabeth Ware Burton Paxton, daughter Dabney, and son William, continued to live in the house. Dabney married James Bernard Grant in 1918. While the Grants relocated often, Dabney Paxton Grant and her daughter were back in Danville by 1933 and living with her mother Elizabeth.
Elizabeth Ware Burton Paxton, widow of Walter Thomas Paxton lived on and remained in the house until her death in 1960. Dabney Paxton Grant died in 1980 and the house was sold for the first time, ending the presence of the Paxton family and their descendants on Main Street.
The Paxton-Grant House has passed through several stewards since then, most recently Shaun and Sarah Robertson and their five children.