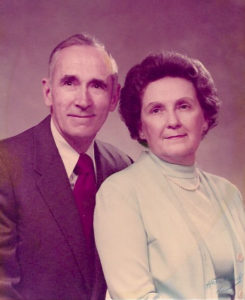 William Lee Moore was born in 1914, the second of nine children and the only son of tobacco farmers.
Frances Houghton (at top) was born in 1917 in Hopewell, Virginia. Her father was a minister at Mount Hermon Baptist Church and it was there she and William met. She played piano and William, with his "natural baritone" directed the choir. They married in 1935.
During the early years of their marriage the couple both worked at Dan River Mills. Once their children were born, Anne and Bill Jr., Frances stayed home to raise them. Having learned to play piano at the age of four, she was eager to share her love of music with her family—and anyone else—and for a number of years she taught piano from her home. Once the children were in school, she enrolled at Averett College and there earned her teaching certificate.
Mrs. Moore's first position was as a high school teacher at Brosville School, which housed grades one through twelve, and there she taught both Latin and English. Later she taught at George Washington High School before becoming a Guidance Counselor there. Along the way she earned a Master's Degree from Longwood College. Later she served as the assistant superintendent for language arts instruction in Pittsylvania County as well as teaching some off-campus English courses for UVA. One of her proudest achievements was implementing the first federal program in the county for English instruction.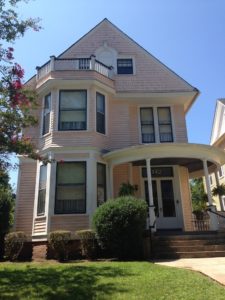 Meanwhile, Mr. Moore—who had worked for various departments at the mill including the "tabulating" department—became a member of the team in the early 1960s responsible for creating Dan River Mills' first computer, an IBM 1410. As a systems analyst he used this mill-wide knowledge of manual operations for the then state-of-the-art technology computer. When computer operations moved from Hilton Hall to the new corporate office building, he assisted in the implementation of the first random-access hard disk invented by IBM.
Shortly after moving into their home at 142 Sutherlin Ave, they converted the upstairs into an apartment and charged enough rent to pay the mortgage and then some. By the time their children were in high school, the renters were gone and they had the house to themselves, the mortgage paid.
Mrs. Moore was a student her entire life and loved to learn as well as teach. In her 90's she was learning the Russian language from a young scholar from Northern Ischetia who had rented a room while helping launch Danville's new Research Institute.
After Mr. Moore passed away in 2004, Mrs. Moore continued to live in the house until her own death in 2018 at the age of 101.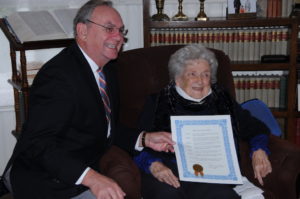 The house is soon to go on the market and is in wonderful condition. The Moores, as the second family to own the house, and occupants for 68 years, were exemplary stewards of the property. We in the Old West End will continue to remember the Moores fondly, even as we look forward meeting to the home's next caregivers.