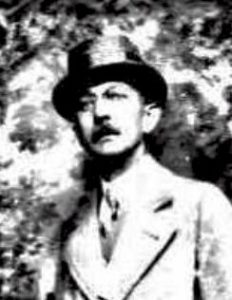 The Judkins house at 161 Holbrook Avenue was so named for its original owner, William Duncan Judkins (at right in 1911) who constructed the house in 1892.  Mr. Judkins was a native of the region, and after working in the hardware business in Maryland and New York City, he decided to settle here with his wife, who considered Danville her hometown. Mr. Judkins was employed by the tobacco firm of George S. Hughes and Company on Bridge St.  They did not stay here long, however, and returned to New York in 1898, where he became well-known as a merchant and broker.  The house remained in his possession, occupied by members of his wife's family, until he at last sold it in 1919 to Charles B. Davis of the Danville Warehouse Company, which buildings bear his name today.  Mr. Davis died in 1926, but his wife remained in the home until 1952, when it was acquired by one of her daughters.  The house was sold at auction in 1982 to Dr. and Mrs. Y.S. Lin who restored the home, while at the same time adding a third-story apartment for rental income.
In 2011, Dave Corp and Ann Sylves bought the house. Retired school teachers from Buffalo, New York, they were looking to move to the mid-Atlantic in the hope of finding a more congenial climate. They also had dreams of owning a historic home.  With the help of HistoricProperties.com, they found that Danville had many examples of historically significant architecture.  They came for a visit and found it picturesque and promising, and what's more, filled with the type of houses they were looking for and at prices that made their dreams seem not only possible, but practical as well.  "We could never have afforded a house like this anywhere else," said Ann.
Having owned several homes before, ranging from the 1920's to the 1950's, they appreciated the quality of craftsmanship and attention to detail found in these older homes, where every piece of molding was crafted by hand.
In 2012 they bought the Judkins house at 161 Holbrook Ave. Unlike many of Danville's historic homes, the Judkins house did not require major renovation. It was the previous owners, the Lins, who rescued it. When it came time to sell, the Lins were looking for someone who would carry on what they had begun, who would be caretakers of the house, preserving their hard work and finish up what remained to be done.  Dave and Ann, with their enthusiastic love of all things historic, were the perfect buyers.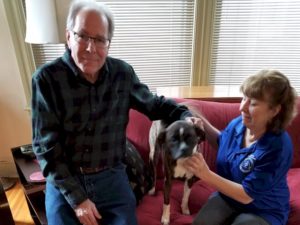 Their decision was further confirmed when, upon moving in, they found themselves—like many of us—feeling truly welcomed into the neighborhood, and quickly became prominent figures in the community.
Dave, Ann, and their dog Sable have decided it's time for a new adventure, so the fully-restored Judkins house is available.  Learn more about this five bedroom, four bath home with third floor apartment here.