Tobacconist Elbert M. Williamson built the house at 137 Holbrook Avenue around 1890. When Mr. Williamson died in 1935, he was hailed as Danville's oldest citizen.  He was just a few months shy of 100 years old.  The house then passed to his daughter, Mrs. Berta Dance, who was a widow aged 68, and had been living in the house already.  Her daughter Virginia subsequently inherited the home.
In 1908, Italy suffered a devastating earthquake which triggered a subsequent tidal wave.  In all, approximately 125,000 people were killed and many cities in Southern Italy were destroyed.  Newspapers of the day lamented it as the greatest natural disaster in the history of the Christian world.  While on a cruise in Italian waters, Dr. Martin Donelson, a U.S. Navy medical officer, was decorated by the Italian government for medical services rendered to the sufferers.
Virginia Dance married Dr. Martin Donelson in 1917.  He continued to serve in the Navy for a total of 30 years, only retiring when his health prevented him from serving longer.  Upon returning to his wife's home in the Old West End, he found himself a victim of depression and suffered a nervous breakdown. Doctors diagnosed him with chronic melancholia.
On the 9th of February 1939, not many hours after his wife had departed on a holiday with relatives to Ft. Lauderdale, Dr. Donelson was discovered by a domestic having suffered a fatal gunshot to the head.  His rifle lay beside him.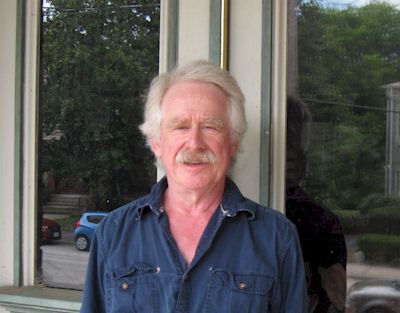 Virginia Dance Donelson continued to live in the house until the mid-eighties, when it was converted to apartments.  Since 1999 the house has undergone a series of restorations, the first by Alfrieta Bennett, followed by the most recent owner, Dave Fieldman (at right), who has spent the last decade and a half restoring the house to its former glory.  His attention to detail can be seen in the carefully hand cut marble flooring; the bathroom fixtures, which are historic reproductions; and a large kitchen that is designed both for modern convenience and with careful respect to the historic integrity of the house.
The brick Queen-Anne style home features ornamental terra cotta tiles on the façade and a slate roof.  An outbuilding, of which only the footprints remain, was once used by the fire station that fronted Magruder's Alley.  The 3,600 square foot house features 7 bedrooms and 4.5 baths, with living space on three floors.