In 1863, the Town of Danville purchased the Green Estate and, soon after the war, began the development of Green Street Grove (now Doyle Thomas Park).  In 1873, the town sold a larger tract of land bounded by Green Street, Pine Street, and Loyal Street (now Jefferson Street) to the Tredway family.
This land was held in trust for Sallie Ragland Tredway by her brother, Henry A Edmundson of Halifax County.  This arrangement was a then-common mechanism for husbands to provide for their wives in the event of untimely widowhood, and Moses was seven years Sallie's senior.  Moses Herbert Tredway's caution was warranted, as he passed in 1912 at the age of 81.  Sallie continued until age 84, passing in 1922.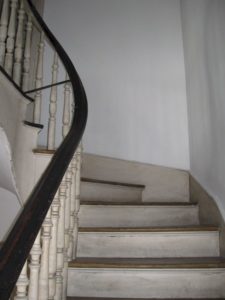 Soon after the purchase of the land, a house was constructed on the property, no doubt to take advantage of the adjacent park.  The town's land books for 1874 show a building valued at $2,500 with a total property value of $3,500.  Insurance maps show two outbuildings – likely a kitchen separated from the main house and a privy.
Moses and Sallie moved in promptly with their four daughters – Nannie K, Roberta Helene, Martha E, and Mollie Edmundson Tredway – and four sons – Richard Arthur, Howell, William Marshall, and Moses Herbert Tredway Jr.
Over the years, the Tredways sold various tracts from their larger property allowing the construction of additional houses in the immediate area.
Danville's 1911 cyclone was not kind to the property.  The kitchen was blown away.  With the advances in cooking technologies, it was thought safe to add a small kitchen to the main house at this time.
By the 1930s, 820 had been sold to members of the Dyer family – Green Street residents and investors.  The house was divided into upstairs and downstairs apartments and continued as a rental property until 1949.  It was then purchased by local physician W. C. Yeatts for use by their daughter, Ethel Yeatts Hardy Drew.  Dr. and Mrs. Yeatts gave the property to their daughter in 1951.  According to Ethel's son, it was then that the house was further expanded to add indoor plumbing.
Ethel Yeatts Hardy Drew passed in 1966 and the house was willed to her sons, William Henry Hardy and Thomas Wallace Hardy.  In 1967, William Hardy acquired the half interest owned by brother.  However, he lived there only briefly.
While William Hardy once advertised the property for sale in 1977, it has remained in his sole possession until 2016.  He continued to maintain the exterior, largely in memory of his mother.  Because the house has been largely unoccupied, it retains almost all of its 1874 features and fixtures.