The house located at 919-921 Green Street is a unique example of a double house, but it was not always such. The property was first acquired in 1882 by Joseph Reuben Herndon, and was built sometime shortly thereafter. By 1888, according to the city directory, Joseph was living there with his wife, Caroline Louise Rainey Herndon.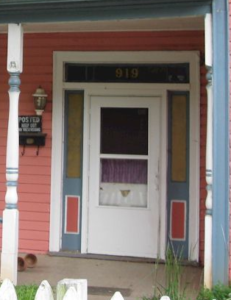 Joseph originated from a long line of Virginia Herndons who contributed to the effort for American Independence. He was born in Pittsylvania County in 1834 to Dr. Aaron and Elizabeth Perkins Herndon and married "Carrie", a North Carolina native, in 1856. In 1860, the couple welcomed the first of seven daughters. Two years later, Joseph enlisted in the 5th and 9th Virginia Cavalry. Upon returning from the war, and to Danville, Joseph obtained employment as a leaf tobacco dealer. Six more daughters were subsequently born to the couple, as well as one son in 1874, though he only lived about eighteen months.
The Herndons shared their home during their twenty-plus year residence with at least five of their daughters, including Elizabeth "Bessie" and Blanche, both local schoolteachers, Annie, Ella, and Carrie, along with her two sons Herndon and James. In later years, Mr. Herndon worked as a book keeper in a tax office, and then as a deputy tax collector.
In 1912, Mr. Herndon suffered heat stroke and passed away two weeks later. Mrs. Herndon died of a heart condition in 1917, leaving the house to her daughters. It's likely at this time that the house became a duplex. The sisters shortly after moved to Raleigh, and the next residents of the home, as indicated by censuses, were renters.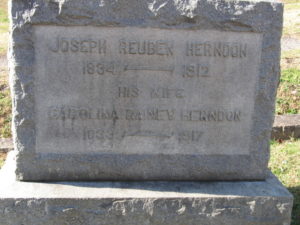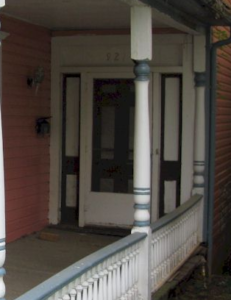 919 Green Street became the residence of Sam and Mollie Hodges by 1920, who had come to Danville from Caswell County after giving up a career in farming. They lived there for a short time before buying a home on South Main Street, where they lived until his death in 1937. The house was next occupied by John L. Hodges who was employed as a watchman in one of the Danville tobacco factories and resided until at least 1935.
The second unit of the home, addressed 921 Green Street, was rented after Mrs. Herndon's death to David L. Ragland, a chiropractor, who lived there with his family for several years, followed by a list of other renters between 1920's and 1940's.
Around 1940, the home was purchased by Dolly Nance, who maintained ownership until her passing in 1963, after which the house transferred to her son John F, who had also lived here for a time. In 1984, Mr. Nance sold the property to the Danville Historical Society, who maintained it until 1990.
In recent years the house has suffered considerable neglect and deterioration, and yet it retains many charming details of its former days. The house, aesthetically interesting still, is ready for restoration and its next owner-occupants. See the listing here.