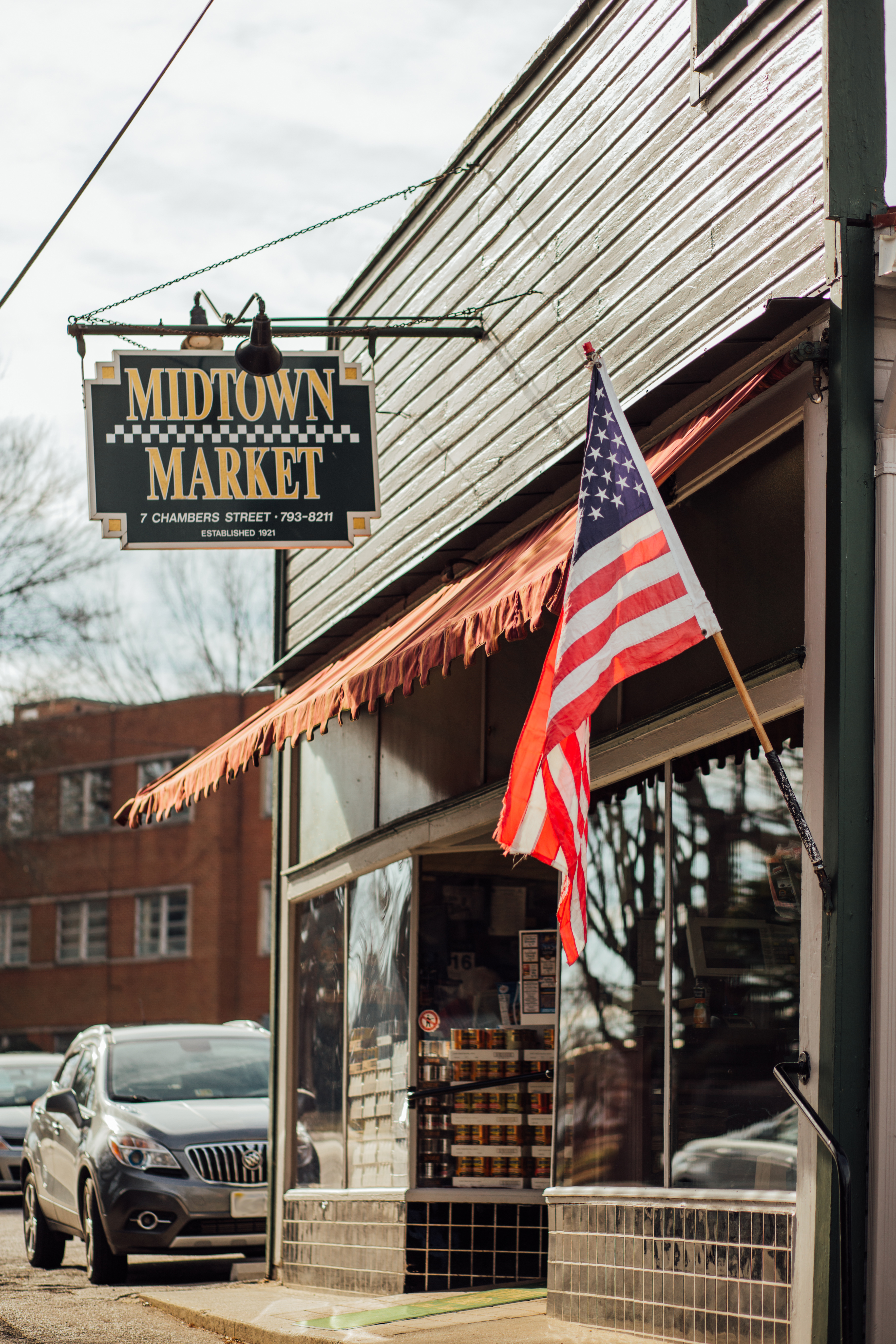 Midtown Market, located at 7 Chambers Street, is the neighborhood grocery for the Old West End National Historic District.  In continuous operation since 1921, this family-owned and operated business provides the community with local produce and their own in-house products.  The food is so good that folks from all over the southeast make it a point to stop at Midtown every time they are nearby.
Midtown is nationally known for its homemade hand-chopped chicken salad (2,000 pounds are sold every week).  The March/April 2015 issue of Cooking with Paula Deen in its periodic "Ten to Try" list recommended their chicken salad as one of the best in the country.  (But don't overlook their homemade ham salad, sausage, and pimento cheese.)
The store opened in December of 1921 as Church's Grocery, owned and operated by Mr. J. M. Church.  As the automobile was not yet prevalent, people tended to shop very near their homes.  "Corner stores" were therefore plentiful.  Danville had about 175 of them – several in the Old West End – at the time that Church's Grocery opened.
By the 1930's the national grocery chains began to move in, forcing small corner stores to expand their services in order to compete.  In 1938, Church's Grocery refurbished and expanded the custom meat department, installing a white-porcelain walk-in meat case (present today).  Among local residents, the market is well-known and respected for providing some of the highest quality cuts of meat available.
Mr. Church passed in 1942, but members of his family operated the store until 1945.  They sold the store to Mr. T. Harden Shumate, who made his own improvements, adding a refrigerated vegetable cooler and fluorescent pendant light fixtures that remain in use today.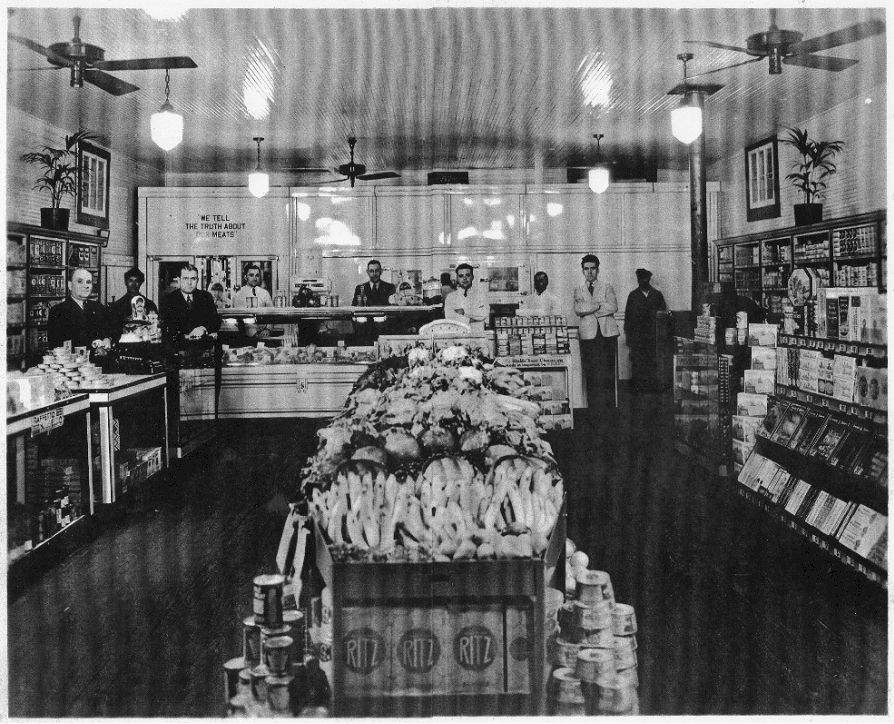 New meat department, 1938.  J. M. Church standing at far left.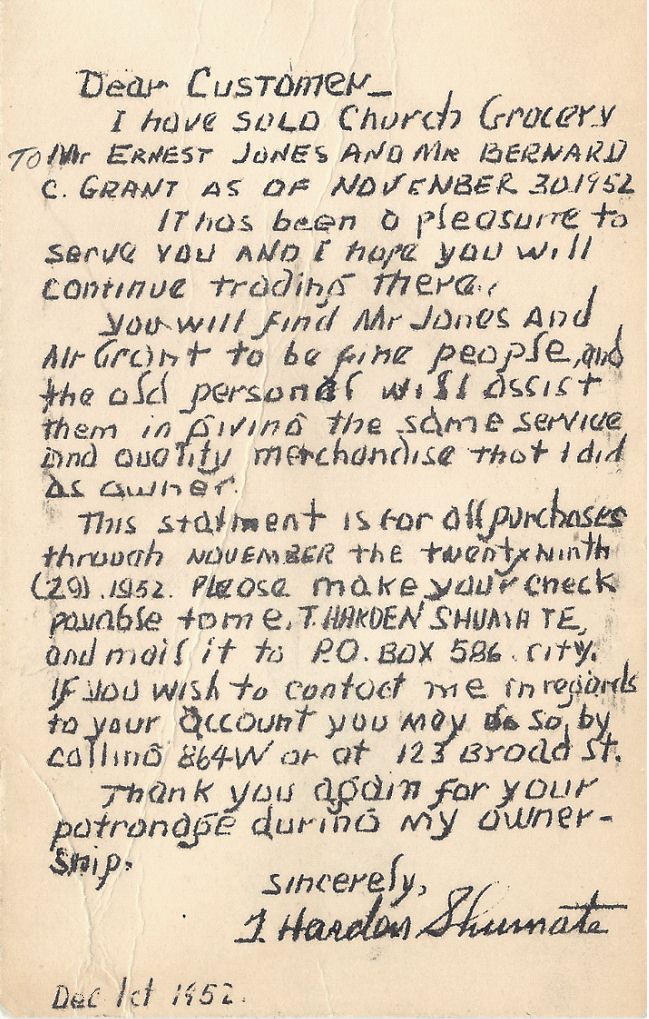 Post Card sent by Harden Shumate
to his patons
In 1952, just after the Thanksgiving holiday, Mr. Shumate sent a postcard (above) to his customers announcing the sale of Church's Grocery to Mr. Bernard C. Grant, Jr. and partner Mr. Ernest Jones.  Mr. Shumate had operated the store for seven years.
The grocery began making its famous chicken salad in 1964.  The recipe came from the maternal aunt of the store's present owner/operator, Jan Grant Harris, daughter of 1952's purchaser.
Local legend says that Midtown Market refused to abide by the laws requiring segregation of the races.  Nestled as it was on the very border between black and white neighborhoods, the store could hardly shun half of its loyal clientele.  And so they didn't.  Perhaps that's why Midtown Market remains the only store like it of its kind remaining anywhere in the area.  Loyal to its patrons, its patrons have remained loyal to Midtown.