While the identity of the first owner of 808 Green Street is unknown, the date of construction was between 1873 ,when the lot was divided from a larger parcel, and 1877, when the home appeared on the F. W. Beers map of Danville.  The lot was and is in a prime location — across from what was then called the City of Danville Grove.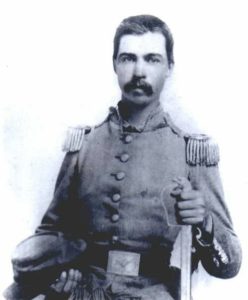 Many members of the Griggs family built or occupied homes on Green Street.  The patriarch was George King Griggs, born in Henry County in 1839.  George, shown at right, attended the Virginia Military Institute and was commissioned a captain in the 38th Virginia Infantry on June 2, 1861.  He rose rapidly up the military ladder becoming a full colonel in May 1864.  He was wounded several times including at Gettysburg.  George surrendered his brigade at Appomattox. He joined the Danville and New River (later Danville and Western a.k.a. Dick and Willie) Railroad in 1881, and by 1886 had risen to General Superintendent, Secretary and Treasurer.
One of George's sons, James Henry Griggs, worked with his father at the Dick and Willie for a time. He served as a railroad conductor and railroad master, later becoming a commission merchant on Patton Street. James Henry Griggs lived at 808 Green Street from the late 1890s until about 1915 before moving to Sutherlin Avenue and later South Main Street.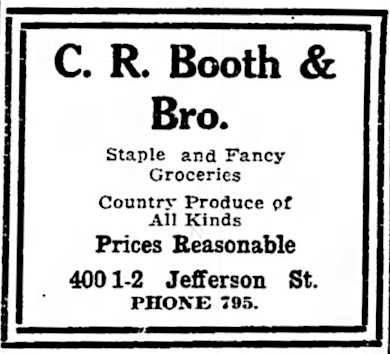 James Henry Griggs sold the home to Mr. and Mrs. Charles R. Booth sometime before 1920.  Booth was a grocer, operating a store with his brother W. Irvin Booth just around the corner at Five Forks for may years.
Sadly, in 1931, a son of Mrs. Booth from a former marriage, Coleman S. Edwards, strangled himself with a belt in the home.  Though no note was found, he had been unwell for several years.  Oddly, his brother Benjamin also died by suicide two years earlier by taking poison.  While Bennie died on Patton Street, his services were held at the 808 Green Street residence as were his brother's.
The Booths regularly rented furnished rooms in their home.  After Mr. Booth's death in the home in 1959, his widow, Louise, continued the practice until her death in the home in 1965.  One of her boarders, Lyman George Stone Sr., an employee of Dan River Mills, was found dead in the home in 1973.  Another boarder was Melvin "Lefty" Adams, a former professional baseball pitcher.  He passed in the home in 1976.  Overall, perhaps an unusual number of deaths and funeral services occurred here, and some say there are specters present.
In 2001, the home was acquired by DOVES, Inc.  DOVES is an acronym for Domestic Violence Emergency Services, and the home was to become a shelter. DOVES removed a failing rear addition and replaced it with a more substantial addition about ten years ago.  Abandoned due to tax issues, the property passed into city hands in 2016.
Stabilization of 808 Green Street was completed in 2018 (2017 photo below).  Diversified Services made all manner of repairs including a rebuild of the unusual front porch cupola.  The home is now structurally sound with a red metal roof that matches the body of the home.  From top to bottom, gutters and downspouts were replaced, corbels repaired or replicated, siding scraped to bare wood and repainted, and windows and doors restored.  Also, the second floor bump-out over the front porch — an added bath — was removed to restore the original façade.