The Watson House at 125 Chestnut street was built before 1877. The house changed hands many times before becoming rental property in the 1920s. One of the early owners, John Watson, was a hardware merchant. For a few years J. G. Wood, a restaurant manager for the Southern Railroad, lived in the house with his wife.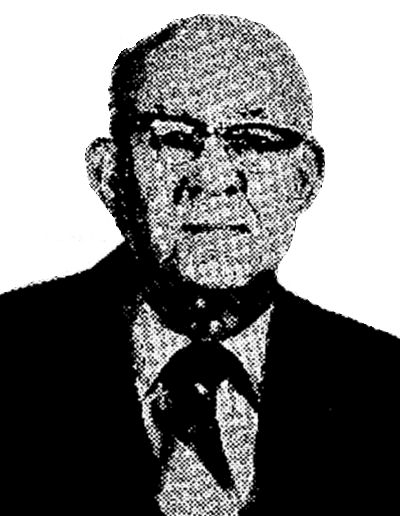 Perhaps the most colorful residents lived in the house in the 1960s. At that time Helen Nicholaus owned the house. A native of Greece, she spoke no English and rented rooms out to borders. One such tenant was Mr. Gus Exaraou (at right). Mr. Exaraou was born in Turkey in February of 1896 and had come to Danville by way of Greece sometime in the 19-teens. He owned and operated the Schoolfield Shoe Shop before retiring in 1946.
In August of 1964, while a tenant of Mrs. Nicholaus, Exaraou was struck suddenly ill with a severe kidney infection. As the date of his surgery approached, he became increasingly anxious and was convinced he would not survive. At last, desperate that something should be done with his money, Exaraou turned over his safe deposit box to her with the intention she take care of his debts and death expenses.
When Exaraou made a full recovery, he asked to have his money returned, but Mrs. Nicholaus refused on the grounds that he had given it to her as a death-gift. When he threatened to take legal action, she kicked him out.
Exaraou did take her to court, where the amount of the "gift" was disputed. Mrs. Nicholaus claimed that it was $5,000, though Exaraou insisted he had given her something over $36,000. During testimony it was revealed that Exaraou had been a tenant of Mrs. Nicholaus for many years, having rented rooms from her at another location before deciding to combine households on Chestnut Street. They got along quite well until she learned of his money. At first, she had wished to marry him. When he refused, she enlisted the help of her sons to persuade him to rewrite his will leaving his estate to her. It seems he did, though he almost instantly regretted it. "They are three to one against me," he complained to the district court clerk who helped him with legal matters.
In the end, Mrs. Nicholaus was ordered to return the $36,500 given her. When it was discovered that a large transfer had been made from her savings to that of one of her sons, her accounts were frozen and the transferred sum returned, but whether Exaraou actually got his money back is unclear. Perhaps, after all, they made up. When Exaraou died in 1972, his arrangements were made from Mrs. Nicholaus' Chestnut street home, where he had been living until he'd entered the hospital a week before.
At one point during the trial she had said, "I would be happy to have him come back – we had an agreement to be together all our lives."
And so, it seems, they had.