Though the house at 225 Jefferson Avenue is not as flashy or as colorful as its Victorian neighbors, it is one of the oldest in the city.  Built as a single home about 1840, the exact date of construction and original ownership have been lost to time.  It was later expanded to a double house in the Federal style, with a formal and symmetrical façade, end-to-end chimneys, and side-gabled roof.
One of its earliest owners was Robert Ross.  He came to the area with his brother John and his father James from County Antrim in what is now Northern Ireland.  James was among the earliest members of the First Presbyterian Church when it organized in December of 1826.
Following Robert Ross' death in 1847 the house passed to his niece Catherine and her husband William S. Patton.  Mr. Patton worked in mercantile before the War Between the States, but later led the banking and insurance firm of W. S. Patton, Sons, and Company.  He lived across Jefferson Avenue from this home.
In 1863, Mr. Patton sold the house to James B. Pace, but regained ownership three years later.  He held it until 1885 when he sold it to Mary E. Elliot.  Ms. Elliot and her relatives lived there for nearly a decade.
At one point, the house was owned by N. A. Fitzgerald, uncle of the well-known Harry Fitzgerald of Dan River Mills.  Mr. Fitzgerald and his four children lived there.  He died in 1911, just a year and a half after marrying his third wife.  He'd outlived the first two.  The house was then sold to Dr. Julian Robinson, a local physician.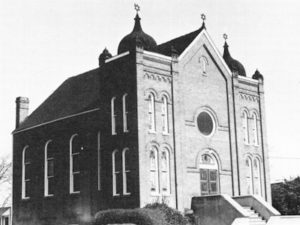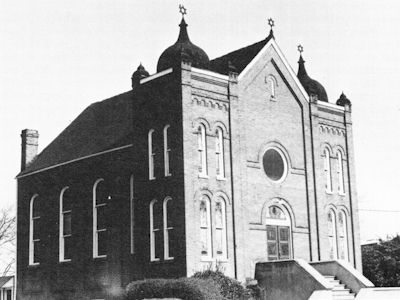 In 1919, the house was acquired by the Sonnenberg family.  They were members of the nearby Aetz Chayim Synagogue (at right), once located at 738 Wilson Street.  They were also the owners of Main Street's The Quality Shop where they sold ready-to-wear fashions for women.  (Until that time, clothing was often custom made.)  Presumably, the Sonnenbergs added the porches and converted the structure to the single-family Georgian Revival-style home we know today.  The family remained there until 1947, after which it changed hands several more times.  It served as a boarding house for many years.
The 5,400 square foot house has eight bedrooms (plus two servant's rooms in the garret) and four full baths.  The property also includes a separate 400+ square foot apartment with one bedroom and one full bath.  See the listing.