This home at 855 Pine Street was one of at least three built by William W. Worsham.  It was sold to J. T. Stovall, a native of Henry County, almost immediately upon completion in 1872 for the princely sum of $2,350.00.  Stovall was a politician during reconstruction and owner of a tobacco factory that burned in 1876.
In 1886, the home was acquired by Dr. Nathaniel Wilson Lumpkin.  He apparently purchased the home for use by his sons, George W. and Nathaniel W. Lumpkin.  Dr. Lumpkin and his wife, Alice Hawkins Lumpkin, lived on Patton Street at the time.
Dr. Lumpkin was a respected veterinarian who developed healing salves, which he sold through the druggist, H.W. Cole. Lumpkin's Electric Ointment and Lumpkin's Lightning Flash Ointment were touted as cures for everything from cuts and burns to eczema, hemorrhoids—and even cancer!
A testimonial printed in the paper on May 4, 1896 reads:
I had a fall and suffered a fracture of the hip. After being treated by the best medical talent, and the broken limb had healed, I suffered a great pain in my hip joint. …after using one box of this ointment, I was entirely relived and have not since suffered any inconvenience or trouble with my leg.
Unfortunately, Dr. Lumpkin did not find the same relief when, in November of 1898, while on a hunting expedition with friends Harry Wooding and H.H. Barksdale, Mr. Barksdale tripped in a hole and his gun discharged at close range, shattering Dr. Lumpkin's leg. Two weeks later, Dr. Lumpkin died.
It was at that point that his widow, Alice, along with six children, came to live with her sons at 855 Pine Street.
Nathaniel Lumpkin Jr. was in the livery and exchange business and worked as a courier. His brother assisted him as manager.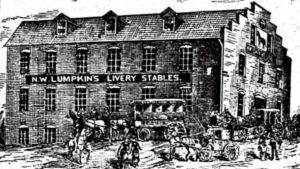 In 1901, Nathaniel Jr. married Zula Nolan of Gaston, North Carolina. The following year, he took a job with the Southern Railway.  A few months later, the couple moved to Charlotte where he began work with the Armour Packing Company.  The whereabouts of the widow Alice Lumpkin after 1904 is unknown though she is interred next to her husband at Green Hill.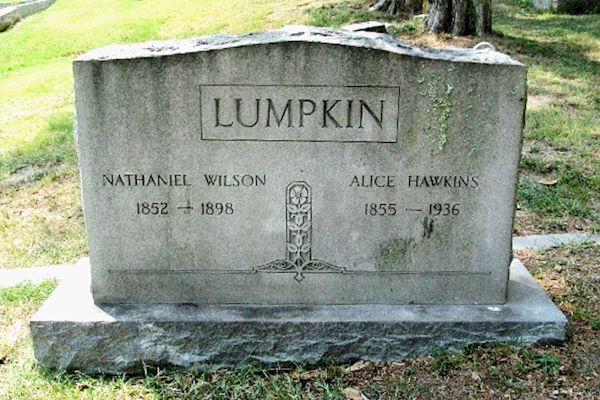 In 1905, 855 Pine Street became the residence of Edward Arthur Prescott.  In 1895 he married Ida Mae Durham who gave him five children. They came to Danville from Rockingham County in 1902 when he joined the local police department. His beat was Craighead Street – a tough one at the time, with its red-light district and as many as a dozen saloons between Main Street and the railroad station. Prescott was working for the police department at the time that Police Chief Morris was discovered to be the escaped murderer R.E. Stribling.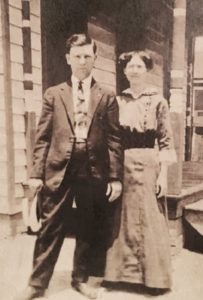 Edward retired from the department in 1920 where he last worked as a plainclothes detective. He then operated a fruit stand with his wife for a time. He also spent a little time in real estate before setting up a cleaning and pressing business which he operated for the next twenty-five years.
Ida Prescott died just a week after celebrating their 60th wedding anniversary in 1955. Her husband Edward died on March 12, 1964, at the home, at the age of 93. Edward Jr. subsequently inherited the cleaning business and the house and continued to live there with his wife and brother (who occupied a second apartment) until his death in 1988. His wife Carrie remained until 1990 when the home was sold to Joseph Michael Garrett.