The Old West End has been home to many doctors and druggists over the years.  Best known in his time was Dr. Howson White Cole.
Born in 1830, he came to Danville in 1858 after graduating from Jefferson Medical College in Philadelphia (one of four colleges he attended in the pursuit of his medical education).  Dr. Cole volunteered for service in the Civil War as a private in the Danville Blues but was soon detailed to medical service.  Owing to his health he was discharged, but he continued as a volunteer surgeon without pay.  To the extent his health allowed, he served both in the field and in hospitals through the end of the war.
After the war, and due to his health, Dr. Cole gave up his medical practice.  He went into the drug business instead.  He opened the well-respected H. W. Cole Apothecary in the Masonic Temple building at the corner of Main and Union Streets.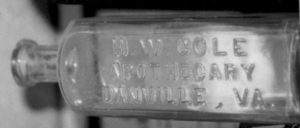 In 1870, he was viewed as the only man who would be able to defeat "the combined negroes, carpet-baggers, and scalawags" for the office of mayor.  Running as a Democrat, he won the first post-war municipal election.  Mayor Cole was re-elected in 1872 and 1874.  He declined to run in 1876, perhaps related to his marriage to Lavelette Dupuy in January 1875.  After leaving the mayoralty, he did however accept the position of city coroner.  He also operated a boarding house downtown called the "Mansion House."
Howson and Lavelette Cole had two sons – Dr. H. W. Cole, Jr., and Lavillon Dupuy Cole.  They resided at 827 Main Street in the Old West End – now a parking lot for the nearby Church of the Epiphany.
In 1882, Dr. Cole was one of six founders of the Riverside Cotton Mills, later Dan River Inc.  His associates were Thomas Benton Fitzgerald, Benjamin Franklin Jefferson, and the Schoolfield brothers – John, James, and Robert.  R. W. Peatross, later Judge Peatross, served as their attorney.
Dr. Cole was active in creating the Danville Military Institute which began in 1890.  DMI was a predecessor to the present Danville Community College. Its famous building is shown below.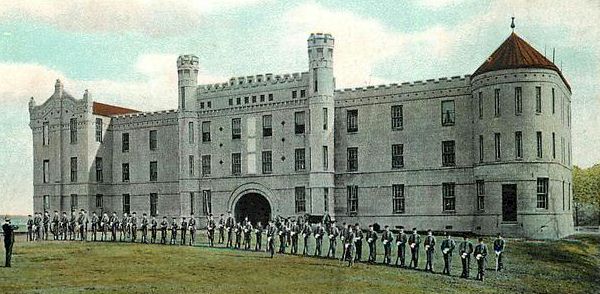 Dr. Howson White Cole passed in January 1910.  He is remembered in Men of Mark in Virginia as the type of citizen in which any town could be proud.  He advised the young to, "pay attention to honesty, truthfulness, industry, economy, politeness, readiness to lend a hand, and promptness in paying honest debts."