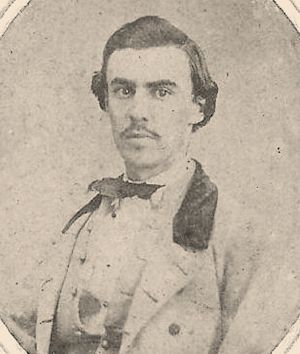 Dr. Henry Adolphus Wiseman Sr. was born in Danville on March 16, 1843. He was studying medicine and pharmacology when the war between the states broke out. From the age of seventeen, he was also practicing both disciplines alongside his partner John H. Holcombe, with whom he lived, along with a third partner, Charles Carter, also seventeen. When the Civil War broke out, Henry enlisted in the Ringgold battery, and soon found himself a member of the medical corps. After the war, Wiseman, Holcombe, and Carter together operated a drug store on the ground floor of the Masonic Temple, which they named, appropriately, Temple Pharmacy. The corner was known as Wiseman's Corner, and they operated the store there for forty years.
Dr. Wiseman and his wife, Willie Anna Yager Wiseman, lived at 842 Main Street, and had four children.  That house, built in 1870, was set back some distance from the one that sits there now. It no longer stands. The current house (above), now the home of John and Mary Kent, was built in 1917 by their eldest son, Henry Jr.
Dr. Wiseman Sr. died in December of 1902, nearly two weeks after a sudden illness prompted him to leave Sunday services at the First Presbyterian Church (then at 200 Jefferson Avenue). Supposing he had gone home, his absence was not made much of. He was found later by the minister lying on the study floor. He had evidently undergone a severe struggle, as the room was in disarray. Though Mr. Wiseman's condition was considered critical, in the days just prior to his death he had shown some improvement. On December 27, 1902, he went out for air and returned quite improved. An hour later he was found on the floor of his home, dead.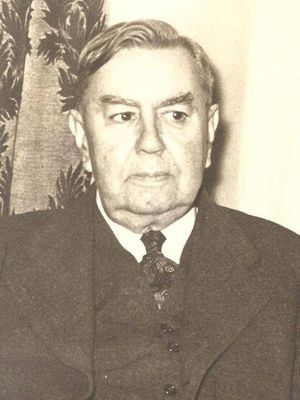 Henry Adolphus Wiseman, Jr., was born in 1877 in the earlier home. He attended the Danville Military Institute and then the University of Virginia and graduated with a doctorate in medicine in 1901. Like his father, Henry Jr. went straight from school to join the military. The Boer War had just begun, and he enlisted, accepting a surgeon's commission in the British Cape Colony Regiment of Kaffirian Rifles where he served in South Africa for the duration of the war. He returned to Danville in 1903 and in 1916 married Anna Laurie Burton. Together they had three children – Henry III, Annie, and Plumer below.
Coincidentally, Henry Jr. died on Armistice Day, November 11, 1961.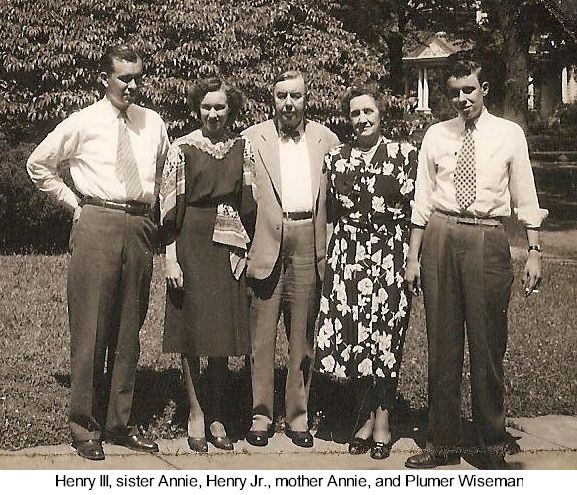 Henry Adolphus Wiseman III was born on February 10, 1920, at the same location though in a different house than his father. Henry III studied at Hampden-Sydney College and then, as his father had, at the University of Virginia where he too graduated with a doctorate in medicine. He married Alice Severson and they had two daughters. Henry III died March 26, 1977.
The property at 842 Main Street left the Wiseman family in 1969 after a century of ownership.
Many thanks to Mary Ann Wiseman Lewis for the family photos.