Isaac Carrington Harrison was born in Amelia County on December 18, 1870. He was the oldest of ten children (seven sons and three daughters) born to John Hartwell Harrison and Anna Mayo Carrington. Isaac studied medicine at the University of Richmond (then known as Richmond College) and went on to graduate from the University of Virginia, passing his medical exams in 1895. Harrison remained at the University of Virginia where he taught chemistry. During his two years of teaching he became acquainted with the daughter of his colleague, Francis Smith, professor of Natural Philosophy, whose family had been members of the university's faculty since its founding by Thomas Jefferson. In January of 1899, Isaac married his colleague's daughter, Eleanor Rosalie Smith.
After their marriage, Isaac left the university and set up his medical practice in Clarksville, Virginia, where they remained for nearly twelve years. In 1910 the couple relocated to Danville, where the young and growing family took up residence at 507 Holbrook Avenue.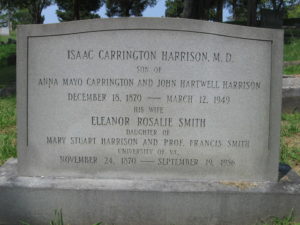 Isaac's mother Anna Mayo Carrington, was the great granddaughter of Judge Paul Carrington, a member of the British Colonies in Virginia, his family having arrived there by way of England through Barbados in 1723. Judge Carrington served in the House of Burgesses, which became the House of Delegates and was eventually elected to the Virginia Court of Appeals (now the Supreme Court of Virginia). He was also a delegate to the ratifying convention for the U.S. Constitution. Several of Judge Carrington's descendants ended up in Danville. Paul Carrington Venable built the Italianate house at 622 Holbrook Avenue, eventually leaving it to his nephew, Alexander Berkley Carrington. Next door, at 614 Holbrook Avenue, lived Louise Cabell Carrington Leigh, wife of William Leigh and daughter of Col. Henry Alexander Carrington.
The proximity to his cousins was no doubt the reason Dr. Harrison chose the location of his home on the corner of Holbrook Avenue and Colquhoun Street, though whether he built it or it was already extant is yet pending further research.
It's also of interest to note that Dr. Harrison, as well as his cousins Alexander and Louise, were also the descendants Isaac Coles, the man who built Berry Hill Plantation and the original homesteader of the site now known as Cole's Hill in Chatham.
Dr. Harrison was active in the community throughout his life, serving as chairman of the school board and as a member of the police commission. He was also president of the Virginia Medical Society in 1932. He passed away in March of 1949 after an illness of three years.
When Mrs. Harrison passed away in 1956, the house was left to their son Francis Henry Harrison, a pastor in the First Baptist Church. When he passed in 1970 the house was put up for auction and purchased by the Gravely family, who retained ownership until just last year.
The house is presently for sale once again and patiently awaits its restoration. See the listing here.