Constructed before 1888, the Crumpton House began its life with a center hall plan. A dining room and kitchen were added almost immediately. A two-story ell with lower roof line was added later, probably in the 1920s or 1930s, with the house divided into upper and lower flats. An external entrance to the second floor was created at that time and the internal stairs removed from the center hall. A new internal stairway was added in a different location perhaps 20 years ago. The exterior now includes Queen Anne details but is missing the second story that once graced its porch.
From the time of its construction until the mid-1960s, only three families owned the home – Crumpton, Arnstein, and Bailey.
Joseph Crumpton and at least one of his seven sons, William, were tobacconists. Son Eugene Crumpton became a pharmacist.
Henry Arnstein was dry cleaner and fabric dyer on Main Street downtown. Arnstein's son, also Henry, moved to Los Angeles and worked in publicity in the motion picture industry.  After working for Columbia Pictures, he served as editor of "Action," a magazine published by Twentieth Century Fox.
As a Corporal in the Air Force during the Second World War, Henry Jr. wrote for Stars and Stripes.  In this assignment, he travelled 29,000 miles and visited India, Egypt, Palestine, Tunisia, Sicily, England, and France.  After the war, he worked as an actors' publicity agent.
James R. Bailey was a well-known grower and president of Central Warehouse.  Mr. Bailey's daughter, Mildred Anne, was married in the home on November 7, 1936. The bridegroom was Hubert Carlton Clark, son of the Baileys' neighbors at 830 Green Street.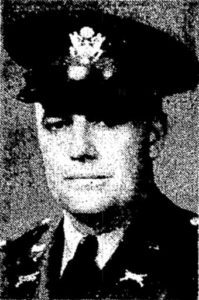 One of Bailey's son, Bill A. Bailey, rose to the rank of Major while commanding the Danville Tank Company during peacetime.  During the Second World War, he commanded a full Tank Battalion and was promoted to Lieutenant Colonel in 1943.   He was killed in action on September 19, 1944, while sweeping through France with General Patton.
Available architectural plans for the Crumpton House call for a five-bedroom, four-bath home with library or study. Exterior repairs were completed in 2016.  The home is located immediately across from Doyle Thomas / Green Street Park.  See the listing.