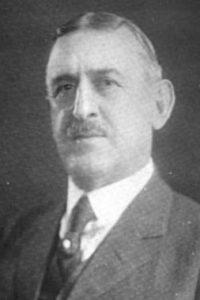 The home at 234 Jefferson Avenue was built in 1885 for newlyweds Albert and Sabina Guckenheimer Gerst. Albert was born in Danville in 1854 to parents of German Jewish descent. He first worked in the manufacturing of sash doors and blinds in a plant located on the old canal. Later he was a principle in Stultz, Lisberger & Co., tobacco. The couple lived here for approximately fifteen years and sold the house in 1899 before relocating to Norfolk, Virginia.
Jefferson Avenue was a popular residential location for the city's Jewish inhabitants, as it was close to both Temple Beth Sholem on Sutherlin Avenue and Aetz Chayim Synagogue on Wilson Street. Not coincidentally, the home's next owners were also Jewish.
Gabriel Frank was born in Russia in 1858 and came to the United States as a young man. He first settled in New York City, where he met and married his wife, Ella, an immigrant from Hungary, before coming to Danville where he worked as a jeweler. He successfully maintained his storefront on Main Street for nearly 50 years.
In 1924 Mr. Frank was involved in a car accident at Five Forks which resulted in serious cranial injuries that left him hospitalized for some time. He never completely recovered and his health was subsequently precarious. Complications from a heart condition at last ended his life on Christmas morning of 1927, just days before his 69th birthday. Ella tried to hold onto the house but it eventually became necessary to sell it in order to settle her husband's estate. Ella then moved to New York City to be near her children. She outlived her husband by 44 years before passing away a week after her birthday in 1971. She was 100 years old.
In 1930 the house was purchased by Richard Lafeyette and Xonie Anglin Whitler. Richard was a conductor for the Southern Railway, for whom his brother worked as well as at least one of his three sons. He died on October 29th 1947, one day after his 59th birthday.
Following the Whitlers, the house went through a series of owners and was the subject of auctions held in 1946, 1950, and 1954. For a time in the 60's the house stood vacant. From 1967 until at least 1977, the Phelps family occupied the home. Sheilds company owned the house for a time and it was turned into apartments.
In 1986 the house at last began its first phase of revitalization efforts when Robert Bragg, a student of architecture and historic preservation at Virginia Tech, and Greg Williams purchased the house. The two gentlemen painstakingly converted the house back to a single family residence.
In 1997 C.B. Maddox and Bill Wellbank acquired the house. The two gentlemen are well-known in Danville as champions of the city's historic homes, having rescued, stabilized, and restored several homes, particularly on Jefferson Avenue and Pine Street, and preparing the once run-down area to become a true neighborhood again.
The Gerst home is currently for sale once more, and ready for its next stewards. See the listing. Contact Bill at wellmad@yahoo.com or 434-713-0253 or CB at 434-713-6167.