The development of Chestnut Street begins with the enterprising real estate mogul and tobacco manufacturer, Weldon E. Williamson, who owned the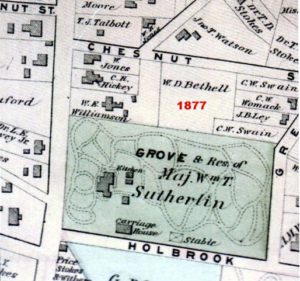 property on which the Presbyterian Church now stands on the corner of Main Street and Sutherlin Avenue. When he acquired that land is not entirely clear but his property is shown on the Beers map of 1877. A widower, he and his daughter Dora Dean Williamson, set up a booming real estate business, buying up and selling land in Danville, as well as in Greensboro and Asheville. When Dora married Thomas Doe, the enterprise expanded and Dora established her own independent enterprise, taking the name Dora Doe & Co. When her holdings in Danville began to falter in 1884, her father stepped in and saved her from bankruptcy, selling off, on her behalf, the land she had accumulated on the Main Street block, which had come to include nine lots on Chestnut Street.
James A. Henderson, a tobacconist as well, bought up the Williamson-Doe property, including the Williamson home. Henderson also bought at least two of the lots fronting on Chestnut Street. It may be presumed he developed those lots as rental properties — including our subject house at 124 Chestnut. All told he paid $9,750.00 for the Williamson-Doe property.
In 1903, James A. Henderson & Co, once touted as "one of Danville's largest and best tobacco firms," filed for bankruptcy and the properties were auctioned once again. Papers were quick to assure tobacco investors that all was well within the industry, and that Danville was not losing its esteemed position as one of the best tobacco markets in the world due to Henderson's liquidation. He had stake in other businesses, including contracting for the mail, and it was the failure of those businesses, it was said, that caused his collapse. Though Henderson was forced to sell off his adjacent properties, the main house was saved from the auction block, and when he died a few years later in 1907, his widow was allowed to remain. The Presbyterian Church, looking for larger accommodations than their Jefferson Avenue address could provide, purchased the home from Mrs. Henderson in 1909 and in 1912 constructed the impressive Greek Revival edifice that stands there today.
Henderson's bankruptcy had forced him to sell his properties at 402 and 404 Chestnut Street. 402 (now numbered 122 and newly available) was sold to A.W. Jacobs, while 404, now numbered 124 Chestnut Street, was purchased by George G. Temple for $1,200.00. He transferred the bid to his wife, Mary E. Temple (who was likely not allowed to bid for herself as a married woman). The transfer allowed her to purchase the property independently, which continued the tradition of women owning property on Chestnut Street. (See May Talley and Bettie A. Strother and Maie Blanch Dove Day of 142 Chestnut).
There is no record of the home ever having been inhabited by the Temples, but for many years, beginning in 1906, Fred and Stephie Chaney lived here. A newspaper article detailing their wedding reception and ceremony indicates that the couple would be arriving on the evening of their marriage to honeymoon at "their future home in Danville." Fred Chaney, a Danville native, worked as a bookkeeper for the cotton mills. In 1932, after twenty-six years of marriage and of sharing their lives in the Chestnut Street house, Fred passed away from a heart condition. He was 51 years old. The couple had a daughter, Freda, who was sixteen at the time. For some months, Stephie's mother, Emma Roadcap, came to stay with them from her home in Goshen, Virginia. She visited her daughter frequently thereafter, and from about 1940 until her death in 1945, Mrs. Roadcap, a widow herself, resided there permanently.

In 1943 the house was purchased by sisters Ruth N. and Nann M. Clark who owned it for just three years before selling it to Burnley R. Taylor. After forty years of residence, Mrs. Chaney was served with an eviction notice. She took the matter to court but the case went to Mr. Taylor. Mrs. Chaney appealed, but as she could prove no legal right to occupy the property she was ultimately evicted. It's unclear what happened to Mrs. Chaney after that. Death records indicate that she passed away in 1972 at the age of 90 in a Richmond hospital. As her only daughter Freda had relocated there after her marriage in 1948, it's possible Stephie moved there to be near her. Freda died quite unexpectedly however of a brain hemorrhage in 1954. She was 35 years old.
Despite Mr. Taylor's having won the case against Mrs. Chaney, he did not hold onto the property for long. In 1947 he sold it, after which it changed hands again a month later, and was purchased by its first owner occupant, Roland Asbury, a salesman with People's Auto Supply located at 584 Court Street. Just five years later, 1952, the Asbury's sold the home and relocated to the then new Arnett Apartment building on Green Street.

That year, Harry A. Munby purchased the home and only a year later sold it to George R. and Lillian Victoria Daniels. The couple occupied the house for some time. They had four children, two of which moved away, while a son passed in 1956. Their daughter, Jeanne, remained in Danville and married Jon Mize in 1946. When Mr. Daniels passed in 1974 from a heart attack, and then Mrs. Daniels a year later, Jeanne inherited the house. Jeanne, however, only survived her parents by a year. She had been in poor health from a young age.
Michelle Rose Bowers is the newest owner of the house she has deemed "The Sunshine Cottage." She's excited to begin her work of lovingly restoring the home. Read more about her and her decision to purchase the charming Chestnut Street cottage in a companion piece.