Steve and Angela Zimmerman knew exactly what they wanted when they moved to Danville in 2014.  Their intention was to downsize, so they looked for a smaller, single-story home with a garage.  That isn't exactly what they found on Sutherlin Avenue.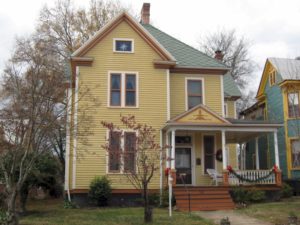 "The house chose us," Angela says. "Of all the homes we looked at, it was the oldest, but it was the most unique."
The details spoke to them – the handcrafted millwork and diamond patterned floors. Details that weren't necessary, but which heralded back to a time when home construction was an art form.  But it's also the intangible things that historic homes offer that drew Steve and Angela.  As they sit around their dining room table, or in one of the well-lit and beautifully appointed parlors, they find themselves wondering what conversations were held in these rooms by those who came before.
The Zimmermans consider their historic home an adventure in the best of ways. "Old houses weren't built with today's comforts and conveniences in mind, and so it's often true we have to come up with creative solutions. Some of those solutions pay off, and others may not. But living in a historic home isn't all about reaping the rewards of financial investment," the Zimmermans remind us. "It's about truly enjoying the place you call home and appreciating a link to the past."
Old house adventures come with the occasional unplanned treasure hunt, and the Zimmermans haven't been left out. While rummaging through the attic one day, Angela found an antique light fixture that she was able to use in a downstairs hallway.  Another occasion time, while cleaning out fireplaces, they found a stack of newspapers that had been stuffed in the chimney at the end of Word War II.  They framed one of the articles as a tribute to those who lived here before.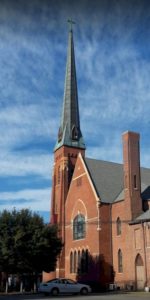 Angela's position as Minister of Music and Assistant Pastor at the First Baptist Church that brought the Zimmermans to Danville.  And while, at first, they questioned the wisdom of buying such a large home, they find it a real blessing, as they can open it to others, both in the church as well as in the community.
The First Baptist Church and Pastor John Carroll have taken a proactive approach in their efforts to unite the neighborhood and bring about a sense of unity, something that is important to the Zimmermans as well.  Living within the church community and he Old West End District really brings the challenges and blessings of that work home. "It's really two neighborhoods," Angela says, "and we need to do more to make sure all feel included."
It's an important reminder to all of us.  While we celebrate the changes and improvements taking place here in the city, as well as in our neighborhood, it's our responsibility to make sure no one feels excluded.  That's what community about, after all.  With the help of neighbors like the Zimmermans, we can keep things moving in the right direction.
Learn more about Steve and Angela home – the Lee House.