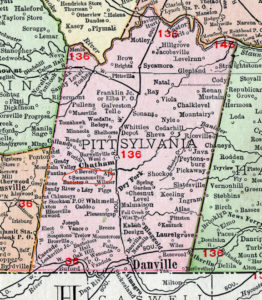 The Swanson family originated from Swedish ancestors who immigrated to Virginia in the 1600's. For generations, the family and its progeny farmed tobacco in an area of Pittsylvania County aptly named Swansonville, an unincorporated locality just south of Chatham.
John Muse and Catherine Rebecca Pritchett Swanson bore seven children—three girls, four boys—before she passed away in 1873. When the price of tobacco hit rock bottom in 1876, two of those boys headed to Danville to seek work, while a third brother, Claude, began teaching school until the itch of politics took hold of him, eventually launching him into a seat in the U.S. Senate.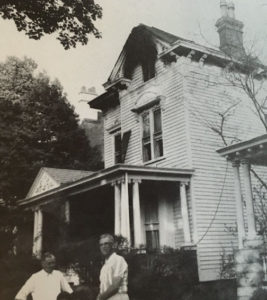 John Pritchett Swanson (mentioned in a previous post) was born in 1863. He was 18 years old when he arrived in Danville to assume his first job as a clerk in the grocery establishment of Acree and Overby, eventually becoming a partner before buying out Mr. Overby upon his retirement. Thereafter Swanson Supply Company became one of the largest businesses of its kind in Danville, even extending his reach into Schoolfield, where Mr. Swanson served as president of the Park Place Mercantile Company.
John first appears in the city Census records in 1900 at 885 Main Street, which appears to have been a boarding house or multi-family residence of some sort. No images are presently in existence of the building that stood there prior to the expansion of the First Baptist Church.
John married Anne "Claire" Estes in 1891 and by 1910 the couple were living at 824 Main Street, presently the parking lot of the old YMCA.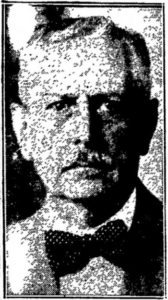 Across the street, at 827 Main Street, lived John's brother Henry Clay Swanson.
Henry, the youngest of the Swanson children, was born in 1870 and was just three years old when his mother died. Being 11 when his brother left home, it's likely he followed a few years after John's arrival. Henry pursued the life of a tobacconist, working in the tobacco warehouses where he eventually rose to the position of manager, which he maintained for many years.
In 1904, he married Ella Cousins, and the two moved into the house at 827 Main Street in 1910, after a brief residence sharing the home at 818 Main Street with the architect Richard "Button" Graham.
In 1929, John passed away suddenly of a heart attack, and while his death left his wife a wealthy woman, she preferred not to live alone and so took rooms on Holbrook Avenue.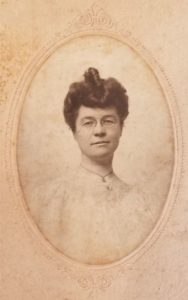 A few years later, in 1933, Henry was appointed postmaster. He was actively involved in politics as well, though perhaps not so heavily invested as his brother, Claude Swanson, the U.S. Senator.
As was likewise mentioned in a previous post, Henry passed away in 1952, leaving his wife who remained in the home they shared at 827 Main Street. She remained there until 1960 when a fire broke out and destroyed the home. Ella was found by firefighters unconscious in an upstairs bedroom. She survived the fire, but the damage caused pneumonia and she passed way shortly after.
Neither of the Danville brothers were survived by children.