This second story in a series on lost homes and mansions focuses on the destruction caused by construction of the "new" YMCA which opened in 1967. Of course this new YMCA is now the old YMCA and currently the home of Union Church.
Four substantial homes were lost at 810, 818, 824, and 828 Main Street.  Their original locations are shown on the 1910 insurance map below (where 810 is incorrectly numbered 812).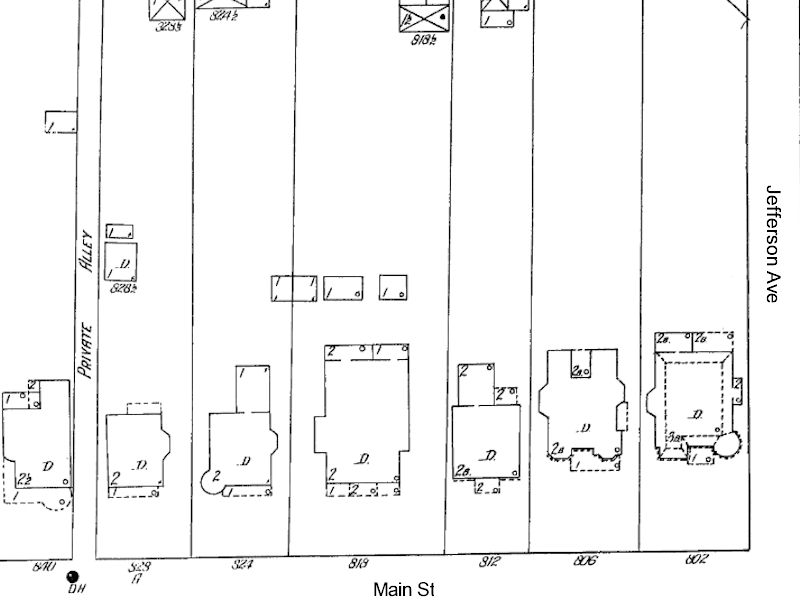 810 Main Street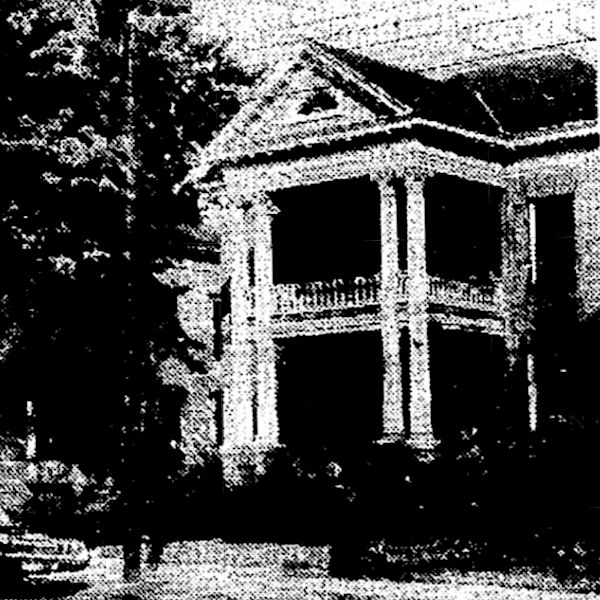 The first known owners of the house at 810 Main Street were John Waller and Helen Edmunds Boswell. From Mr. Boswell's death announcement in the Bee of 12 October 1931 we know that he was born in Halifax county to Colonel Thomas T. and Martha Nelson Boswell. He attended Virginia Polytechnical Institute and arrived in Danville as a young man. He started in the furniture business, joining in a partnership with A.C. Conway, which eventually turned into a real estate business. In January of 1899 he married Helen Edmunds and shortly after that purchased the Peter C. Penn House at 322 West Main Street. They were there only five years before they sold that house and moved "into town", acquiring the home at the more fashionable Main Street location. In the years that followed he acquired many more properties. By 1920, they had moved again, renting the home to Maurice and Ethel Flinn before it sold to John W. Carter Jr. and his wife, Mary Freeman Carter.
John W. Carter, Jr. was born in 1887.  He attended Randolph Macon College and returned to Danville to work in the newspaper business.  Later he answered the call to practice law, attended the University of Virginia, and returned to Danville in 1910 to practice, eventually rising to the position of Commonwealth Attorney, and then as a state senator in 1939, a position he held until his death in 1941. Read more about the Carters and their houses here.
In 1843, the house was sold at auction. The notice in the Bee described the house as being of "brick construction, stuccoed, with slate roof containing ten rooms, two baths, full size attic and basement, large front and rear porches."
818 Main Street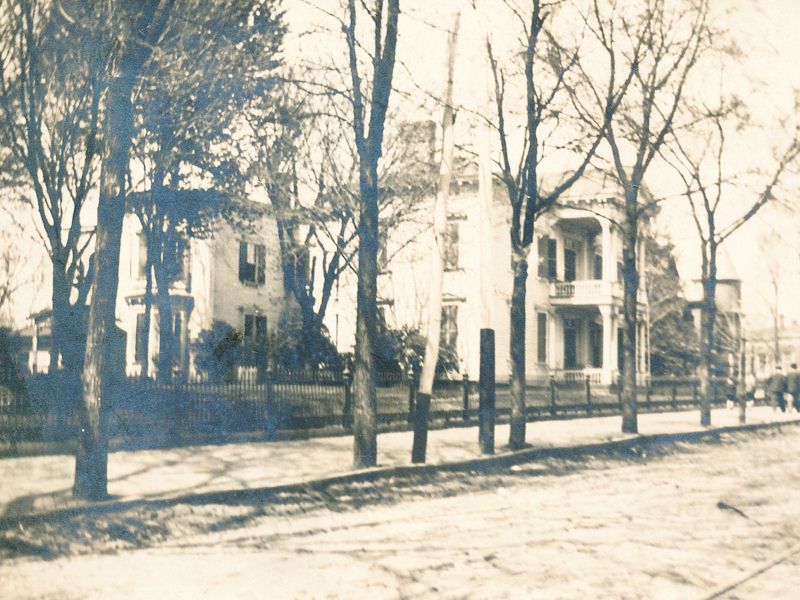 Our research suggests that Christopher Grant and Mary Catherine Walters Holland may have been the first to occupy the stately home at 818 Main Street. "C.G." Holland was hailed across the country as one of Danville's oldest and most honored and esteemed citizens. Born in Franklin County about 1833, he had arrived in our city by the time of the 1850 Census and began working with his brother, Johnathan R. Holland in the manufacture of tobacco. He was also active in local politics, the cotton industry, and was a director for many early railroads including the Virginia Midland. Mr. Holland started life very poor, but rose to eminence and great wealth during his time in Danville. He was associated with such names as F.X. Burton, with whom he established the Morotock Cotton Mills and was later a director when the company evolved into Riverside Mills. He was also influential in building the Atlantic and Danville Railway. At the time of his death he was president of the Holland-Burton Tobacco Company, and was actually in his office at his Main Street home attending to matters pertaining to that enterprise when he suffered his fatal illness and passed away on August 17, 1896. Learn more about the Holland Family and their search for the past.
By 1910 another prominent Danvillian was living in the large home. Architect Richard Bertrand "Butler" Graham, joining his brother John V. Graham, came to Danville from Loudoun County in 1877 and set up his firm of Graham Brothers, Architects and Builders. "Button" Graham and his firm were responsible for "many of Danville's fine residences and most of its factories in a day when they were numbered by the score," his obituary of January 28, 1935 stated. Of his architectural contributions the Crews House at 806 Main Street, Temple Beth Sholom on Sutherlin Avenue, the Southern Railway Passenger Station on Craghead Street, and the home he built for himself at 879 Green Street are among the few that remain. Mr. Graham, along with his wife, Jane Booth Graham, lived in the house until his death in 1935.
824 Main Street
While there is no known photo of 824 Main Street, it was the home of John P. Swanson and his wife Annie.
Mr. Swanson arrived in Danville from his family home in Pittsylvania county around 1881. A teacher in the county schools while still in his teens, he found employment in Danville as a clerk with Acree and Overbey, grocers. He eventually became a partner with Mr. Overbey and then bought Overbey out completely. From these beginnings the Swanson Supply Company was born and it became one of the largest mercantile businesses in the city. At the time of his death in 1929 he was vice-president and a director of of the Commercial Bank, as well as president of the Park Place Mercantile company at Schoolfield.
After Mr. Swanson's death, his wife took a room from Annie Douthat at 135 Holbrook Ave, despite the fact that he left her the house and $65,000 in assets. The couple had no children.
828 Main Street
John E. Perkinson, who, with his wife, Elizabeth Anderson Fitzgerald Perkinson, occupied the home at 828 Main Street for the entirety of their lives.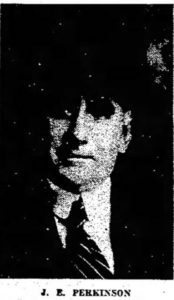 Mr. Perkinson was a prominent figure in the tobacco industry, having begun in the trade upon his arrival here as a teenager from Amelia County. He began his career as a leaf buyer and later organized the Danville Storage and Inspection Company which he owned until the time of his death. Mr. Perkins was a champion of public education, even drawing from his own pockets when school budgets threatened to cut teachers' salaries short or when there was not enough funding for necessary improvements. He was also instrumental in the development of the Textile Training School and was chairman on that board, as well as the public school board at the time of his death in September of 1937.
Mrs. Perkinson, remained in the home, surviving her husband by nearly thirty years. Mrs. Perkinson was the sister of H.R. Fitzgerald, president of Dan River Cotton Mills, and the daughter of T.B. Fitzgerald, a president of the mills in his own time and one of Danville's great architects. The couple had no children and left their wealth to benefit further developments in the city's schools, hospitals, elder care centers and other beneficial organizations.
The house was described as "a Queen Anne-style frame house with wooden shingles,…richly ornamented with extensive cornices and detailing in its gables and eaves."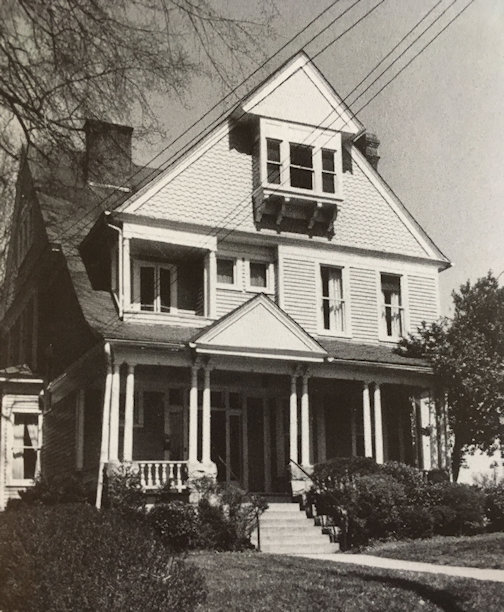 It was in 1964 that the YMCA's building commission acquired the properties at 810, 818, and 824 Main Street, though it was a couple of years before the houses were demolished. While the new YMCA boasted many amenities during its open house in October of 1967 – an expansive gymnasium, an exercise room that featured vibrating machines, stationary bicycles, and isometric weight systems, and a rub-down room equipped with steam and offered massages beneath heat lamps – the facility was not quite complete. Further expansions (including the construction of a swimming pool) eventually required the acquisition of additional parking space.
The home at 828 Main Street had been purchased previously for use as administrative offices. A portion was leased to the city's Parks and Recreation Department for the Danville Senior Citizens Center from 1973 to 1976. (The Center moved to the old Stratford College dining hall in 1976.) A battle later ensued for the rights to tear it down. It was during these years that Mary Cahill and Gary Grant led the fight to preserve Danville's historic landmark's, which, since the 1950's, had been disappearing at a fevered pace. In 1969, the Commission of Architectural Review was established and in 1976, that Commission turned down the YMCA's request to demolish the house at 828 Main Street. A battle ensued and the YMCA at last won and the house was destroyed a year later. The past was cleared away to make room for progress. While Danville benefited from its state-of-the art YMCA, the loss of four historic landmarks was a high price to pay.