For the Robertsons, acquiring their Old West End home was a dream come true.
Sarah came to Danville from Southampton County in 2004 to attend Averett University. She remembers driving down Main street with her parents and saying how she hoped one day to live in one of the grand houses there. As time went on, and Sarah became more familiar with the area, one house stood out to her. For the next ten years, Sarah would dream about one day owning the historic Paxton-Grant House at 815 Main Street.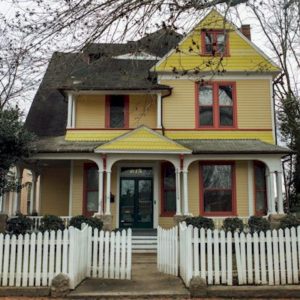 When Sarah and her husband Shaun began looking for a permanent home for their family, they had a particular idea in mind. Not only did they need the space for five children, but they wanted a house that truly felt like home. They looked at houses in other areas, but nothing felt right. The day they visited the Paxton-Grant House, however, they knew immediately that it was meant to be theirs.
"The kids walked in, ran upstairs, and immediately began choosing, and without argument, which bedrooms would be theirs."
Sarah and Shaun's love of the house is evident. Not only do they beam with pride over the stained-glass windows and pocked doors, but there is truly an essence of themselves in the very atmosphere. "There is such a great energy to the house," Sarah says, and those of us who have fallen in love with a historic house understand what that means. But there is something more here, a real sense of home that cannot be bought but only built.
Shaun grew up in Danville, and even though he moved away to go to school, Danville kept calling him back. "There's just something about Danville," he says. "With all that's happening in the way of revitalization, it's just getting better and better. It's not going to happen overnight, but it's happening. And it's exciting."
One of the reasons Danville is so attractive to the Robertsons, and to young families like them, is that it's so affordable. "Look here. Then look anywhere else," Shaun says. "It's clear to see that a quality life is more affordable here than anywhere."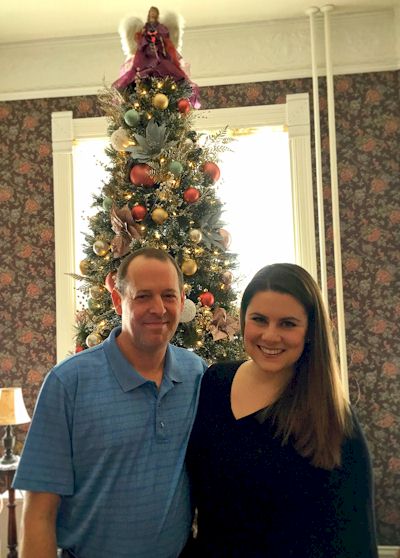 Another factor is Danville's status as a micropolitan community. Danville isn't so large that there is traffic and crowds and high taxes. But neither is it so small that there's nothing going on. For Sarah, especially, it was important that she live within walking distance of amenities. That's what makes a town a community. It's what makes for an economy that's sustainable. "Danville has problems," she notes, "but they are fixable. There are enough innovative thinkers here that those solutions will be found."
When asked what they would say to someone considering buying a home in Danville's Old West End, Shaun was enthusiastic. "Do it. Do it now, before you look back and regret the opportunity you missed."
The Robertsons are nothing if not enthusiastic. They are welcoming and warm and eager to meet their neighbors, so stop on by and say "hello!" Their warmth is contagious, and gratefully we offer them a huge WELCOME to the Old West End!