It was around 1700 that a French family by the name of DuBruill arrived in Virginia. Three generations later, the name was anglicized and the first Dibrell appeared. Edward Dibrell made his fortune in tobacco, and the business eventually passed to his son, Richard Henry Lee Dibrell. He, in turn, trained his sons in the tobacco business.
Richard Henry, a tobacco commission merchant, maintained a thriving business in Richmond until the Civil War, when his warehouses, and the stock they contained, were burned. Rather than accept defeat and allow his business to fold, Mr. Dibrell decided to consider his options for expanding the business. Danville, nestled comfortably in the middle of the Virginia tobacco belt, and with established rail and waterways providing easy access and distribution to and away from the city, was beginning to make a name for itself in the loose leaf tobacco trade. Dibrell sent his two sons, Alphonso and Richard Lee (photo at top), to explore the opportunity for expansion in Danville. The brothers initially boarded with tobacco warehouseman Colonel James Mastin Neal.
The brothers began in Danville under the name Dibrell and Snodgrass and they commenced their enterprise by small and simple means, buying loose leaf tobacco from local farmers, redrying and packing it into hogsheads before sending it on to those customers in Richmond and in the Midwest who would order directly from them. Alphonso was primarily responsible for the Danville market, while Richard Lee traveled south to Madison, North Carolina, where the tobacco he purchased was transported by bateau down the Dan river and then via railroad on to Richmond. Eventually the brothers acquired Mr. Snodgrass's interest in the firm and became known as Dibrell Brothers.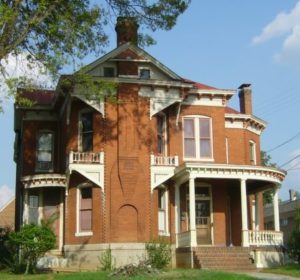 Historic records locate the Dibrell warehouses on the corner of Union and High Street and another at the intersection of Lynn and Loyal streets, a building once used as a prison during the Civil War.
In 1884, eleven years after arriving in Danville, Richard Lee married Ida Nelson of Boonsville, Missouri, whom he likely met on his business travels to the Midwest. A year later he acquired a lot of land from the estate of Thomas Doe and built a large brick Queen Anne style home at 124 Broad Street, known today as the Dibrell house.
Alfonso never married, and in 1890 he died suddenly, though not unexpectedly, after a many years' struggle with tuberculosis.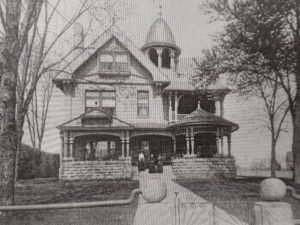 In 1896, Richard Lee suffered the loss of his wife, Ida. He was remarried in 1903 to Mary E. Boyd of Reidsville and that same year purchased the C.H. Conrad mansion on the corner of Chambers and Main streets, a plot now occupied by the Doctor's Building, while the home on Broad street was passed to Richard and Ida's son Louis Nelson Dibrell and his wife Louise Glass.
Richard Lee Dibrell died in his home on Main street in 1920 after a long battle with cancer. He was sixty-four. His obituary describes him as, "A man with broad views and whose standard of Christian living was high." Mr. Dibrell was credited as being the first in Danville's tobacco industry to establish foreign relations and his business travels took him to Europe and the far east.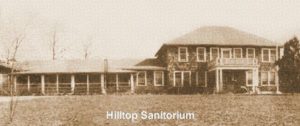 In his will, Mr. Dibrell made a gift of land for the construction of Hilltop Sanatorium, one of the first centers in Danville, and in the state, dedicated to the treatment of tuberculosis. Today, Roman Eagle Nursing Home, a reiteration of that original hospital, stands on the site.