The Acree house was built in 1880 for tobacconist Edward Fox Acree, a native of King and Queen County, who arrived in Danville shortly after the Civil War.
Mr. Acree was born in 1842, the eldest of eight children, to Edward Smith and Mary Susan Fox Acree. A soldier in the Civil War, Mr. Acree married Agnes Callie Harvey in Richmond in 1864 and, shortly after the end of the conflict, the couple arrived in Danville. Edward and Agnes had two children, Edward H. and Robert F. Acree before Agnes passed away in 1872. In 1874, Edward married Leah Ryland, also of King and Queen County. The couple had two child together, Russell, born in 1875, and Kathryn Peachy Acree, born in 1881.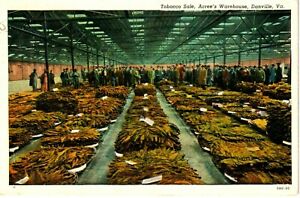 Edward, upon moving to Danville, started out in the grocery and mercantile business, which enterprise led him into the hardware business. He maintained interest in the hardware trade for many years, but by the time his younger brother arrived in 1873, he had begun to venture into tobacco.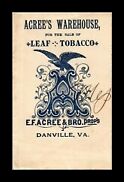 James Pope Acree, 12 years, Edward's junior, arrived in Danville at the age of 16. A year later, in 1874, the brothers had acquiring a warehouse on Bridge Street facing the fire station (now a parking garage). The brothers later owned other warehouses, including one on the corner of Craighead and Loyal Streets. Edward Acree was a co-proprietor of Cabell Warehouse, as well.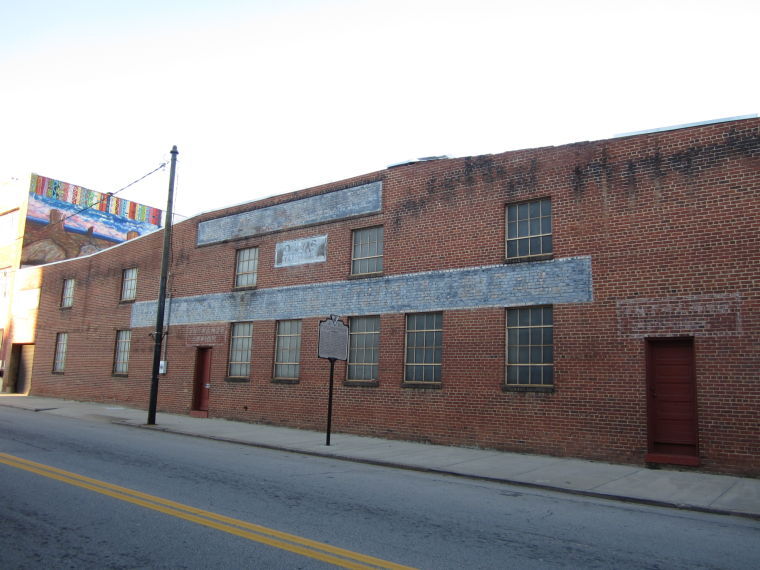 A sister, Sallie Page Acree, also came to Danville. She married W.W. Waddill, who operated a bookstore and printing business on Main Street.
At the time of Edward and James' deaths in 1904 and 1908, respectively, the men were partners in the Danville Cooperative Warehouse Co., which was responsible for seven warehouses. James, at the time of his death, was also an alderman and a director in both the Danville Bank and in Danville Knitting Mills.
In 1910, the widow Mrs. Acree sold the house and took rooms in the home of Mr. and Mrs. W.P. Boatwright at 142 Sutherlin Avenue.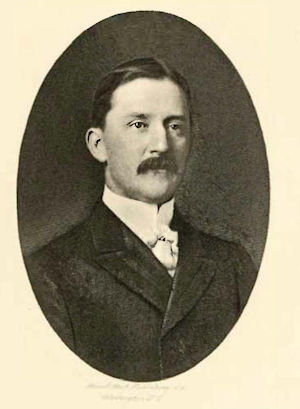 It was Powhattan Fitzhugh Conway, president of the Danville Lumber and Manufacturing Company, who purchased the Acree's home. Mr. Conway was born in Pittsylvania County in 1867 and arrived in Danville five years later. He was married three times. His first marriage was to Maggie B. Brown in 1894 in a double wedding with her sister. Two years later, he began a real estate venture developing the west side of Sutherlin Avenue, including the homes he built for himself and his wife (134 Sutherlin Ave) and for his wife's sister, who married James Turner Hamlin (138 Sutherlin Ave).
Though Conway, a successful real estate developer, did not built the Acree house for himself, it can be assumed that he felt the prominent Main Street address one more befitting his position in the community and reflective of his success as a man of business. Mr. Conway, besides his position in the lumber and manufacturing industry, was also a City Councilman, a Trustee of Averett College, and Master Mason over the Roman Eagle Lodge. (The Masonic Temple on Court Street was built during his tenure as president of the Danville Lumber and Manufacturing Company. It is possible he is responsible for the building's design and construction.)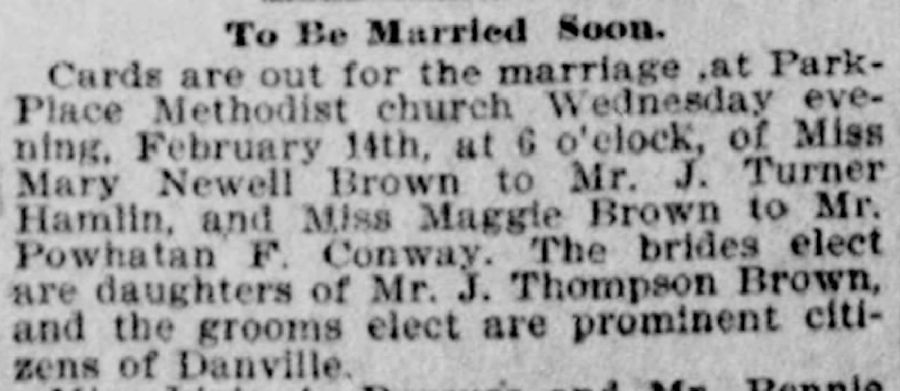 In 1925, Maggie died. Mr. Conway was married then to Frances Marler Russell of Asheville, NC. The couple split their time between their Danville home and one in Asheville. In July of 1937, Mr. Conway was in an automobile accident and broke his back. He recuperated in the hospital here until he was able to travel. He was placed in a brace and returned by train to Asheville to be with his wife, whose health was failing. In December she passed away.
Mr Conway then married Anne Crute Nanney of Mecklenburg County, Virgnia. Mr. Conway died in 1946, and, in 1949, Anne sold the house to William Aubrey Terry, a salesman in the hardware trade. The family retained the house until just last year (2020) when it was acquired by the Department of Housing and Urban Development.