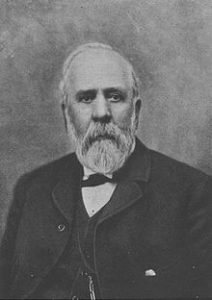 Development of Sutherlin Avenue began in 1890 when William T. Sutherlin (at left) offered up for sale a sizeable portion of his land. It was necessary he raise $30,000 in order to pay a debt to Thomas Fauntleroy of Campbell County. The land up for sale was that which was situated on Sutherlin Avenue and bordered by Chestnut and Green streets. A group of interested parties came together to purchase the 60 lots available and together formed the Berryman Green Trust. In exchange for the property, the trust paid Sutherlin $7,500 "cash in hand" and secured three additional bonds valued at $7,500 each to be paid annually over the next three years.
When the trust defaulted on the third of those bonds, the unsold property was transferred to J.P. Harrison as attorney and trustee. He was given authority to sell the remaining lots at auction on behalf of the remaining parties who still held interest in the property.
In the spring of 1895, Harrison, on behalf of trustees James L. and Almeyda Treadway, transferred lot number 16, 142 Sutherlin, to William Penick Boatwright, who built a house there sometime before 1899, when a deed shows that a loan was taken out on the property, perhaps to make improvements. The deed notes that there was a structure on the property at that time.
William Boatwright and Katherina, or "Rena" as she was called, were married in 1893, and as mentioned in a previous post, had three children together, all of which died before the age of four. According to deed records, however, Mr. Boatwright is mentioned as being the guardian of a young woman by the name of Mary Newell Brown.
Mary was one of thirteen children born to John Thompson Brown and Elizabeth Harrison of Richmond. Growing up in a house full of boys, the sisters were very close. So close in fact that, when they became engaged in 1893 they planned their weddings together and on Valentines Day in February of 1894 they were married in a double ceremony in Richmond, Virginia.
Younger sister Maggie married Danville business mogul Powhattan Fitzhugh Conway.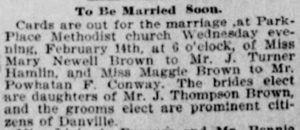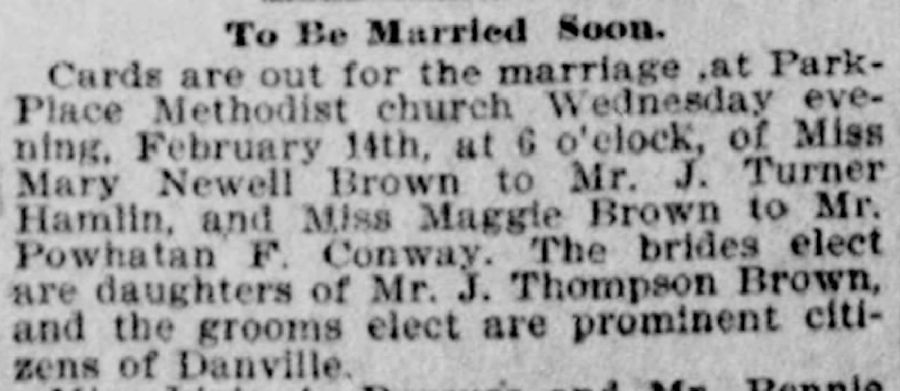 In 1896, Conway took over Bass, Brown & Lee manufacturing, joining forces with F.L. Walker and consolidating their concerns with Anderson Lumber Company to form the largest lumber dealers in the surrounding area. It was around that time that he purchased lot number 17, now known as 134 Sutherlin Avenue after the property, unimproved, had changed hands several times.
In September of 1898, James Turner Hamlin purchased the property next door from the trust, which included R.L. Bass and John Lee former principles in Bass, Brown & Lee and soon, the company, now owned by Conway, was building a house there. A deed of September 1, 1897 indicates two loans being taken out, one borrowing money to pay for the land, Mr. Boatwright, as guardian, acting as insurer, and another to her brother-in-law, P.F. Conway as principle in Bass, Brown & Lee (the name had not changed yet) presumably to build the house that would stand next door to her sister's.