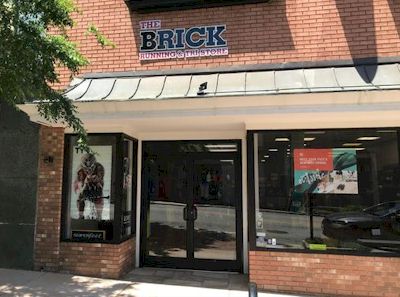 When his downtown running store, The Brick, was just a year old, Adam Jones found himself single and wondering what the next phase of his life would look like. From his home on Westover, he moved into an apartment at Smith Seeds, but he struggled for a time as he tried to decide if he really wanted to stay in Danville, where he had been born and raised. He even considered opening up another store location elsewhere. At the same time, though, he was also keeping his eye out for a house locally – just in case staying proved to be the better decision.
It seems it did. One day, while poking around on Zillow, a house on Jefferson Avenue popped up. He contacted Paul Liepe and made an appointment to see it. The house was one that had been acquired by the Danville Redevelopment and Housing Authority and had been refurbished as a show home to display, for those considering buying one of the Old West End houses, just what was possible.
The fact that it didn't need much work was a bonus for Adam who keeps his schedule full between work at the Brick, his community engagements, as well as his recent engagement to fiancé Joy Jarvis. While the couple are too busy for renovations, they nevertheless love the craftsmanship with which these older homes were built, the attention to detail, and the architectural elements that set them apart from others. That doesn't mean they haven't found projects of their own. "Old houses come with old house problems," Adam reminds us. High ceilings make rooms harder to heat, water heaters are more difficult to place. But he enjoys finding creative solutions to these problems, and improving the property where and how he can. Curb appeal is important to him, so he's often out taking care of the landscaping. He recently replaced the front walk, and expanded the back deck making the outdoor areas more inviting.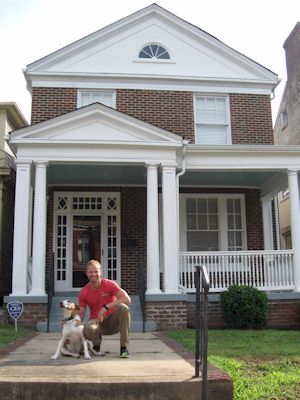 The house was built by J. Bryant Heard in 1929, on a street that is now seeing some major revitalization efforts taking place. Neighbors are active in the community and in the neighborhood, adding new and positive energy to the endeavors going on there and in the neighborhood at large.
To those who might be considering buying a house in Danville, Adam would urge them not to neglect the Old West End. These houses have such character and old-world charm. Every step through their doors takes you back to another time. And you couldn't recreate houses like these. To build one to the same size and standards would easily cost a few hundred thousand. But though many of them need some work, their selling prices make them difficult to ignore.
Another bonus to living in the Old West End is that it's within walking distance to both Adam and Joy's places of employment, even to the gym that they frequent and the restaurants they enjoy.
"It's affordable living at it's finest," as Adam says. And many of us would agree.
Welcome to the Old West End Adam and Joy!