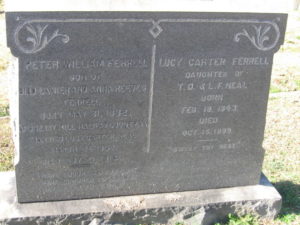 Peter William Ferrell came to Danville from Halifax County. Born in 1832, he was one of nine children born to Byrd Lanier Ferrell and Anna Dennis Reeves. Mr. Ferrell's family were descendants of French Huguenots who fled persecution in 1700, arriving here and establishing a settlement decades prior to the American Revolution.
Peter graduated from Richmond College in 1858 with a law degree, though he never practiced law. Instead, he turned his attention toward tobacco, as well as the study of sacred history, upon which subject he wrote and taught extensively.
Due to a physical weakness, Mr. Ferrell was unable to serve the Confederacy when war broke out in 1861. Instead, he paid someone to serve in his stead. His family was a remarkably wealthy one, and his father during this time gave a great deal of money to support not only the Confederacy, but Halifax County, as well, even contributing to the care of the poor.
Peter arrived in Danville directly after graduating from college and joined forces with brothers-in-law John Marshall Sutherlin (his sister's husband) and William T. Sutherlin. Together they formed Sutherlin & Ferrell tobacco manufacturing, a company made famous for its "Dianorah" and "Sam Tibbetts" brands. When the war ended, the company dissolved and Peter continued on his own as a tobacco leaf dealer, arranging his business matters so that he could dedicate as much time as possible to his second occupation as an instructor at the Roanoke Female College, which he had helped to found in 1859. He continued to support and serve the college the entirety of his life.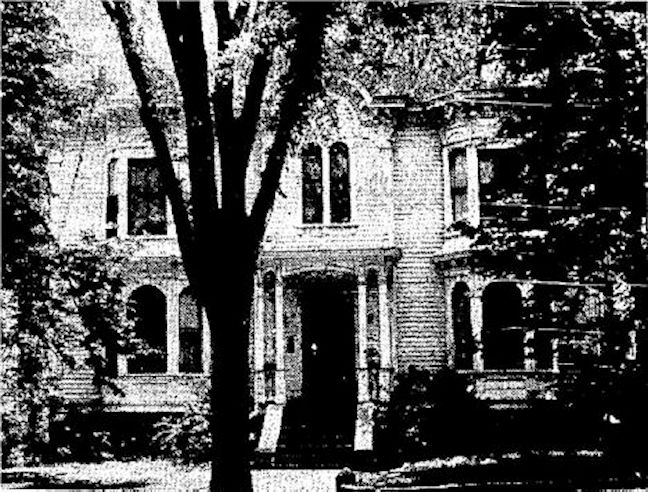 In 1875 he joined a business partnership again and appeared as the senior member of Ferrell & Finn Tobacco. This enterprise continued until 1881 when he once again went off on his own, occupying the corner of Craighead and Loyal streets where he occupied himself in the importing and exporting of leaf tobacco. He assisted in the organization of the Virginia Tobacco Association, and presided over the Danville Tobacco Board of Trade for ten consecutive years.
Mr. Ferrell was a deacon in the First Baptist Church and taught Sunday School there for 59 years. It was he, along with two other men, who formed the building committee which erected the church's main structure in 1884.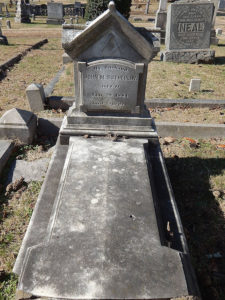 Peter was married to Lucy Carter Neal in 1862. A native of Danville, she was the sister of Col. James Mastin Neal of 802 Main Street and referred to in some sources as a "black-eyed beauty".
The Ferrells resided at 861 Main Street in a home that is numbered among Danville's lost architectural treasures. An Italianate style home with two-story bay windows flanking the front porch, the house in some ways resembled the home at 811 Main street, with its bracketed roofline and central bonnet pediment. The Ferrells lived in the home from the 1880's, when they first appear in the city directory, until the Baptist Church took ownership in the 1940's, eventually dismantling it to make room for parking.
Mrs. Ferrell passed in 1899 after a long illness, and Mr. Ferrell died in 1914 of cancer. At Averett College's commencement the following spring, Mr. Ferrell's grandson, William Ashby Weller, presented the school with a life-size portrait of his grandfather. Efforts are presently underway to locate that painting.
The Ferrell family home was left to their daughter, Lena, who not only inherited the house but her father's literary, philosophical, and philanthropic pursuits, as well.
Born in 1862 and educated at the college her father helped to found, Lena was a woman of the new century, a prominent and honored figure in Danville's social and cultural circles, and a frequent speaker at many public events. She wrote for the papers and even published a book, "Along the Inter Vale," which was honored in a Birmingham newspaper.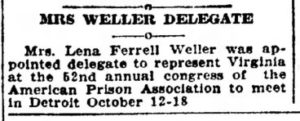 "Mrs. Weller is a writer of note, and her name has spread far and wide, but her latest book, 'Along the Inter Vale' will add laurels to her crown, for she has reached a height in this volume of brochures which few have attained. The real art of writing is terseness and Mrs. Weller has mastered this. She conveys big ideas in small sentences, has the rare gift of expression, and her imagination soars to heights that only born poets and prosists can reach."
During her life, Mrs. Weller was especially active in "uplift work" with people of color, and during the First World War she volunteered more than 2,700 hours to such services as in the Women's Victory Liberty Loan Drive. She also served as acting retail-price correspondent for the National Food Administration and was appointed local agent under the administration of Herbert Hoover, from whom she received a certificate of appreciation for her patriotic service.
Lena died in 1936 after a prolonged battle with breast cancer.