When John Kent, having just retired from 30 years in the Army, was offered a position at the hospital, he and his wife Mary came to see what Danville was about. Of the several options they were weighing, Danville came closest to fulfilling their list of requirements: a smaller town near larger cities, one which had a university, and one located somewhere equidistant to their children living in Maryland and Georgia.
"Danville's revitalization was apparent," John said. They had lived in many smaller towns before and so they could see what worked and what didn't. Danville seemed to be doing all the right things, from hiring a police chief whose focus was on community policing, to the Danville Regional Foundation, who directs and encourages many of our revitalization efforts, to the creative ways the city is repurposing its historic buildings.
John and Mary had lived in an old house before, but, as renters, they found they didn't have much control over the way repairs and maintenance were carried out, and many problems were simply covered up rather than properly corrected. They decided that if they ever had a chance to own a historic home, they would do it right.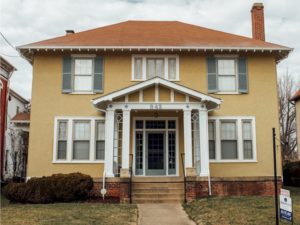 Preferring the uniqueness of homes in historic neighborhoods over the cookie cutter developments, the Kents focused their search in the downtown area. They met with Hampton Wilkins, who showed them around town and offered them further examples of what Danville was doing in the way of revitalization. They first looked at the house at 842 Main Street, and then at several homes in Forrest Hills. But the Main Street house kept calling them back. "It spoke to us," Mary said, and added that they could feel that the people who had lived there before, the Thompsons as well as the Wisemans, had really loved the house, that they had been happy there. And it's a unique house, too, since its Craftsman style sets it apart from its more traditionally Victorian neighbors.
Though the house is now theirs, the Kents feel that its history belongs to everyone. History is important, and something that ought to be shared. It's their hope to install some kind of tribute to the Wiseman family, and to those who have so lovingly preserved it over the years.
That isn't to say the house is move-in ready. There's a lot of work still to be done before the Kents can take occupancy. "You have to be realistic" Mary said when asked what advice they would share with others considering buying one of our neighborhood's historic treasures. "There are some fantastic opportunities here, and they are certainly affordable, but be ready for surprises. Restoring these homes, and doing it right, is more about enjoying the journey. There's no instant gratification." But it is worth it, they assure us. And those of us who have taken on such projects know that it is certainly the case.
Welcome to the Old West End, John and Mary Kent.