In the 1920s and 1930s, travelers could stay in a Danville hotels or one of the Old West End's tourist homes.  But they were not the only places to stay in Danville.
In the summer of 1922, Danville's progressive Chamber of Commerce observed that nearly all prominent cities had tourist camps – a tract of land where "motor camping" parties could set up their tents for the night. By that time, the roads in this section of Virginia allowed the free flow of traffic along the mainline of the Southern Railroad. The Chamber was receiving inquiries about camping areas and believed Danville should cater to the needs of those travelers – a public necessity. More and more "motor cars" with camping gear were passing through the city.
(An airport was proposed at the same meeting, possibly at the same location as the tourist camp. It was less than 19 years since the Wright brothers first flight and only eight years since the first scheduled passenger service.)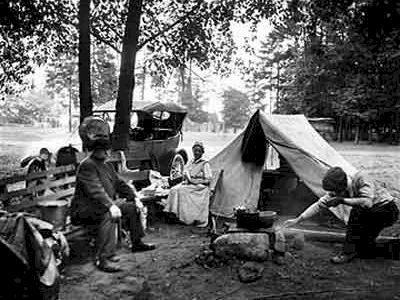 By 1923, the city's merchants voted unanimously in favor of the tourist camp. The requirements for such a camp were not large – a shady place with running water, a privy, and perhaps some lighting. Motorist were already being observed encamped in the pines just beyond the Schoolfield baseball grounds.
At the same time, the Chamber, the Retail Merchants Association. the Kiwanis, the Lions, the Rotary, and the Danville Automotive Association proposed to raise $1,500 to erect directional signs to Danville on the highways. Signs as far north as Natural Bridge and Lynchburg and as far south as Charlotte were planned. To the east and west, Richmond and Roanoke were the targets. They also proposed advertising in the "Automobile Blue Book," a publication often consulted by tourists.
Various sites were proposed for the tourist camp, including the Dog Level neighborhood. But in July of 1924, City Council approved the site of the original Hilltop tuberculosis sanitarium near the Neapolis / North Danville reservoir provided the Chamber and the other organizations kept it in sanitary condition. The city was to provide water and electricity for lighting at no charge.
Apparently, no one made an appropriation for the installation of the pipes and wire for the water and lights. By the fall, The Bee reported that tourist drawn by the advertising were leaving because of the lack of facilities. The installations were finally made in October and often five to as many as 15 people took advantage of the tourist camp each night.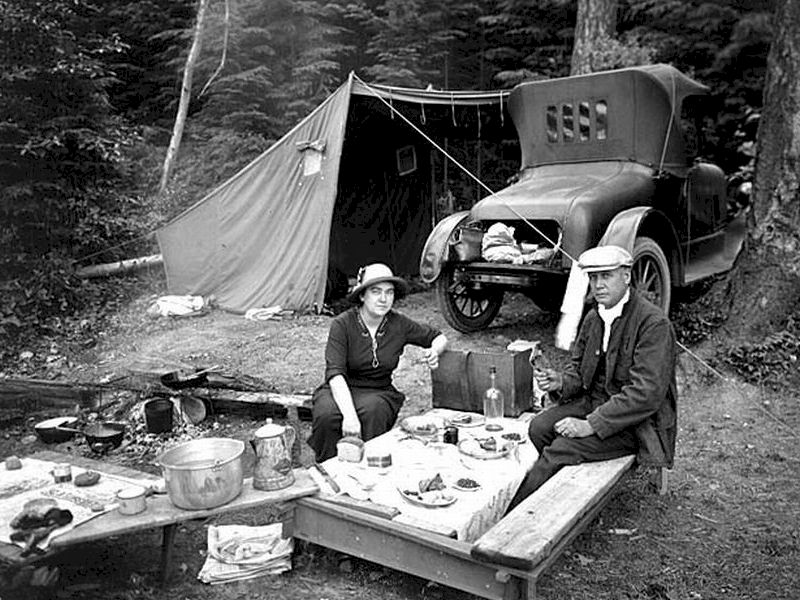 From 1933 to 1938, the tourist camp must have had a building, as it was the voting location for the seventh ward. But in 1941, the camp was no more. It became the location of a new water tower.