As the highway system developed, more and more people began to own and drive automobiles. The need for inexpensive overnight accommodations increased. Before the age of motels on so many highways, travelers often relied on tourist homes for a comfortable night's sleep before pushing off again.
Danville had several, and by 1940 the issue became one of concern for neighboring homeowners who worried that the expansions, renovations, and frequent comings and goings of guests would have a negative effect on their own homes' property values – like the AirBnB question today.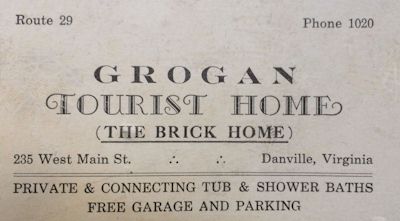 Among the first to establish a tourist home was Frank Grogan of 235 West Main (one of four homes in a row all built by the Booth brothers in 1914). It was while working for Standard Oil that he realized the need for comfortable and safe places for motorists to rest. He frequently witnessed travelers stop and inquire about places to stay for the night before continuing on their way. In 1936 Frank and his wife opened their doors as the Grogan Tourist Home, a place "for happy sleeping." The home featured seven rooms, all with private baths, and proved to be a popular stopping place for many weary travelers. By the 1960's, during the apex of the motel boom, business began to taper off, but the slower pace suited the aging couple just fine. The house continued to rent rooms up until at least 1990, though by then rooms were rented by the week or month rather than by the night. It is now the home of Kevin and Melanie Vaughan.
Charles Booth established his own at 243 West Main Street, next door to Grogan in another of the Booth brother's homes, as a tourist home around 1950. He continued to offer accommodations through the 1960's.
Mr. R. L. Swain of 247 West Main (a third of the Booth homes) applied for zoning to open a tourist home in 1957, but it seems permission was not granted. By then the boom had ended.
Another popular location was the Nelson tourist home, located at 130 West Main. It began its operations around 1936 and continued receiving guests until around 1970. It was razed by the hospital in 1973 to provide parking, though the southbound ramp to Central Blvd is located there now.
By 1975 only two tourist homes remained. The Grogan Tourist Home and the Hodges Tourist Home, which was built by Herman Hodges in 1929 specifically for the purpose.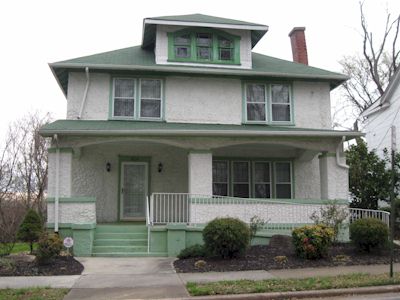 The height of the tourist home era took place during the time of segregation.  African Americans used The Negro Motorist Green Book to find accommodations.  Among the properties featured in the book are the stucco house at 320 Holbrook Street (at left), which offered clean rooms and comfortable beds, and Pringle's Blue Room Restaurant at 358 Holbrook Street, which supplied hot meals to locals and travelers alike.