Philipp and Jacque Talley met the old-fashioned way. Online.
O.K., maybe not so old-fashioned, but, as you will find when you meet them, Jacque is a fascinating amalgamation of all that is new and old.  A native of New York, she and her husband, a North Carolina southerner, born and bred, prove that opposites really do attract.
A fan of Danville long before she moved here, Jacque was drawn to our town's old-world-meets-new-world charm. Jacque grew up in a historic home and learned at an early age the value of quality construction and of hard work done well.  She hadn't even graduated high school when her father, a contractor, started teaching her the trade.  She's grateful for those early lessons that taught her to appreciate the craftsmanship and thought that go into building these unique homes of quality and character.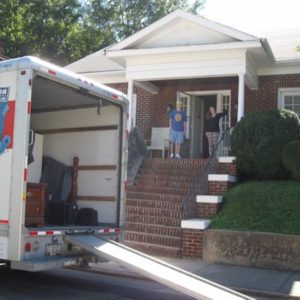 Philipp and Jacque, a native of New York, had just begun dating when Philipp began his medical residency here at SOVAH Health.  After commuting from Durham, and finding they were expecting a baby, the couple decided to take the plunge and buy a home closer to his work.
In Durham Jacque managed a dental office, taught yoga, worked as a personal trainer, and trained to become a competitive body-builder. Now that they are moved in, she's taking a bit of a breather while they get ready to welcome their first child into the world.
When asked about her decision to buy a house here, her answer came enthusiastically and without much thought. "It was kind of a no-brainer," she said. "Considering the value you get for the price and the square footage combined, you really can't do better." And she would offer that advice with confidence to anyone considering buying a home in the area. "If you're looking for authentic homes with character, built with integrity, if you find pride in adding to its value and want the best bang for your buck, the Old West End truly is a place where you can let your imagination soar!"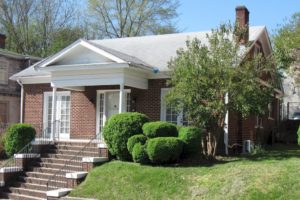 Their home on Chestnut Street was built in 1925 for Samuel Shadrack, a dentist and veteran of the Spanish American War.  Dr. Shadrack remained in the house until his death in 1954, (his wife preceded him eight years earlier) and the house then passed to his son, Thomas, who remained in the house until the 1960's. In the years since, the house has changed hands several times before the Danville Redevelopment and Housing Authority acquired it in 2016.  It was restored and move-in ready when the Talley's bought it.
The Talleys, as has been mentioned in previous blogs, are no relation to the builder of the other Talley house that is just a few doors down.  Neither are they related to Mr. Talley, the neighborhood postman who delivered mail in the area in the nineteen-teens.  Although their name is a familiar one, we in the Old West End are happy to have this lovely new couple join us.  Welcome Talleys!