Considering that Elizabeth Stilwell Russell descends from a long line of champions for Danville's historic homes, it should be no surprise that she and her husband Frank live in the Old West End. The journey was anything but obvious, however.
Liz remembers well the stories her maternal grandmother told about how their family home on North Ridge Street was lost. Though relatives, friends, and neighbors fought hard to preserve their homes from the scheduled demolitions that were necessary to widen the street, their efforts were unsuccessful. The loss weighed upon them as if it had been the death of a family member.
When Liz left to go to Meredith College in Raleigh she thought she'd left Danville for good. With no intention of returning, she studied Interior Design and Marketing and eventually followed a job to Charlotte. While living there, she watched as that growing city made way for more residents by building onto older buildings in ways that were not sensitive to the original design of the buildings. She witnessed the irretrievable loss of architectural details that made these structures and their interiors unique.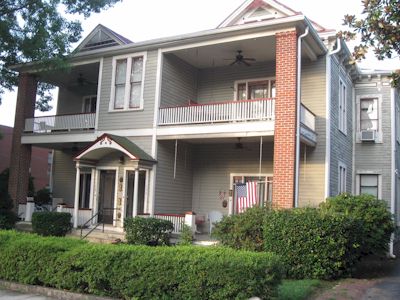 When her first marriage ended, Liz made her way back to Danville to be near family. It was a friend who told her about the fourplex at 132-138 Holbrook Avenue. The idea intrigued her. Here she might be able to live and earn a little income besides. While living temporarily at Westmoreland Court, Liz met Frank Russell. They became friends and he offered his assistance as she began her house hunting. Seeing that the Holbrook Avenue fourplex was a good investment, he suggested they go in together on the house, buying it as a business under the combined name of Russwell.
The large house was originally the home of Greenville Penn, a wealthy tobacconist. In the 1920's the house was purchased by E.W. Arnett and converted into four apartments. Fortunately, many of the architectural details, such as plaster ceiling medallions, ornate moldings, and intricately inlaid marble fireplaces, were saved during the conversion. Despite the alterations, the apartments still maintain the feel of grandeur and elegance of the original single-family home.
Liz has spent a great deal of time and energy researching the house and its former occupants. It's as if they are her own family, and those of us who have bought houses possessed of their own rich histories can certainly relate.
It does seem natural to her now that she is here in the Old West End, like she's carrying on the legacy of preservation that her grandparents started generations before her. Her grandmother, Sarah Furgurson, dealt with the grief of losing her home by becoming a charter member of the Danville Historical Society. Now Liz, along with the help and support of her husband, is doing her part.
Our plans, despite our best intentions, often fall through, but sometimes, as Liz found, it leads us to places we wouldn't have come to otherwise. We are fortunate that life brought Liz and Frank together and brought them both to the Old West End.