The home at 845 Pine Street was demolished by the City yesterday with reluctant support from Friends of the Old West End.  While most every home can be rehabilitated given enough time and money, it's difficult to change a home's location.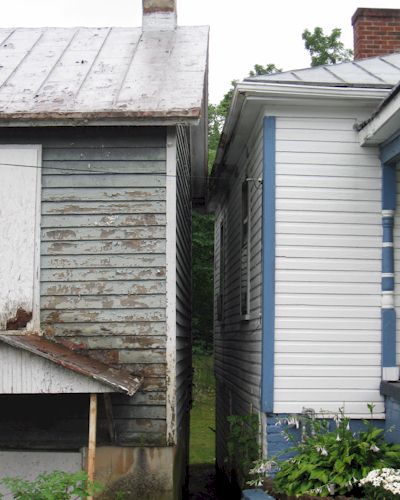 This home was older than its neighbors, most likely built about 1888 on an 80-foot lot.  Then, sometime before 1910, the lot was subdivided leaving 845 Pine with 43 feet and the newer home next door at 847 with just 37 feet.  As a result, the roofs of the two homes were just inches apart (see photo at right).
Moreover, 845 had been divided into four tiny apartments – two on the main floor and two in the basement.  If it once had significant internal features, they were lost to the apartment conversion and the ravages of time.
On a more positive note, the streetscape on Pine will now be much improved and the neighboring homes will soon have larger lots – each with more than 60 feet.

Goodbye 845 Pine.