Whether or not you believe in ghosts, Danville's Old West End, with its historic homes and graveyards, lends itself well to autumn celebrations. In honor of Halloween, The Danville Museum of Fine Arts and History is presenting its semiannual Halloween tour.
Entitled Ghosts and Gravestones of Grove Street Cemetery, the tour has been going on in one form or another since at least 2001. The idea came about when the museum's former Education Coordinator thought to research some of the names of those known to be buried in the Old Grove Street Cemetery. Having envisioned an outline of the story she would like to tell, she hired Jason Kilgore, a former Danville resident, to write the script. The collaborative effort has grown and developed over time, as more discoveries are made about the hallowed historic cemetery. The script, as it now stands, is nearly twice its original length.
The tour begins at the Museum, the former Sutherlin Mansion, with a brief explanation of the mansion's part in history.  There are also a few stories of some of the strange things that have occurred there over the years, lending evidence to the house being haunted. Such phenomena include the smell of phantom cigar smoke, reflections in mirrors, a strange orb seen floating on security cameras, and even the apparition of Major Sutherlin himself, to highlight just a few.
Next is a guided walk to the Grove Street Cemetery, the oldest formal burial plot in the city. Here you will hear the stories of some of Danville's founding fathers, as well as some of the notable and unusual interments that are also here. The acre lot, which was situated outside of the city proper at the time of its creation, was once much larger than it is today and included the graves of many former slaves and Civil War soldiers. Over time, the cemetery fell into ruin and the identities of many graves were lost. Since the 1930s, a concerted effort has been made to preserve the history of those whose final resting places are on this hallowed spot of land.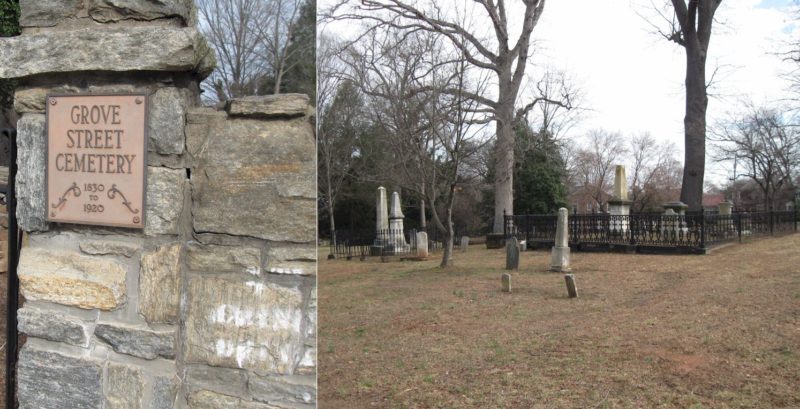 If the tour happens to whet your appetite for more information about this historic landmark, please be sure to pick up Mary MacKenzie Mack's "The History of the Old Grove Cemetery", available for $12 in the Museum gift shop.
For 2018, the Ghosts and Gravestones of Grove Street Cemetery tour will be held on October 25 through 27 with tours being every half hour between 6:30 and 9:30 each evening. Each time slot is limited to twenty participants, so get your tickets now.
For more information, call the Museum of Fine Arts and History at 434-793-5644 or stop on by! Regular hours of operation are Tuesday through Saturday, 10 am to 5 pm, and Sundays 2 pm to 5 pm.