Charles A. Ballou was born in Halifax County in December 1834. He was educated at Washington College (now Washington and Lee University) before securing a position with the Mississippi Central and Tennessee Railroad as a Civil Engineer. He retained that post for twelve years before transferring to the Louisville and Nashville Railroad where he was employed as First Assistant.
When war broke out between the States, Mr. Ballou was back in Halifax County. He enlisted and served in the quartermaster department of the Confederate Army where it is likely he acquired the rank of Captain, which title he retained the remainder of his life. While in McMinnville in 1859, he married his first wife Mary G. Tate of Roanoke County. The couple had two daughters before she died in 1866. In 1868, he married Anna P. Talley of Clarksville, Virginia. They had six children before her death in 1885. Two of his daughters with Anna died in childhood. Rebecca Alice died just a year and a half after Anna's death at the age of 3. A sixth child, Sallie, also died in infancy.
Captain Ballou returned to work after the war as an Assistant Engineer for the Norfolk and Great Western Railway. After that, he was selected to secure a route for the old Raleigh and Gaston Railroad company from Cary on the North Carolina Railroad to the South Carolina line. Having finished this task to satisfaction he moved to Winston, where he was living in 1874 when the City of Danville elected him to serve as the City Engineer. He held the position for 40 years.
During his service Captain Ballou was credited for having all the streets in Danville paved or repaved, including many in North Danville, which was not yet annexed. Prior to his time Danville was so well known for typhoid and malaria that those who came to do business here referred to that much-feared illness as the "Danville Fever." Captain Ballou engineered a modern sewerage system that almost entirely eradicated typhoid in the city. He was also instrumental in establishing the public utilities. Gas was first turned on in June of 1875.
In 1878 he also took the position of Superintendent of Public Works in addition to his work as City Engineer. In that new position, he negotiated the purchase of the water and gas works from a company in Ohio establishing a policy of municipal utility ownership.
Today Captain Ballou is remembered for the large park named after him. From the outset of his service as City Engineer, he envisioned a water reservoir and a park to serve the rapidly growing city which, by 1890, had a population of roughly 22,000 people. The first two tracts of land for the park were purchased in 1886 and 1887. The third, that runs along Memorial Drive, was purchased in 1921.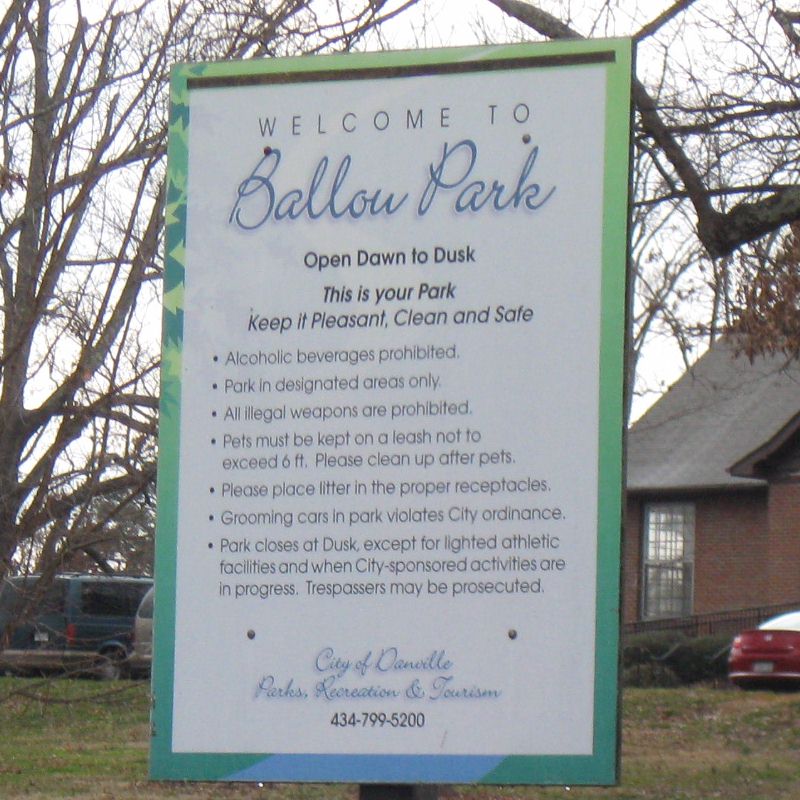 In the 1880s Charles and his family were living on Green Street, where they resided for many years. Charles married a third time in 1890. He and his wife, Clara Jones, lived at 715 Patton Street, where she remained even after his death in 1903.