Andrew Jackson Montague was the son of Robert Latane' Montague and Gay Eubank. Robert Montague was a well-known political figure in Virginia, having served in many leadership roles including commonwealth's attorney and lieutenant governor of Virginia. In 1861 he was a member of the Secession convention, where he acted as presiding officer. After the war he served as a member of the house of delegates from Middlesex county and in 1875 he was chosen judge of the eighth judicial circuit of Virginia, which position he held until his death in 1880.
Andrew, born in 1862, inherited his father's political aspirations. As a young man he loved to learn. He read voraciously from biographies and histories and had an especial fondness for the poetry of Alfred Lord Tennyson. In 1880 he entered William and Mary College, which he attended for a year before transferring to Richmond College where he graduated with distinction as a debater and orator. After his graduation he worked as a private tutor but soon decided to go back to school, graduating with a law degree in 1885.
It was in Danville that Montague decided to begin his legal career representing the interests of the Richmond and Danville Railroad. The position brought him many influential contacts and in 1888 he entered his first political campaign. He lost his bid for commonwealth attorney, but the campaign established him as someone whose oratory skills and ideologies were worth considering.
In December of 1889, Mr. Montague married Elizabeth Lynne Hoskins of Middlesex County. Having established his financial security, his next enterprise was to build the home at the corner of West Main Street and what was then Van Buren Street. It was here that two of their three children were born. But their residence in the beautiful home was not to last long.
In 1892, Montague was appointed to the State Democratic executive committee, and year later he received an appointment as United States District Attorney for the western district of Virginia by President Grover Cleveland. It was his election to the position of Attorney General in 1898 that demanded the family relocate to Richmond.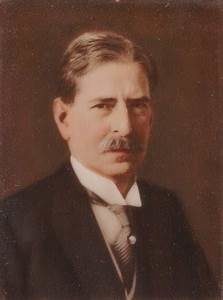 In 1901 Montague was nominated for governor of Virginia and won the position, beating out fellow Danvillian Claude A. Swanson, and becoming the first governor since Reconstruction who had not served in the Civil War. Montague fought hard to improve the school systems in Virginia, many of which were one room schoolhouses. At the time of his election, there was only one four-year public high school in the state of Virginia.
After his stint as governor, Mr. Montague returned to law and became the dean of the Richmond College Law School, but in 1912 he returned to politics when he ran for Congress. He won that election and served twelve successive terms, during which time he was opposed only twice, and which position he abandoned only upon his death in January of 1937.
Upon his election as governor, Danville, proud of its former resident, changed the name of Van Buren Street to Montague Street.