According to Gary Grant in Victorian Danville, it was in December of 1826 that William S. Plumer, a Presbyterian missionary, arrived in Danville.  Plumer, a native of New Jersey, was sent by the Missionary Society of the Synod of North Carolina.  He was to establish a local church.  Missionary efforts twenty years earlier had failed to result in a permanent congregation.  A year after his arrival, Plumer was ordained as the first pastor of the small congregation of 34 members.
Prior to 1828 meetings were held at the Danville Academy building, located at the corner of Jefferson Avenue and Loyal Street.  In that year a building was erected on Jefferson Avenue, just opposite where Patton Street now connects.  That wood frame structure was the first church erected in Danville.  In 1853, the building was replaced by a larger one of brick, which contained the city's first pipe organ.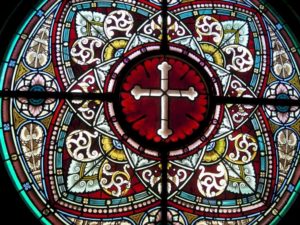 By 1879 the Presbyterians had outgrown their building, and a new one was erected in the same location.  An appropriately grand and ornate Victorian Gothic style building with lancet windows and a facade rosette of stained glass, that building remains today.
In 1899 the Presbyterians purchased a grand pipe organ from the M. P. Moller Organ Company.  It reportedly cost around $2,500 at the time.  This organ is said to be the oldest in Danville still in its original location.
In 1910 the First Presbyterian Church began construction of the Greek Revival building on the corner of Main Street and Sutherlin Avenue.  The Jefferson Avenue building was sold to the First Christian Church, which occupied it until 2004.
In July of 1978, a team of organ experts and enthusiasts examined the organ, which had fallen into some disrepair.  A donation of $10,000 helped to restore the organ at that time.
In 2008 the building was purchased by Mary Branzei, who lived there for a few years.  Mary had moved to Danville to be near her daughter.  She has since left Danville to care for parents and has reluctantly put the church up for sale.
Though it does need some work, the building is in remarkable condition. It has received some updates, including electrical, plumbing, heat, and roofing.  However, the organ is once more at risk.  A recent estimate suggested that it would take $100,000 or more to restore the organ to full working condition.
The 8,700 square foot structure includes the sanctuary, a fellowship hall, a large kitchen, public and private bathrooms, and living and office space.  See the listing.