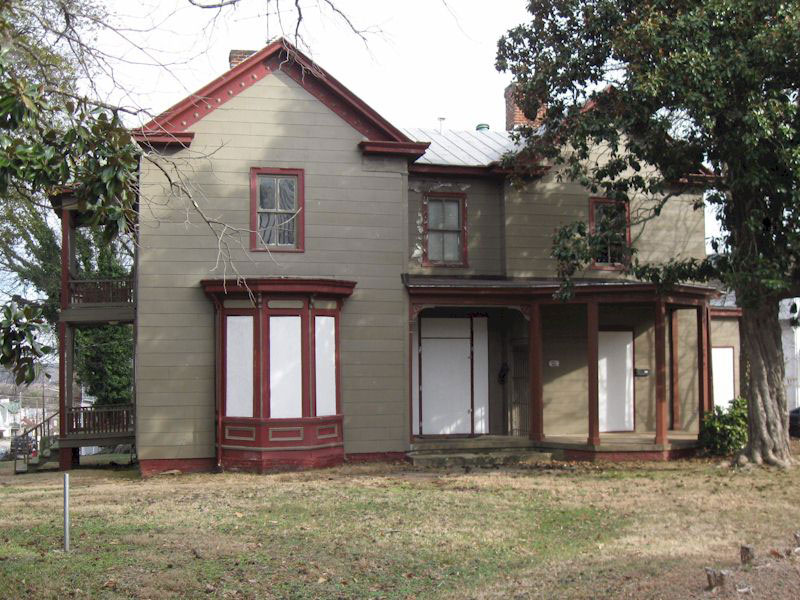 ---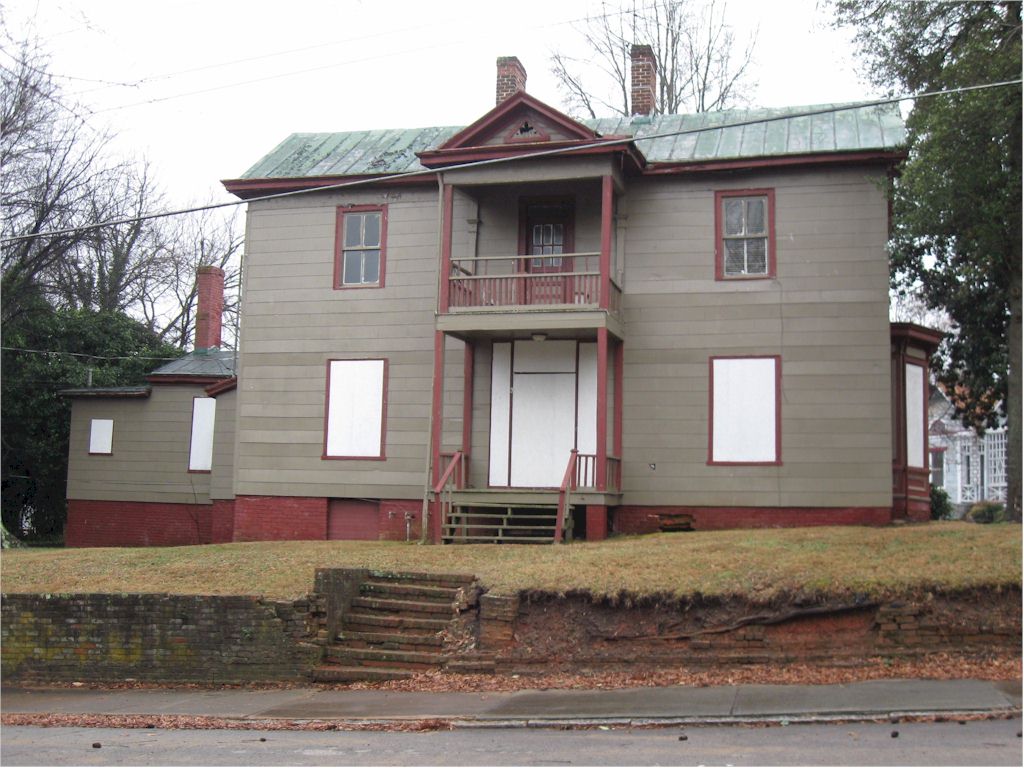 125 Chestnut Street
Owner/agent:  Held For Resale
Square Feet: 4,030   Lot: 9,100
Asking: $80,600      Annual property tax: $262
The house is set on an unusual triangular lot at the intersection of Chestnut and Pine streets. 125 Chestnut Street was built in the third quarter of the nineteenth century, like most of its neighbors. It began as a two-story center-passage-plan house facing Pine Street. That façade features a central, two-story, one-bay porch with a pediment roof and slender, chamfered square post/columns with molded capitals. The original rooms in this section have molded trim, tall square baseboards, and (on the main floor) slate mantels with ornamental veining and incused decoration. The Chestnut Street façade displays several additions made after 1900. The hipped roof of those additions has a porch along the southwest side. The mantel in the rear room on the first floor is Italianate, with applied decorative panels, while the front room has a simple Greek-style pilaster mantels.
This property was most recently used as a quad.  Duplex use suggested.
Rehab and occupancy covenants required. Brokers protected.
---
---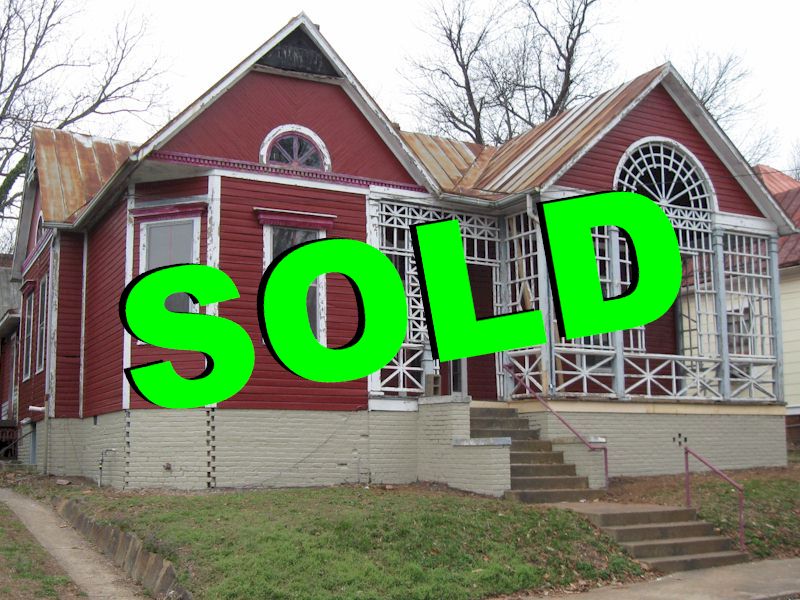 The Boatwright House
136 Chestnut Street
Owner/agent:  Held For Resale    SOLD
Square Feet: 2,221   Lot: 6,250
Exterior painting and repairs are already underway on this unique Queen Anne style cottage.  Built in 1891, the cottage was updated in the 1920s adding the porch lattice and a rear addition for a "modern" kitchen.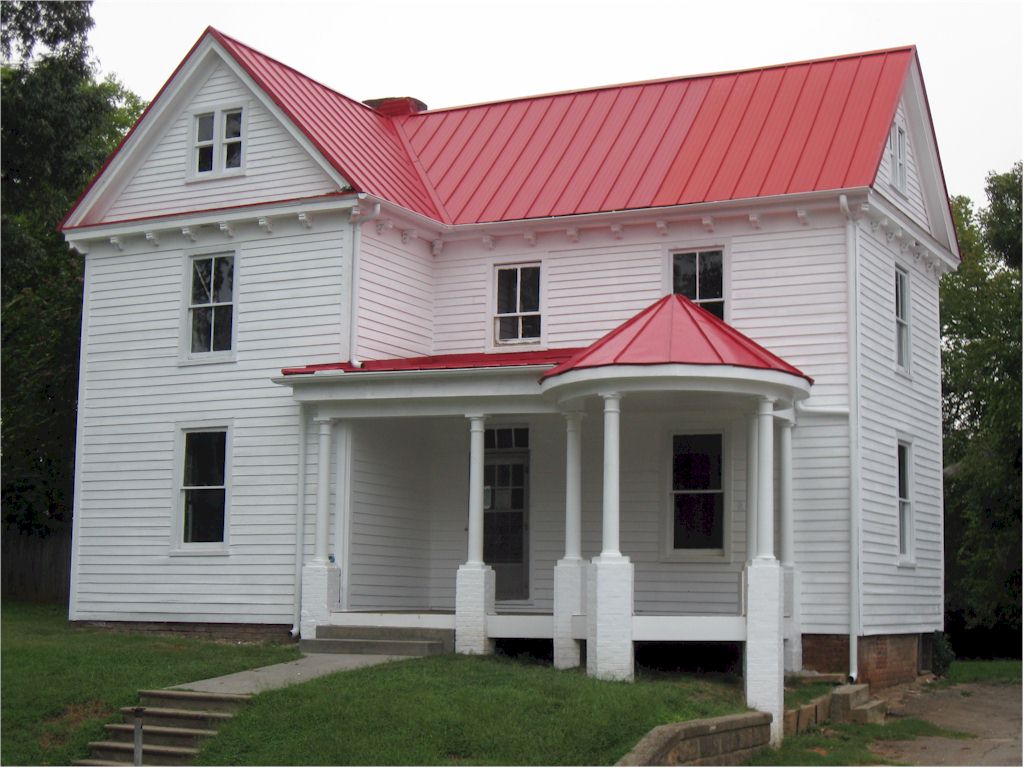 ---
---
808 Green Street
Owner/agent:  Held For Resale
Square Feet: 3,278   Lot: 7,500
Asking: $65,560      Annual property tax: $36 (subject to change)
Built between 1873 and 1877, stabilization work on the turreted front porch, removal of a second story room addition over the porch, windows repaired or replaced, doors repaired, scraping to bare wood, and exterior painting just completed. The original portion the home has a newer metal roof and has been stripped to the studs.  A newer rear addition is in unfinished drywall with plumbing and electrical roughed in. In the early 1900s, the home was owned by a principle in the construction of the Danville and Western Railway.  By 1920, it had passed to a local grocer.
Rehab and occupancy covenants required. Brokers protected.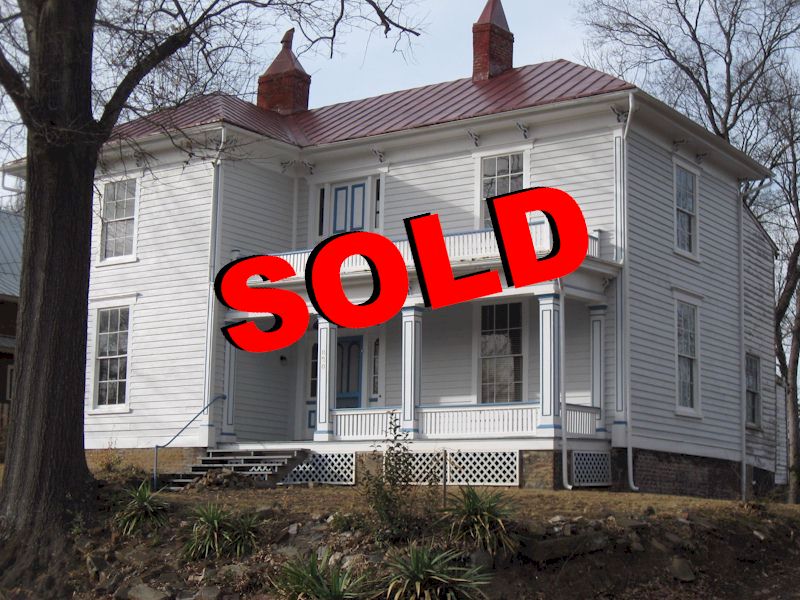 The Tredway House
820 Green Street
Square Feet: 2,560   Lot: 19,350
Asking: $40,000      SOLD
The original 1874 house was situated for the best view of the then-newly-created Green Street Park. All rooms are of large size, each with a fireplace, and most with closets. Most original features remain including heart pine floors, mantels, and door latches. From the restored porch, the front door with transom and sidelights opens to a center hall with elegant curved staircase. Upstairs, an additional doorway leads to the roof of the front porch.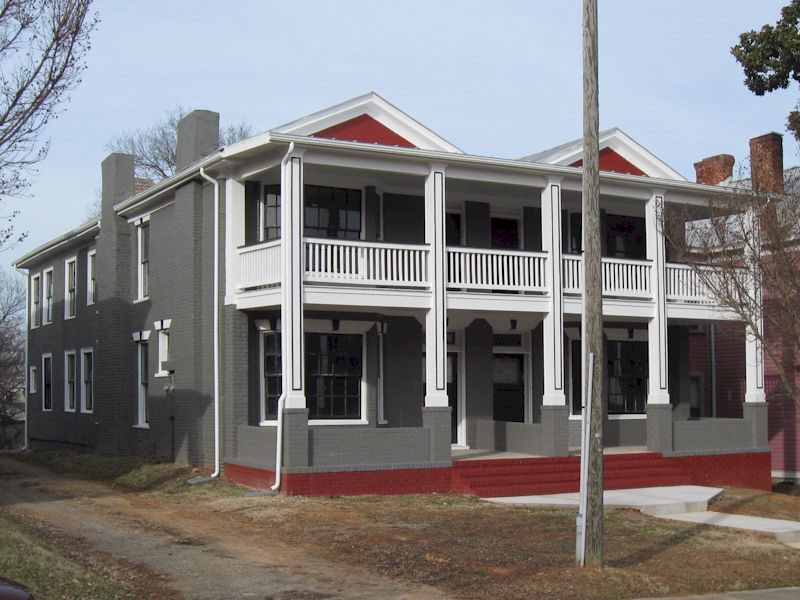 ---
860 Green Street
Owner/agent:  Held For Resale
Square Feet: 4,732   Lot: 13,800
Asking: $94,640      Annual property tax: $45 (subject to change based on work completed)
In its original form, this building was a two-story single-family house. That house was enlarged and made into four apartment units in the 1920s, but is best suited for a duplex. The front of the dwelling has two-story polygonal bay windows flanking the paired doors to the porches. High casement windows to the rear of the first chimneys also light each of the four front rooms. Extensive exterior work has been completed including a complete reconstruction of the porches that define this dwelling from the street.
Rehab and occupancy covenants required. Brokers protected.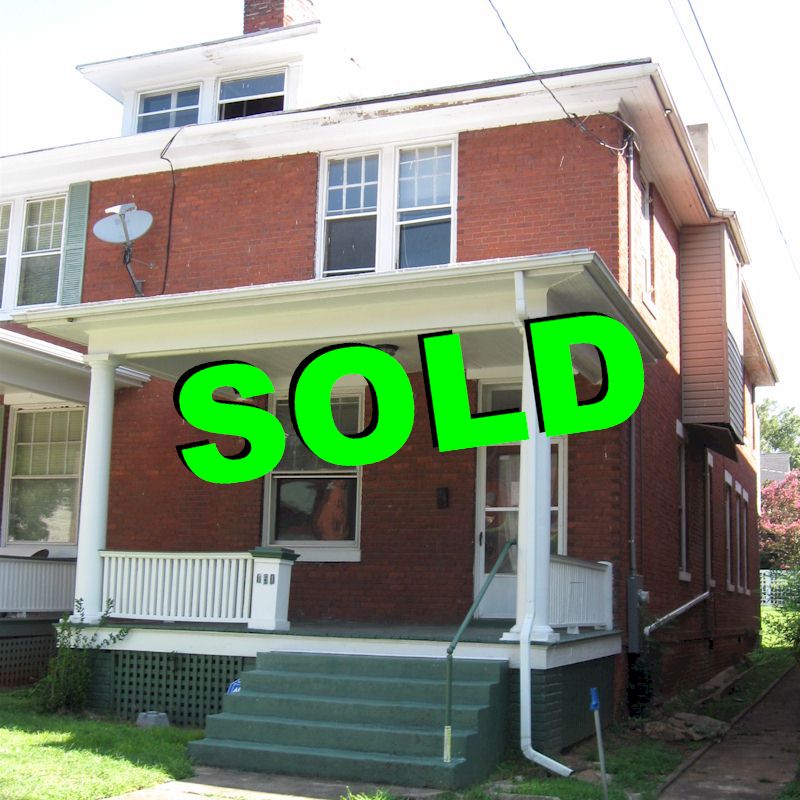 151 Holbrook Avenue
Owner/agent:  Long & Foster Real Estate
Square Feet:  2,376    Lot:  4,625
Asking  $29,900
More information on Zillow.com
Great investment opportunity.  Brick two story duplex home convenient to all the area's amenities. This spacious home has 3 bedrooms and 2.5 baths.  Renovations were previously started on the property but are incomplete.  This could be a wonderful first home or investment property.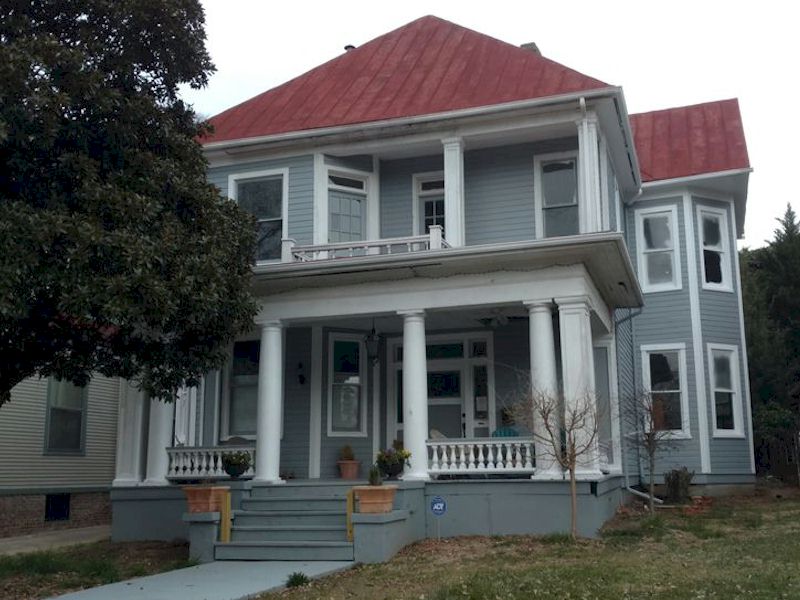 165 Holbrook Avenue
Owner/agent:  Michael Spanglar
Square Feet: 4,440   Lot: 9,250
Asking: $185,000
More information on Zillow.com
Built in 1897, this home was converted to multi-family in the 1930s, abandoned in the early 2000s, and then restored to single family residence in 2015. Restoration includes updated structural, mechanical, electrical and plumbing. It is currently set up as a 1 bedroom but the formal dining room could be used as a second bedroom.  There is one, fully functional bath on the ground floor with vanity, water closet and claw foot tub/shower, a fully functional laundry and fully functional kitchen. Plans for the currently-unfinished second floor feature a 1,000 sq ft master suite, two 144 sq ft bedrooms, a master bath, a jack & Jill bath and a laundry room.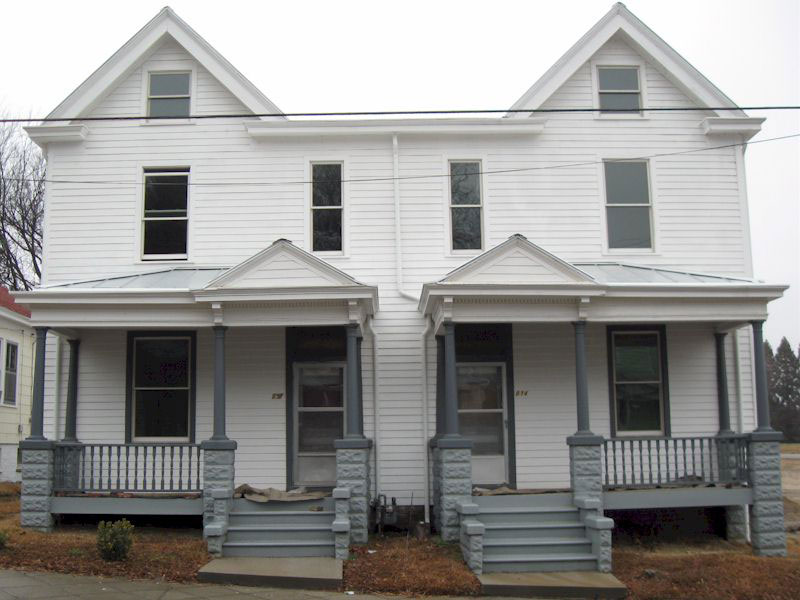 ---
814-816 Pine Street
Owner/agent:  Held For Resale
Square Feet: 2,542   Lot: 5,150
Asking: $50,840      Annual property tax: $290
The two-story, clapboard double house anchors the lower section of Pine Street. Very unassuming in detail, the house was constructed in 1890. The porch appears to be of a later date, possibly when "Colonial Revival" was the rage. The "Belgium Block" porch column supports and the smooth wooden columns with Doric capitals seem to imply this. The porch entry has a simple dental molding running along the soffit with corbels flanking the gable end section of the roof. Extensive exterior repairs have been completed with rear shed removed.
Rehab and occupancy covenants required. Brokers protected.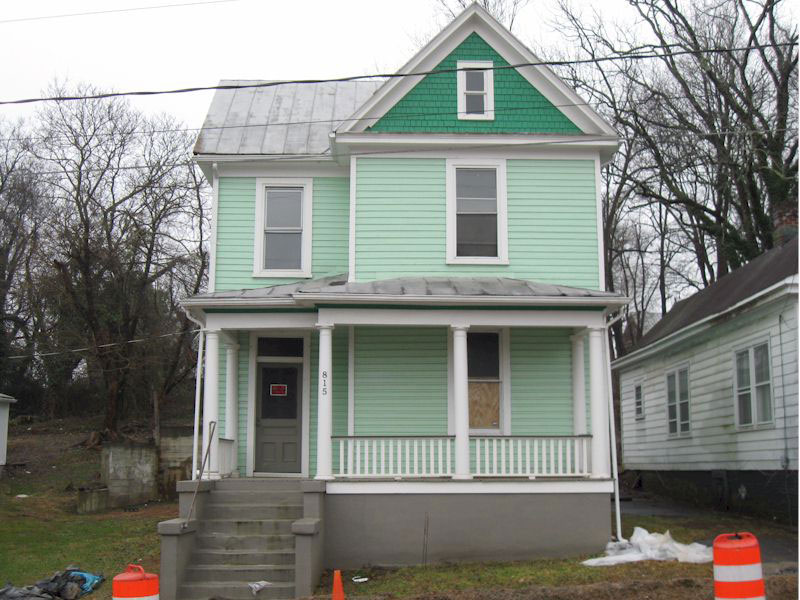 ---
---
---
The P. R. Jones House
815 Pine Street
Owner/agent: OWE Restorations LLC
Square Feet: 1,720   Lot: 7,500
Asking: $35,000      Annual property tax: $37
This two story Folk Victorian with German siding is in the Five Forks area of the Old West End Historic District. The exterior is totally restored and structurally reconditioned. A new main electrical panel and some wiring is complete. In addition to a sunny sitting area on the landing, this second floor has two large bedrooms, both with fireplaces, and a full bath. The main floor includes a spacious foyer, half bath, and three large rooms that can be configured as living room / dining room / kitchen or as third bedroom / family room / eat-in kitchen. The living room has a fireplace with original tiles and overmantel, and the original chandelier. The dining room with fireplace has a large opening to the one-story kitchen providing a modern "open concept" feel.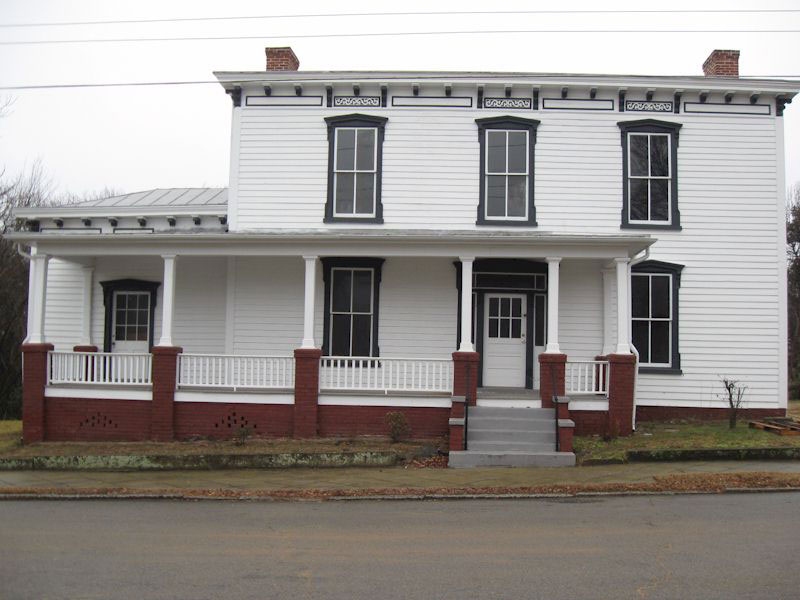 ---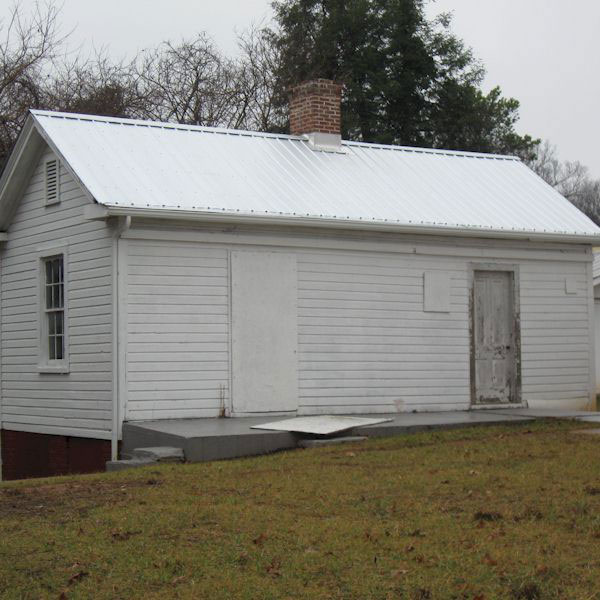 The Worsham House
871 Pine Street
Owner/agent:  Held For Resale
Square Feet: 2,240   Lot: 22,890
Asking: $44,800      Annual property tax: $211
Exterior renovations on this two-story ca. 1870 Italianate were completed in 2017. Those renovations include roof, hidden gutters, weatherboard siding, and window repairs, fresh coats of primer and paint, and repointed brick chimneys and foundation. The two-room guesthouse and wood-frame garage on the property have had similar treatment. Inside, the home has been stripped to the studs and is ready for new building systems. An architectural study envisions a center-hall plan with living room, dining room, kitchen and half bath opening from that hall. A one-story wing would make an ideal family room or study with separate entrance. Upstairs, the plans call for three large bedrooms with spacious closets. A master bath and family bath along with a convenient laundry area complete the plan. Those plans are available on request to prospective purchasers.
Rehab and occupancy covenants required. Brokers protected.
---
---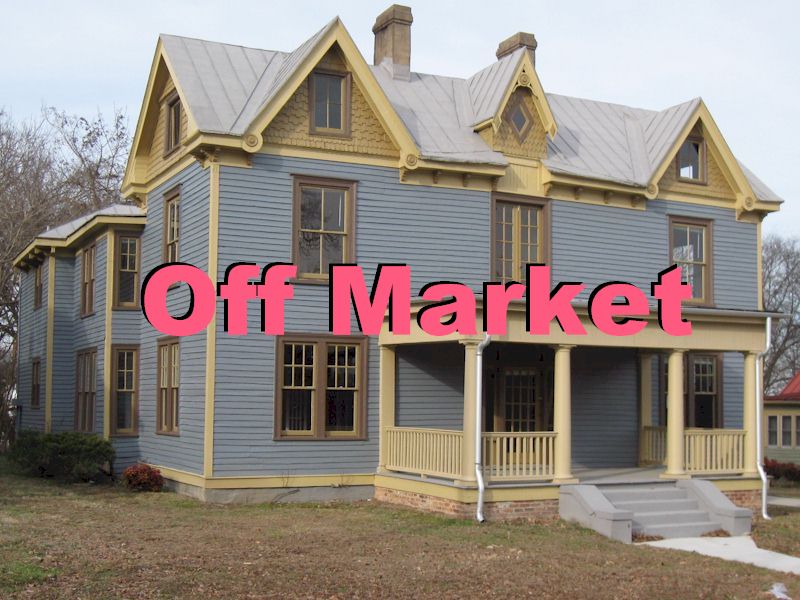 ---
---
The Crumpton House
838 Green Street
Owner/agent:  Off Market
Square Feet: 3,706   Lot: 6,250
Asking: $74,120      Annual property tax: $513
Constructed before 1888, the house began its life with a center hall plan. A dining room and kitchen were added almost immediately. A two story ell with lower roofline was added later, probably in the 1920s or 1930s, with the house divided into upper and lower flats. The home is ideally located immediately across from Doyle Thomas / Green Street Park.
Rehab and occupancy covenants required. Brokers protected.