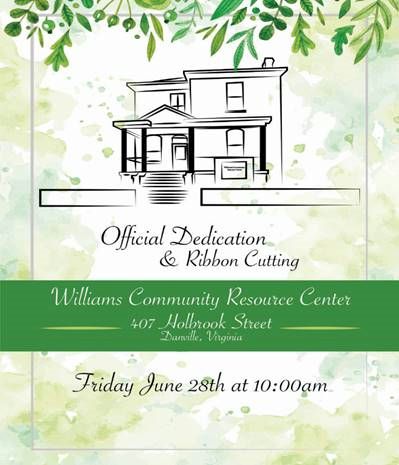 The official dedication and ribbon cutting ceremony for the Williams Community Resource Center will be held on Friday, June 28, 2019, at 10:00 a.m.  The Center at 407 Holbrook Street was designed to protect and enhance the integrity of a historically significant structure as well as create a location open to the public where the past, present and future of African American Civil Rights can be displayed, discussed and advanced.
A single-family dwelling built in 1910 by Robert Allen, an African American brick mason, craftsman and elder at Holbrook Presbyterian Church. 407 Holbrook Street was home to Jerry Lee Williams Sr, his wife Ida Allen and their four children; a family active in the Civil Rights movement.  Jerry Williams Sr. served as an attorney for the local chapter of the NAACP, his wife Ida was a school teacher and an officer with the NAACP, and their two sons Robert and Jerry Jr were also active with the NAACP and helped to plan the 1960's student protests in Danville.
A recent project rehabilitated the vacant single-family dwelling into a mixed use structure with two dwelling units on the upper level and a conference room, two offices and an exhibit hall on the lower level.  Through a partnership with the Danville Historical Society and History United, the exhibit hall will be used to display items of significance to the Williams family and to the local civil rights movement. The lower level office will be occupied by the Danville, Chapter of the NAACP. The Danville Virginia Chapter of the NAACP currently lack an office space or location for public meetings and have committed to the use of this structure. Funding for this project was provided through the African American Civil Rights Grant sponsored by the National Park Service.
The Williams Center is located in the Holbrook-Ross Street Historic District, adjacent to the Old West End. The Holbrook-Ross district includes 107 contributing buildings in a primarily African-American neighborhood of Danville. It includes a full range of late 19th and early 20th century residential, commercial, and institutional structures. The majority of the houses are single-family dwellings that were built between 1880 and 1910, and includes notable examples of vernacular Italianate and Queen Anne styles. In addition to the Williams House, notable buildings include the Hargraves-Geary House (c. 1890), Tisden House (c. 1930), Leroy Johnson House (c. 1940), Broadnax Apartment (c. 1930), Calvary Baptist Church (1896), Holbrook Street Presbyterian Church (c. 1910), Loyal Baptist Church (1924), Wesley AME Church (1939), Westmoreland Middle School (1936), and the Annex Building (1925).