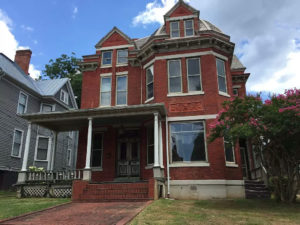 SueEllen Lawton has moved around a lot, but hopes Danville is her final destination. Born in Minneapolis, her family moved her to St. Louis, Houston, and then the D.C. Metro area, where she's spent most of her adult life. In the last two decades, she's been renovating or building houses in Takoma Park, MD, Floyd, Virginia (her favorite place to live, prior to Danville), Bellingham, WA and most recently, Baltimore, MD.
Her ex brought her to Floyd and then Bellingham, where she earned her Master's Degree in Social Enterprise and Nonprofit Management. When the relationship ended, she decided she'd like return to the DC Metro area. Housing prices had risen considerably during the time she was away, and so she ended up finding a grand old 1880's home for a bargain price in nearby Baltimore. She knew the neighborhood was a little rough, but it wasn't until she'd lived there for a time that she realized just how bad it was. During her time restoring the house, she had been burglarized seven times, witnessed a murder outside her kitchen window, and was held-up at gunpoint.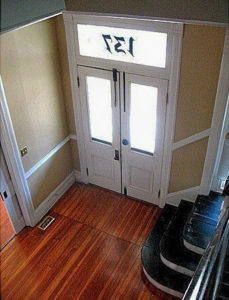 After eight years of this, she began to think she would like to move. The began to do some planning and made a goal of moving the following year. It was not long after that decision, however, that a stranger contacted her through Facebook. They had driven past the house and were interested in learning more about it. They wanted to know if she was interested in selling. Their offer, six times what she paid, was irresistible. And so she began looking for her next, and hopefully her last, home.
SueEllen began her search for homes that fit certain criteria: those built before 1940 and which were over 2,500 square feet. She made a list of interesting prospects, and from there began a meticulous investigate of the neighborhoods surrounding her homes of interest—an oversight she was not going to make a second time. Eventually she decided on an historic home in Warrenton, West Virginia, and was just about to make an offer when something told her to take a second look at a few of the remaining houses on her list. One of those houses was in Danville, an easy stopping point on her return drive from Warrenton.
Arriving in Danville, Sue Ellen fell in love with the town at first sight. "Wow, this is a really cool place," she thought to herself. The house she came to see, 137 Holbrook Avenue, was under contract. Disappointed but undaunted, she asked to see a house on Sutherlin Avenue. The house was lovely, but she was still drawn to the house on Holbrook Avenue. She emailed the realtor and told them that, should the contract fall through, she would be very interested in seeing the house. The realtor replied immediately telling her that the contract had, indeed, fallen through and that the house was once more available. She made plans to see it.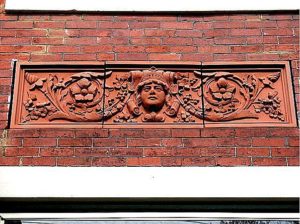 SueEllen was immediately smitten by Elbert Williamson House, with its soaring ceilings, elaborately detailed plaster and woodwork, and its tall pocket doors. A slate roof expert, whom she had hired from Pennsylvania assured her that, while the roof needed some work, the unique German slate deserved preserving. The brick exterior, too, is remarkable in its detailing and construction. She immediately made an offer and purchased the home. Now hers, she has threw everything in when she made the leap to move here. She arrived in Danville hoping to fix-up the Elbert Williamson House to be a bed and breakfast until she finds a role here where she can contribute to Danville's exciting "re-imagining".
SueEllen's move to Danville was not uneventful. Immediately upon arriving here she underwent spine surgery. So, along with her recovery, she is juggling moving in, plumbing repair, floor repair, and systems maintenance.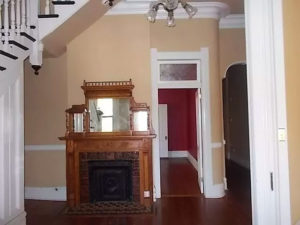 She's hoping that once she's recovered, she can find something to do that will put to work the unique skill set, having run a nonprofit marketing firm for 17+ years (catering to art museums, symphonies and orchestras nationwide) and by her work in non-profit management and development. Meanwhile, she hopes to open up the Williamson House to guests.
Considering her past experience in Baltimore, SueEllen is thrilled by the sense of community and the friendliness of her neighbors. It's a safe neighborhood, where people say hello as they are walking their dogs.
A friend of SueEllen's from Floyd produces Red Rooster Coffee.  Coincidentally, that's the coffee sold at Crema & Vine – just up the street from SueEllen's new home.
"I'm excited by all the energy and investment in revitalization that's going on here," she said, when asked about her experience in Danville so far. "It seems like the town is doing a lot to attract others to come as well, particularly those of diverse backgrounds and educations. I'm really excited to be here!"
We, too, are excited to have SueEllen join us in the Old West End, and to see the Elbert Williamson House inhabited once again. Welcome SueEllen!