Margie Forbes search for a new home began a couple of years ago when she met John and Duff Ramsey. Having taken occupancy of her mother's home near Pawleys Island, South Carolina, she found that the house needed some repairs. The father and son team came to her rescue and proved to be a pleasure to work with. Conversations between them turned toward the Ramseys' love of historic homes, and Margie began to learn of their many projects, including John's own home, which he discovered abandoned in the middle of a stretch of farmland. He dismantled the house piece by piece and reassembled it on his own property in Buckingham, Virginia. Margie, fascinated by their stories, began to dream of restoring a home of her own.
Her search, centered in northern North Carolina and southern and central Virginia so that she could be nearer her son who lives in Chapel Hill. When Luke and Duff found houses of their own here in Danville, they persuaded her to look here as well.
Though Margie looked at nearly every house available in the Old West End, it was the Stovall-Lumpkin house at 855 Pine Street that stood out to her. Its unimposing façade presents a deceptive introduction to an almost grand interior with its intricate plaster moldings and ceiling medallions, its high ceilings and impressive fireplace mantles (the grandest of which, pictured below, was unfortunately stolen as she was preparing to close on the purchase). Despite its many structural issues, the project seemed "doable" and certainly worth the effort required to restore it.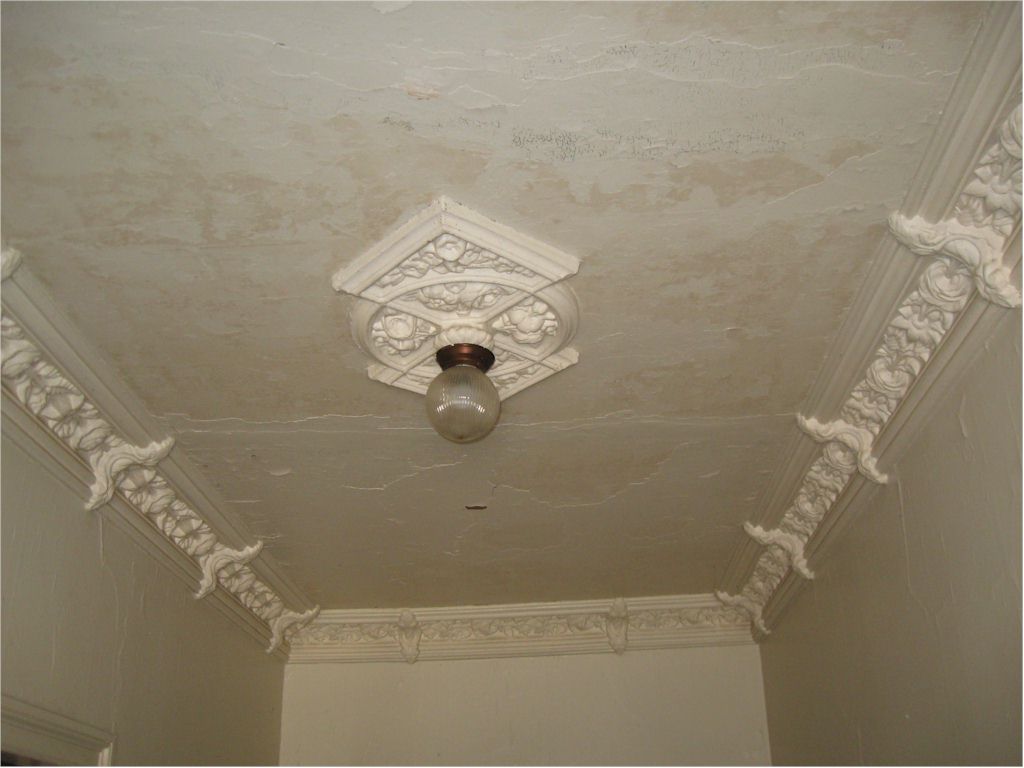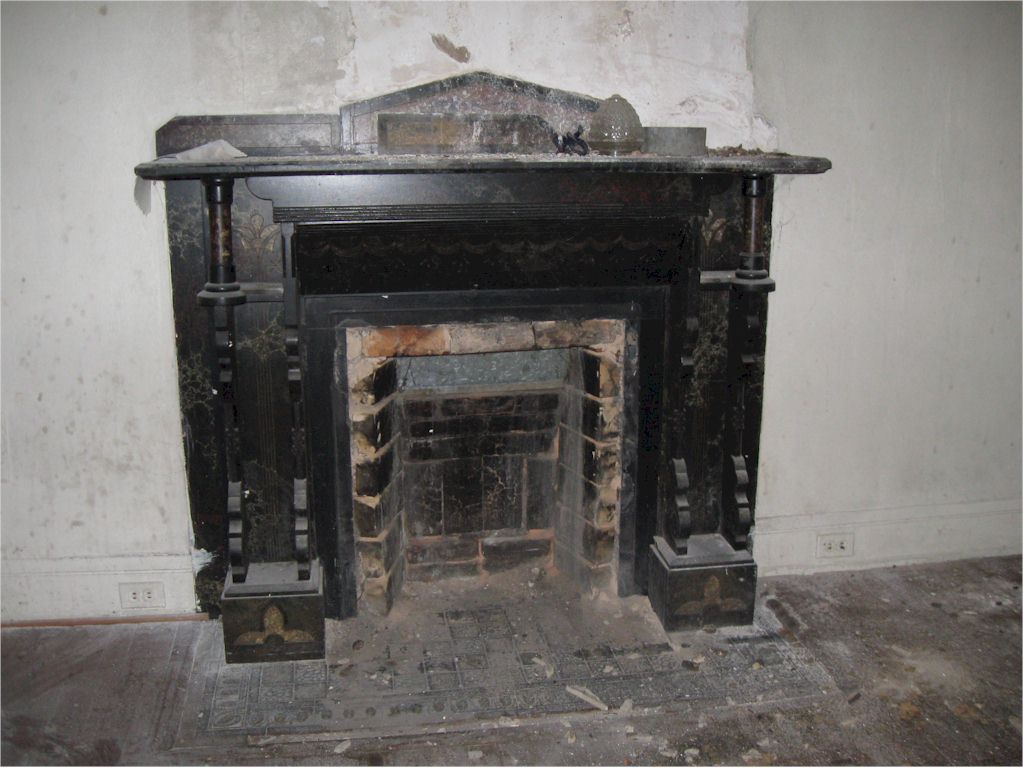 Already, John and Duff have discovered that the house is much older than originally supposed. Unlike the other Pine Street cottages built around the turn of the century, it is believed to be much older (see accompanying post). The original staircase was also located and will be reconstructed as the house is returned to a single family dwelling.
Though her parents were born in Virginia and South Carolina, Margie is relatively new to the South. She grew up in Montreal, Canada, and then returned to United States to attend college in Virginia. After graduating, she returned to Montreal for a time before securing a job as an associate editor of a local newspaper in Boston. While living in Boston, Margie met her husband, who was completing his doctorate at the time in Metallurgy and Materials Science at the Massachusetts Institute of Technology (MIT). When her husband was offered a position professorship at Carnegie Mellon University the couple relocated to Pittsburgh. Margie's parents retired and moved to Pawleys Island, South Carolina, and when they passed away, she inherited the house. Then Margie's husband was diagnosed with Parkinson's. The cold winters were challenging for him, and so they decided to spend the winters in warmer climate, at last making a permanent move to South Carolina in 2016. Six months later, Margie's husband passed away.
Margie's move to Danville makes her one of over a dozen single women to have done so. "Many would say I'm of an age to retire," Margie told us, "but I don't want to do that. I want to do something I've never done before, and this seemed like a great thing to do."
Though her experience of Danville has so far been hampered by Covid and the fact that she is still living in South Carolina until the house is made more livable, she has found the city, and the neighborhood, especially, to be remarkable in its citizens' willingness to help out. As an example, she related how she had gone out to get lunch for herself and the crew one day, and, upon returning, cut the corner too close and ended up on the curb with no way to get down. Not a minute had passed when someone stopped to help her. They offered suggestions, but nothing seemed to work. A few minutes later, a few more people had gathered, and before long there were enough helping hands to literally lift her car off the curb and set it back down on the street. She failed to get their names, but she found the event quite moving.
Of the city, she has good things to say. It's a pretty city, set atop rolling hills along a river. Though Danville is not a thriving community, it's clear there is a lot of energy moving it in that direction. She loves the excitement she sees regarding the Old West End and the efforts going on to revitalize the neighborhood. The fact that so many of our neighbors came to Danville from a variety of different places, only adds to the charm.
To those considering joining us in our efforts, she encourages them, if they have an interest, to adopt a house that has gone into ruin and restore it to its former grandeur. "It's not easy," she says, "but it's exciting and fun." Also … "make sure you have some expert help!"
The Stovall-Lumpkin house is a house that seems to be eager to reveal an ever evolving history and we expect there is more to learn about it yet. We are certainly excited to witness the home's restoration and the revelation of those mysteries as they unfold.