While Luke Ramsey was in the process of purchasing the Clarke house at 218 Jefferson Avenue, he invited his cousin, Duff Ramsey, to come take a look at the area, encouraging him to consider buying one of the neighborhood's distressed and endangered properties for himself. As it turned out, the house that drew his attention was the one next door to his cousin. It's ironic, since this house, too, was built by the Clarke family.
Historic restoration is yet another thing that seems to run in the family. Luke and Duff began working alongside Luke's father, Lewis, and twin brother, Steve, in the restoration business, and they often shared projects up until Lewis's death in 2007. It was Steve who taught Luke and Duff about antique homes and furniture, which the cousins both collect and sell. Duff looks forward to having furniture sales out of his home, as Luke has done with some success already (look for upcoming announcements in October).
Duff decided upon the house almost the instant he saw it. They made a phone call, and were able to see the house that day.
"The house needed help," Duff said, when asked what it was that drew him to this house specifically. "It had been messed up so much from the way it had been used," he said, referring to the fact that it was built to be a rental property, and over the years had been split up into smaller units, including a complete remodel of the top floor and roofline. "It needed some help and I thought that I could bring it back to some of its glory. … I liked that the house was brick and tall and skinny." The house reminded him of the townhomes he was used to seeing when he lived and worked restoring homes in Manhattan, New York.
He was also really drawn in by the third floor porch. "It's really cool to sit up there and look out over the street." He hopes to reconfigure the porches somewhat, removing the staircases so that they are not accessible by the first floor, and thereby eliminating the second and third floor entrances from when the house was used as apartments. The porches are charming, however, and though architectural reports have suggested removing them, he really hopes the Commission for Architectural Review will agree that they are architecturally significant in their own way.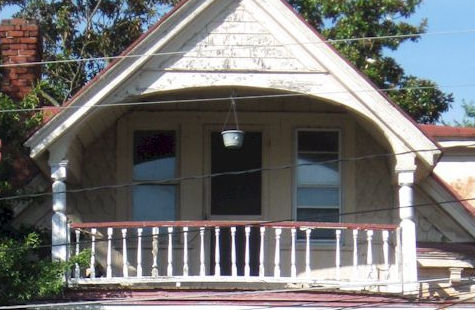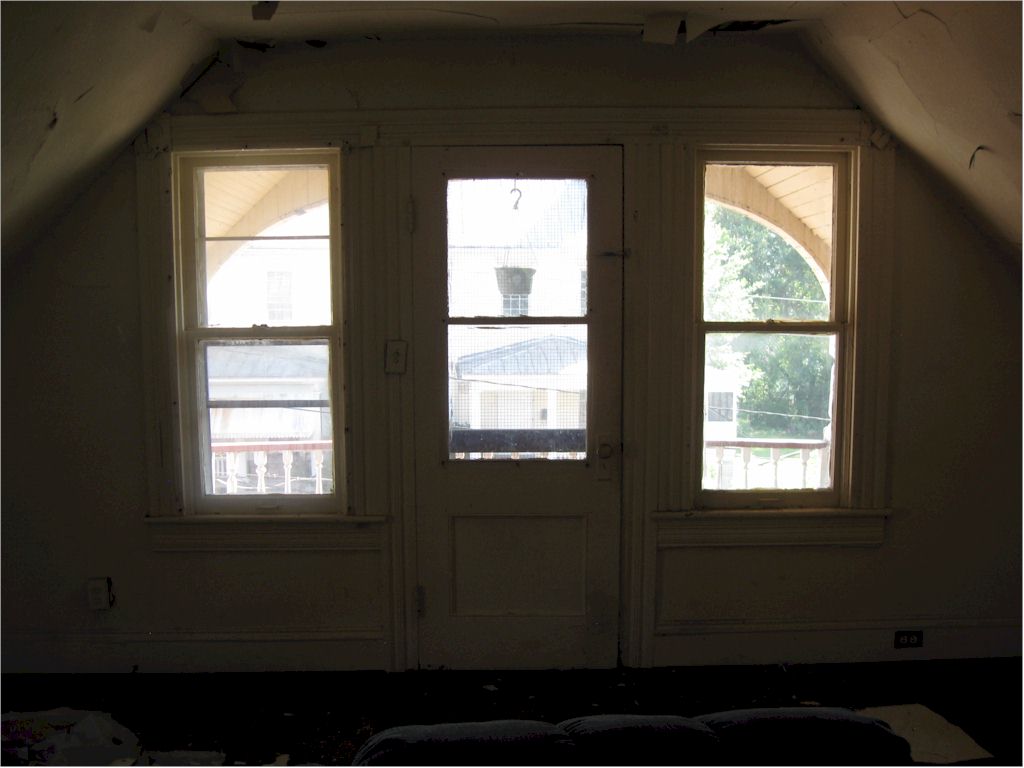 Duff is looking forward to getting started. He plans to start on the roof, repairing any existing leaks. Then he'll jack up the front porches and get them secure and stable. He plans next to move into the interior of the home, replacing and updating the systems. As the house will be reconfigured back into a single-family home, the exterior stairs, as previously mentioned, will require replacing with an interior staircase. After that, he'll begin addressing the plaster issues, repairing the walls and any interior water damage from the leaking roof. He'll remove the kitchens in the upstairs apartments, create a comfortable and convenient kitchen space downstairs, and add a modern bathroom on the second floor, while reserving some space under the stairs for a half-bath on the first floor.
Duff is the father of two young children and he and his partner look forward to life in Danville, and to restoring this house into a single-family home that the whole family can enjoy in comfort, and with a feeling of accomplishment for their hard work.
As to the neighborhood, Duff remarked upon hits charm. "I really like it. It's colorful. The community is made up of really great people who are taking a chance, and willing to take a chance. They have a passion for the older homes and it shows."
To those considering purchasing one of the homes still available, Duff says: "Get them while you can. They won't last long. There seems to be a big infusion of money coming, which will drive the values up quickly."
Jefferson Avenue is really changing quickly as improvements in the Clarke and Ross Houses have attested. With work soon to begin on other properties on the street, particularly the Monticello and Jefferson Court Apartments, this street will prove to be nothing short of transformed. And it cannot be forgotten that pioneers like C.B. Maddox and Bill Wellbank really set the stage for much of the present-day development. We are grateful to them, and to those like Duff Ramsey, who have taken a chance on Danville and have joined us in our revitalization efforts.
Welcome Duff Ramsey!