In the beginning, before Danville received its charter, Captain James Lanier owned two plots on the northwest side of the Salisbury Road (now Main Street).  This land totaled about three acres.  Lanier built a house there in 1829.  It burned shortly thereafter.  Rather than rebuild, Lanier constructed a new home within the proposed town limits.  That home, now known as 770 Main Street, remains, and is thought to be Danville's oldest residence.  Lanier went on to become Danville's first mayor.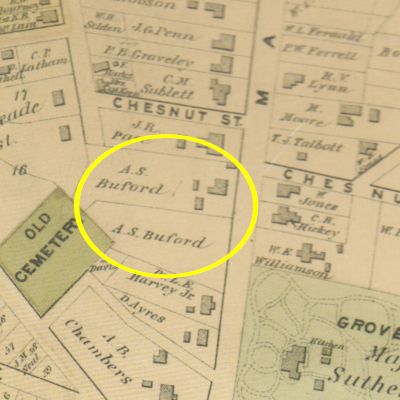 Captain Lanier sold the land further out on the Salisbury Road to George Townes.  As far as is known, Townes did not build on or use the land.  Instead, in 1857, he sold both parcels to his brother-in-law Algernon Sidney Buford (more about Buford).  An up-and-coming young attorney, Buford constructed a house and stables.  He also built what is described as an office or school building under the large oak tree near the road.  That ancient oak remains today and can be seen in the top photo at the far right.  Buford's land and buildings are included in the 1877 map at right.
Buford moved to Richmond in 1866.  Having no further use for land in Danville, and with property values on Main Street increasing, Buford subdivided his property in 1882.  The lot containing his old home was purchase by James Rufus Jopling, in the hardware business and a banker, who replaced it with a brick Second-Empire-style mansion in 1890.
John H. Schoolfield, a tobacconist and founder of Dan River Mills, purchased the western-most lot in 1883 and completed his large brick Italianate mansion there in 1884.  The lot next door went to John Hamilton Cosby, another tobacconist.  His brick mansion was completed no later than 1895.  (More about the Cosby House.)
Cosby and Jopling each sold adjoining portions of their lots to William Fearn Patton in 1887.  Patton, a banker and grandson of one of Danville's founders, completed his brick Richardsonian-Revival-style mansion in 1890.  Jopling also sold another portion of his lot, including the old oak tree, for the construction of the frame Cherry-Hall House farthest to the east.
Today, the two plots owned by James Lanier, George Townes, and then A. S. Buford contain some of Danville's finest architecture in the heart of the Old West End National Historic District.

Left to right:  The J. H. Schoolfield House at 944, the J. H. Cosby house at 936, the W. F. Patton House at 926,
the J. R. Jopling House at 918 and the Cherry-Hall House at 912 Main Street.