Tom Belles and Carla Minosh were hardly new to historic preservation when they bought the Sublett-Miller house. After many years restoring their 1945 Cape Cod home in northern Virginia, Carla felt the itch for a bigger project. It was Tom who first saw the Gothic Danville house in a copy of Preservation Magazine and showed it to Carla. The eye-catching façade was certainly one to strike a chord with Carla's tastes, particularly as she was looking for something older, larger, built of brick, and with something of a brooding air. The Sublett-Miller house has "mood" in spades and could pass easily for a stereotypical "old haunted house." But the very idea of acquiring such a large house on a street that had become known as "Millionaires' Row" did seem a little daunting.
The couple conducted some research and soon found that Danville was no longer the booming industrial center it once had been.  Many grand houses had been abandoned, auctioned, or foreclosed upon, and were selling at astoundingly affordable prices.
The next step was to lay eyes on it for themselves. So, they got in the car and drove the four hours from their DC area home, where Tom works as a corporate attorney and Carla as a pediatric nurse practitioner. They arrived in Danville to find a charming little city with an impressive collection of noble homes.  The homes were once owned by tobacco merchants, doctors, lawyers, bankers, and textile businessmen.  They were now owned and maintained by ordinary folks. Some owners were natives, but many had come from elsewhere to take advantage of Danville's affordable, if sometimes struggling, economy.
Tom and Carla were concerned about the many homes that the city, and particularly the Old West End National Historic District, was losing due to neglect and abandonment.  These homes were the consequence of shuttered businesses that had moved overseas for cheaper labor and more permissive environmental regulations.  Other businesses simply vanished as demand weakened.
The Sublett-Miller house was scheduled to be sold at auction. Tom and Carla arrived on the appointed day and made their best offer. There was some haggling, but at last the auctioneer's hammer fell upon their bid and they won. But all was not as cut and dried as it seemed. Hours later they learned that the auctioneer had accepted a sealed bid and that the house was therefore bought out from underneath them. A neighbor and purchaser of a similarly auctioned property – who luckily happened to be a lawyer himself – stepped in and reminded the auctioneer of his legal obligations.  The house is shown below at the time of purchase.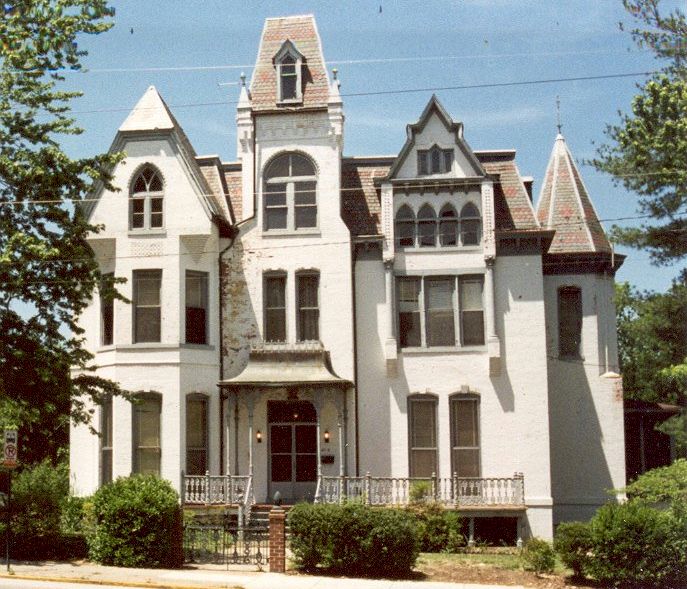 Next came the challenge of restoring the large house while at the same time maintaining a home and two full-time jobs hours away. Despite those challenges, they have done it, and the results are breathtaking!
Not only is the Sublett-Miller house one of Danville's most sublime treasures, but Tom and Carla are a gift to the community.  Purchasing and restoring the house and generously opening it up to their friends and neighbors as often as they do is greatly appreciated.  And they are two of the kindest, most down-to-earth, warm and engaging people you may ever come to know.
Chance seems to have brought them to the Old West End, and we are so glad it did!