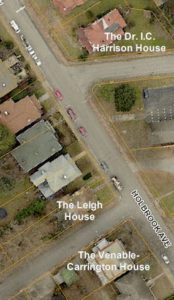 Around the same time that Dr. Isaac Carrington Harrison's house was being built at 507 Holbrook Avenue, cousins William and Louise Cabell Carrington Leigh also began building their home at 614 Holbrook Avenue. The choice of location was no doubt due to a combined desire to be near kin, including another cousin, Alexander Berkley Carrington at 622 Holbrook Avenue, while at the same time taking advantage of being one of the first to establish homes in the new and fashionable "Jefferson Estates."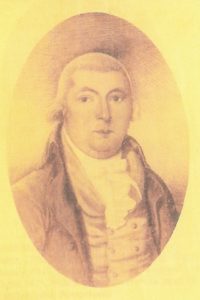 Both Mrs. Leigh and her husband William Leigh came from long lines of judges and lawyers. Both were descendants of Judge Paul Carrington (whom we covered in a previous post). Louise's great grandfather was Judge Carrington's fourth child, Paul Carrington Jr., a Revolutionary War soldier, a member of the Virginia Senate, and, like his father before him, a Judge of the General Court. Louise's own father, Henry Alexander Carrington studied law at the University of Virginia. He was practicing as an attorney in Richmond when the Civil War broke out. After joining up to serve the Confederacy he was wounded at Seven Pines and again at Gettysburg, where he was captured. After the war he became Clerk of Court.
William Leigh was a descendant of Judge Paul Carrington through his second son General George Carrington. Like George's brother, Paul, he was also a soldier in the Revolutionary War. He was captured by British cavalry in 1781 and held until at last being discharged as a Lieutenant in 1783. He returned and rejoined the Virginia militia and eventually rose to the rank of Brigadier General. He joined his uncle, Isaac Coles, (also mentioned in that same previous post) on a trip to Philadelphia in 1788  to ratify the United States Constitution, or, alternatively, to vote no, which he did. He later served as a member of the House of Delegates from 1802-1803, followed by one term as a State Senator.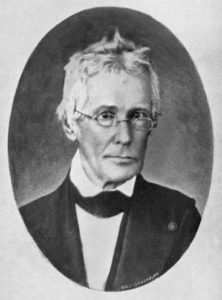 William's grandfather was Judge William Leigh, a judge for the Halifax County Court. In 1831 he was appointed judge of the General Court of Virginia and served there until the post was abolished in 1851. He was then appointed to the Circuit Superior Court of Law and Chancery, which position he held until he retired.
William Leigh was born in Clarksville, Virginia in 1853. From a young age it was his intent to become a lawyer, but the devastation wrought by the Civil War left his family in difficult circumstances. Eventually he was forced by necessity to quit school so that he could work his family's farm. The oldest of six children he also took odd jobs away from the farm in an effort to ease his family's financial hardships. By the time he had reached adulthood, his younger brothers and sisters were able to ease some of the burden and so he was at last allowed to leave home to return to his studies and to prepare himself for admission to the bar. In time, he succeeded and subsequently began his work as a lawyer in Halifax county, joining a partnership with Major John W. Riley, a former Confederate soldier. The two men became close friends and worked together for many years until Major Riley's appointment to the Court of Appeals in 1895. About that time, William became the Commonwealth's Attorney of Halifax County.
In 1905, William and Louise moved to Danville, where he could continue to see to his county interests while taking advantage of opportunities available in a more prosperous town. In 1918, and in honor of his many years of service and his many and varied contributions in Danville, he was appointed to serve as Judge of the Corporation Court. Illness, however, forced him into retirement a year later, and in March of 1919, he passed away.
After William's death, Louise sold the house to Dr. and Mrs. Perry Watson Miles and moved to Westfield, New Jersey to be near three of her four children, all of whom had left Danville to live in New York and New Jersey. A son, Henry C. Leigh, remained in Danville where he carried on the family tradition in law serving as the judge of the Corporation Court of Danville.
The Leigh House currently is undergoing complete rehabilitation. For more information, see the listing.