Of the famous names in Danville's history, the Penn family appears prominently.  James Gabriel Penn was the first to arrive, having been born in Patrick County.  His father, Thomas Jefferson Penn, a descendant of John Penn, signer of the Declaration of Independence, had a plug tobacco company of his own.  James learned from his father.  He attended Virginia Military Institute and joined the war in 1864, after which he returned home and worked as a lawyer and as a banker.  In 1868, he moved to Danville and by 1872 had his own tobacco business.
James' brother Greenville was also a Civil War soldier and was four times injured by gunfire.  In 1884, he too came to Danville, where he joined his brother in the firm of Pemberton and Penn Incorporated.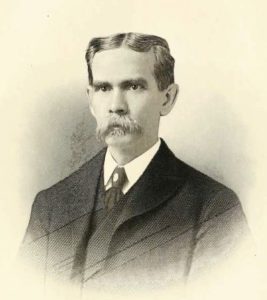 In 1876, to show off their prosperity, James Gabriel (at right) and his wife, Sallie Pemberton Penn, built what is now known as the Penn-Wyatt house at 862 Main Street, shown above.  Together they had five children, two of whom, James Jr. and J. Pemberton, would go on to serve as officers (president and secretary/treasurer, respectively) in Pemberton and Penn Inc.  Mrs. Penn died in 1882 and Mr. Penn remarried.  Sallie Johnson Penn was more inclined to show off the luxuries that Mr. Penn could afford.  The house became a center of lavish entertainment and kind hospitality amidst Danville's social circles.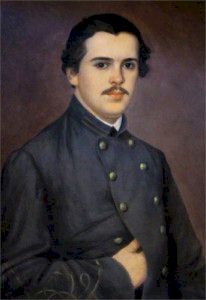 While James was building his elegant and ostentatious home, brother "Green" (at left) was building his own at 138 Holbrook Avenue for his wife, Kate and their fourteen children.  Three of their children, Rucker, Barnes, and George, would eventually serve as vice presidents in their father's company.
In 1885 a third branch of Penns arrived in Danville.  James and Green's sister, Jennie Penn, married a second cousin Peter C. Penn, who came to Danville to engage in the lumber business.  It is said that Peter Penn set aside the lumber mill's choicest wood to build his home at 322 West Main Street.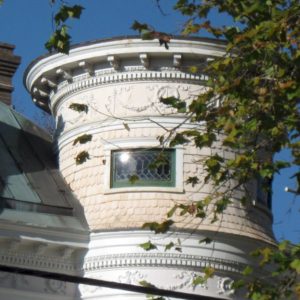 In 1897 Barnes Penn married cousin Mary Kathryn Penn and the couple moved into the Dula house at 1031 Main Street while they awaited the construction of the home her father, James Gabriel, was building for them as a wedding present.  That house is known as the "wedding cake house" because of its decorative round turret (at right).  It remained in the family until 1985 when the couple's only child, Elizabeth Penn Carter, passed away.
There were several other Penn homes.  Most are now gone.  James Gabriel, Jr. owned a beautiful home at 821 Main Street, but it burned some time ago.  James Jr.'s cousin, Rucker Penn, had a home at 1057 Main Street, at the corner of Rison Street.  That home eventually became the City Health Department and was later demolished.
Cousins, George Rucker and J. Pemberton, owned homes next door to each other on the lot where Townes Funeral Home now stands.
Though much has been lost of the architectural legacy the Penns left behind, perhaps what remains is a link to the past, a reminder of what Danville once was, and what it will be again.