The Stick style Victorian home at 163 Sutherlin Avenue is sometimes called it "the boat house" because of its resemblance to a ship from some angles. It was built shortly after the turn of the twentieth century. The first residents to inhabit the home were Frank Marion Meeks, his wife Bessie P. Meeks, and their daughter Elizabeth.  Mr. Meeks was new to Danville when he took occupancy of the home, having arrived here with the aim of setting up a grocery and dry goods store on Craghead Street. For a time following that enterprise, he sold tires before becoming a travelling salesman for Dan River Mills.
By 1920 the Meeks family lived at 645 Main Street, approximately where Solex Architecture stands today. In 1930, the family appear on the census as renting rooms at Elm Court Apartments. Eventually Frank's work representing Dan River Mills took him to Charlotte. Born in 1882 in Banister in Halifax County, he passed away at the age of 54, having died in his sleep of a heart attack. His wife would survive him by nearly twenty years before passing in a similar fashion.
The 1920 census indicates that Niel Gallagher, a first generation American (his father arrived here from Ireland) was the next to inhabit the home. Mr. Ghallagher was roughly the same age and similarly employed as Mr. Meeks. Born in 1881 in North Carolina, Mr. Gallagher married Katherine Anne Chapman of Wilmington, North Carolina. The couple had one daughter named, also named Katherine.
Mr. Gallagher's World War One draft registration describes him as being of medium height and stout build and having brown eyes and dark hair. He worked for the Roanoke Motor Company at 126 North Ridge Street (near the intersection of Main and Ridge streets). During his residence on Sutherlin Avenue he worked for Southern Auto Company. Later he owned a filling station which was located at the corner of Bridge and Loyal streets. He passed away in 1928 of complications during a hernia surgery. Mrs. Gallagher followed him twenty-two years later after a long battle with cancer.
From 1927 until about 1962, the home was the residence of John Vivian and Estelle Graves Perry. Mr. Perry, like Mr. Gallagher, was born in 1881 in Alexandria, Virginia. Mrs. Perry hailed from Chestnut Grove, near Farmville, and was born in 1892. The couple had two children, a daughter, Frances, and a son, John Vivian, Jr.
Mr. Frances, by profession, was superintendent of the city gas works. He was frequently noted in the papers as being a hobby astronomer, viewing comets and meteors from his home with a telescope he built himself.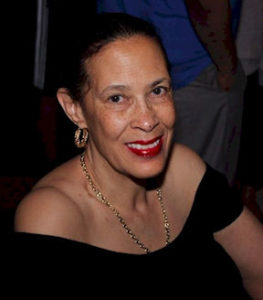 The couple remained in the house until illness overtook Mrs. Perry and her care required professional assistance. She then relocated to Roman Eagle, where she passed in 1966 of pancreatic cancer. Mr. Perry died in 1970 as a result of pneumonia.
Since 2008, the house has been owned by Carolyn Franklin (at left) of Washington, D.C., who is now in the process of restoring the home. Roof work, exterior painting, as well as interior plaster work, painting and general repairs are underway. We look forward to seeing this unique home brought back to life.