The Lanier-Wyllie house at 770 Main Street has long been hailed as the oldest existing residence on Main Street. The house was built by Captain James Lanier in 1830 and stands as an excellent (and, for Danville, a rare) example of early-Federal architecture.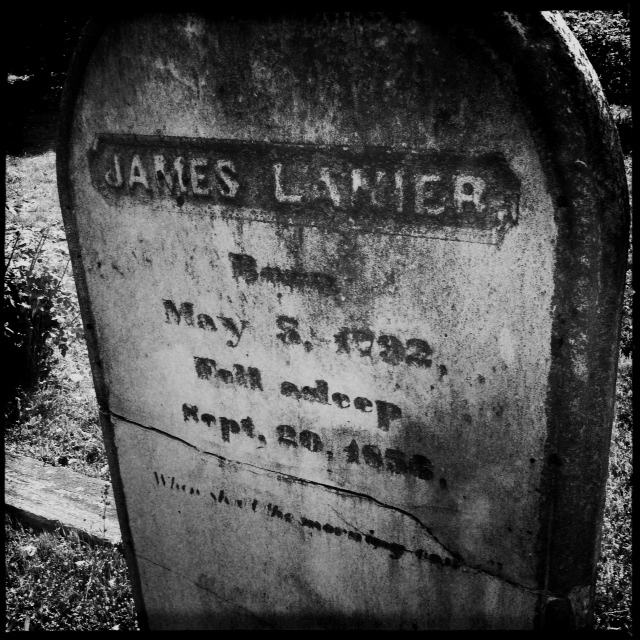 Captain Lanier was born in 1792 at "Bridgewater" in Pittsylvania County, Virginia. In 1818, he married Martha Tabb Green of Mecklenburg County. A lawyer, Captain Lanier arrived in the Danville in 1818, when the town's population was a mere 400 residents. Captain Lanier was appointed postmaster in 1820 and worked as a cashier at the Farmers' Bank. In 1833 he was elected to serve as the city's first mayor. In total he was mayor three times, though not successively. Later in his life he served in the State Legislature representing Pittsylvania County.
According to Mary Mackenzie Mack in History of Old Grove Cemetery, Mr. Lanier "lived in the old Wyllie home" at 530 Main Street during his time as Postmaster.  This was later the location of the old post office and is presently the site of First Citizens Bank. Ms. Mack goes on to say, "He then built and occupied the brick residence with its two wings and three porticoes located at what is now Main and Floyd", the house indicated on the map as that belonging to J.J. Lawson. "Later, he built a frame residence in the grove at Grove and Ridge Streets," or what is now addressed as 770 Main Street.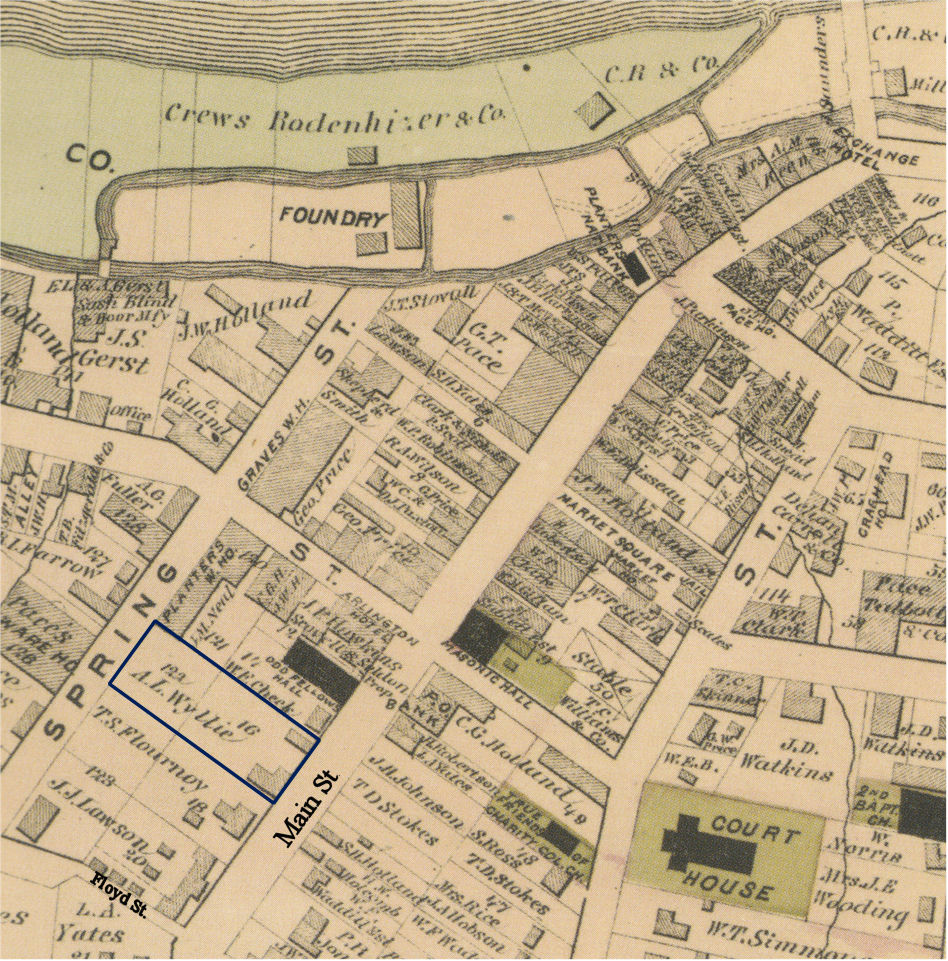 In 1839, Mr. Lanier sold the house to Hobson Johns of Campbell County, Virginia. Born in 1801, Mr. Johns was first married to Mary Matilda Davis in 1825. She passed away in 1949, and, a year later, he married Elizabeth Glasgow. According to the 1850 census, Levi Holbrook also resided in the house during their residence here. Mr. Johns eventually became Danville's twelfth mayor.
In 1855, the Johns sold the house to Col. Allan Love Wyllie (the same A.L. Wyllie in whose house the Laniers resided in 1820, see map above).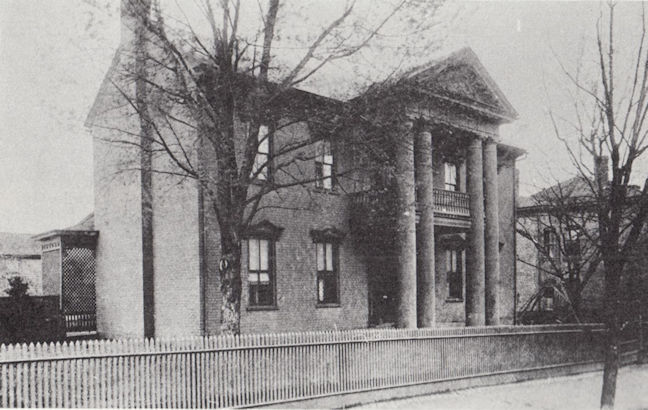 Col. Allan Love Wyllie was born in Charlotte County, Virginia in 1800. He was a a wealthy land owner, tobacconist, and horse dealer who held local and state civil servant positions including Deputy Marshall and Commissioner of Revenue prior to coming to Danville, Virginia. He was an officer in the 53rd Regiment of the Virginia Militia in Campbell County, and it was in that position he earned the rank of Colonel.
In 1820, Col. Wyllie married Martha Ann Holcombe of Prince Edward County. The couple had no children together, and she passed away in 1853. In 1855, Col. Wyllie married Frances Payne Noble. Together they had three children: John Noble, Frances Payne, and Mary Love Wyllie. In 1862, Frances died of consumption. The following year, young Mary Love died. Shortly after, Col. Wyllie remarried his third wife, Georgiana.
Col. Allan Love Wyllie's land holdings in Danville were extensive, including land along North Main and in Mechanicsville, just south of the river and west of Main Street. According to Lee Weyland in If Streets Could Talk, Col. Wyllie declared holdings in the 1860 census of $50,000 in real estate and the same again in personal property. Ten years later, only $6,000 in real estate was attributed to he and his wife, the reduction being a combined effect of the war and his transferring much of his land to his two children. It was John and his wife who inherited the house.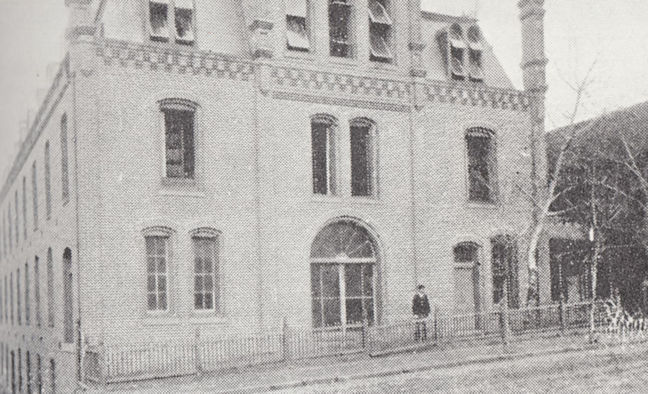 While John Noble Wyllie inherited a sizable estate following his father's death in 1876, he made his fortune a second time over in tobacco and textiles, as well as in land investments during Danville's heyday of development. He held partnerships in Swaine, Noble & Co. as well as J. N. Wyllie & Co. Mr. Wyllie was one of four prominent Danville businessmen who funded Claude A. Swanson's education in law, an education that prepared him for his eventual election as Governor of Virginia and member of the United States Senate.
It was during John Noble Wyllie's ownership that the house was extensively remodeled. Inside, the fireplace mantles were replaced with more imposing and ornate ones, while on the exterior, window cornices were added to the façade as well as the present and imposing two-story neo-Classical portico. It was also during this time, between the years 1868 and 1872, that Levi Holbrook resumed his residence at this address, where he lived until his death.
In 1888 John married Kate Lewis Scales, the adopted daughter of North Carolina Governor Alfred Moore Scales (her biological uncle). Following the death of Governor scales in 1892, Kate's mother, the former first lady of North Carolina, came to live at the Wyllie residence, where she remained until her death in 1930.
Mr. and Mrs. John Noble Wyllie had three children. Alfred Scales Wyllie became a powerful and prominent lawyer. His career relocated him to New York City. Twins, Fannie Pinckney and Kate Lewis Wyllie were known as local beauties and very popular with the young men of their day. Kate married and moved to Georgia, but returned to Danville in later years and passed away here in 1975. Frances, a talented painter, married James Berrey Botts, Jr. and moved to Norfolk, Virginia, where her father joined her after selling the family home in 1936. It was here Mr. Wyllie spent the rest of his life.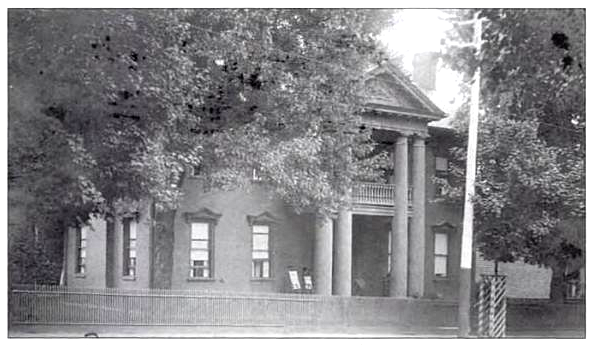 Following the Wyllie's, the house was owned by Dr. Samuel Newman, a Polish immigrant who came to the United States in 1909 and earned his medical degree here. He then practiced medicine at children's clinics at universities in Vienna, Berlin, and Paris before returning to the United States where he opened a practice here in Danville. Under his ownership the Lanier-Wyllie house served as his residence as well as a diagnostic clinic, with apartments being rented upstairs. Dr. Newman was a much beloved physician who was considered a forward thinking proponent of preventative medicine for children, setting up free clinics throughout the area. A grandson, John Macht, remembers him as someone who he "cared deeply about his fellow man" and would often leave the table in the middle of a meal, even on Thanksgiving and Christmas, to attend to any patient who needed his care. Dr. Newman was described by others as being a colorful character who became something of a local hero, having done so much good for so many during his life. Dr. Newman passed away in 1980. After Mrs. Newman's death in 1983, the house was sold to Dr. Robert W. Elkins, an Orthopedic physician. Like Dr. Newman, the Elkins resided in the home (read more by Dr. Elkins' family here).
In 1988 (or thereabouts) the home was acquired by the Garrett family and is presently the headquarters for Garrett & Garrett Law Office.