Although the house at 939 Green Street has changed hands many times, it seems that the majority of those transfers were merely between trustees. The earliest transfer recorded was in 1891 from A.M. and F. M. Wheeler to William Diffendall, although an 1888 directory indicates that Dr. John James was living there.
For a period of six weeks in 1904-1905, A. W. Douthat officially owned the house.  Mr. Douthat's sister, Helen Howard Meade, was the mother of the famous American author Julian Randolph Meade.
Dr. John James, who practiced medicine for a time in Pittsylvania county, married Anna Maria Jones in 1876 and shortly thereafter moved to Danville to take up the tobacco trade.  He founded James Tobacco company, which eventually became the firm of Coles and James when he took on Russell J. Coles as a partner.
Dr. and Mrs. James had six children, three of whom, Bartlett James, Captain Russell James, and Lieutenant J. Fred James, died in service.  Mrs. James, whose parents died during the civil war, and who had five brothers who served the confederacy, was no stranger to the sacrifices of war's demands. Another son, Jules James, survived his service in World War I and went on to be a highly decorated Naval Commander in World War II.
The Jameses also had two daughters.  Helen married Randolph Meade, who was the uncle of the author Julian Randolph Meade and his brother Robert Meade, a professor at Randolph-Macon College and biographer of Patrick Henry.  Their youngest daughter, Miss Harriet, was a socialite, attending local parties held in honor of the likes of Lady Astor and her sister, Mrs. Charles Dana Gibson.
Dr. James died in 1928 from complications of a fractured hip but Harriet remained to care for her mother until Mrs. James died in January of 1931.  It was that year, the last year she lived there, that the house was put into her name.
Harriett travelled a great deal, often visiting her brother wherever he might be stationed, in Europe or the Philippines.  In 1924, one of these excursions took her to France, where she befriended the exiled Russian Prince Serge Gagarin and his wife.  A year later, and on several occasions following, they came to Danville and stayed as guests at the house on Green Street.
The final adventure reported by the papers was that of Miss Harriett's trip to London in 1957.  While touring the Tower of London, she fell and broke her hip. Her holiday, which was meant to include an extended stay in Italy, was cut short and she was sent back to a hospital in Washington D.C.  She was 68 years old at the time, and no further accounts of her are to be found.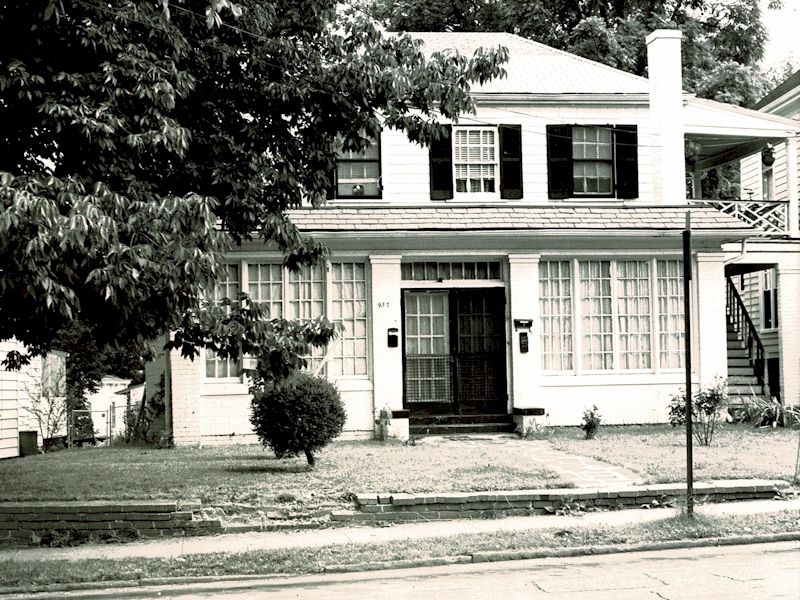 The house at 939 Green street presently stands empty, boarded up, and available.  See the listing.